Return to Curernavaca
Thursday, the 4th of March:
I decided to head toward Toluca, and if I did not find anything interesting along the way, I would continue on to Cuernavaca. There were to changes that I noted. First was the large number of cultivated fields. The area where I was coming from north of San Juan del Rio is desert. Here I saw fields prepared for planting and in on case the field had a dozen or more farm workers planting seeds or small plants. Toluca did not see to offer much so I pressed on. There was one town in along the mountain's edge that may have been great - but I was so close to Cuernavaca that I had to press on. The two-hundred mile journey took five or so hours. I even relented to use a bit of a toll road, because the speed bumps seemed to be getting bigger and the road windier without need. I really hate the use of speed bumps to control the traffic. It wreaks havoc on the cars, and they show a great distrust of the Mexican people to obey the law.
I arrived about four in the afternoon. The familia Jimenez was not at home. I decided to drive to the University and look for Josee. No luck there, because the Nursing School has moved to new digs way across town. Josee said that she was leaving shortly and I drove back to her house. I was only parked a few minutes when Noé drove up in his white pick-up truck. It was not too long before Arturo and Josee arrived. Arturo is Josee's nephew. He is working at the nursing school and working on an industrial engineering degree and the university. I called Lalo and he said he would be over about seven or eight. It turned out to be about 8:30 before he arrived with his girlfriend, Nellie. Meanwhile Arturo had left and then returned with his girlfriend, Talia. Sometime along the way Maribel showed up. She is Arturo's sister and lives with Noé and Josee while studying English at the university. By 10:30 everyone was either talked out or thinking about the next day at work and school, because I was the last one standing. I was supposed to have stayed at the casa on Monte Casino, but everyone was asleep and I had no idea how to get there. So, I slept on that wonderful sofa of theirs.
Press HERE to see a slideshow
of going to Cuernavaca.
At Las Fuentes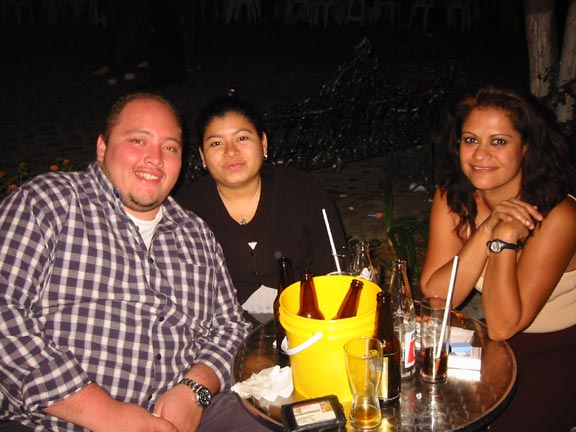 Lalo and Nellie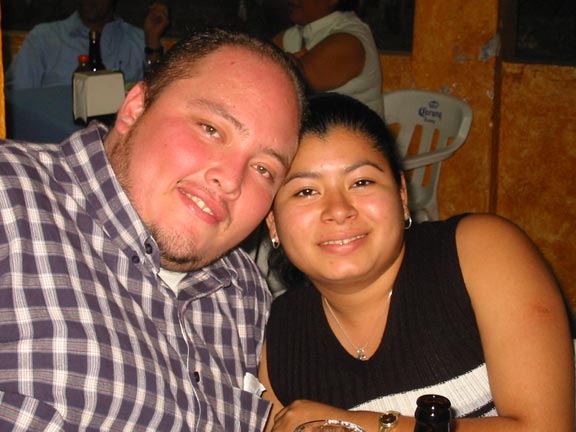 Louis and Juliet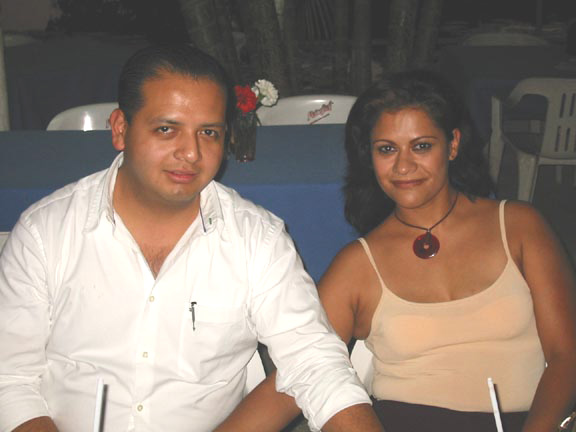 Erik and Josephina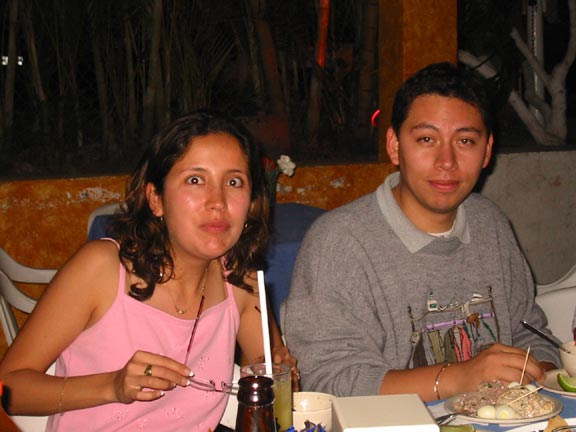 Friday, March 5th:
I woke about eight very refreshed. Noé and Josee were just coming back from an early morning walk. She asked me to make hotcakes, and I readily agreed. Despite working from scratch with no recipe, there turned out pretty good. I always love the breakfasts in the Jimenez home with lots of fresh fruit and excellent coffee and today hotcakes!
I gave Mari belle and Josee rides to the university and the new facilities for the school of nursing. She must be some kind of a miracle worker, because has built the school to a level where it merited new facilities and had acquired funds to build the most amazing miniature campus on the other side of Cuernavaca. The place has a design the pulls in all together with buildings shaped as soft semicircles and a small courtyard. The natural lighting and ventilation adds life to these beautiful new edifices. Josee gave me the tour. We saw several class rooms along with a substantial amount of new equipment. I was reintroduced to several people that I met two years ago and some new staff. I was extremely surprised to find Lalo's brother, Erik, working here. When he was studying medicine at the University of Puebla, he was at the top of his medical class five years in a row. Josee must also be a great recruiter. She is an amazing woman. I am sure that the University of Morales will miss her when she retires in June. They are planning a month-long European vacation in July. Since my friends Luis and Lalo work for the nursing school, I spent some time gabbing and showing them my web site. Then I was off again looking for the CD map program, which once again turned out to be a waste of time. After that I dropped by the main university looking for Nacho. I had no luck there either, as he was off to Mexico City for the day and maybe the weekend. I also stopped by the building where America works. She is the sister of Jessica, and Jessica is the daughter-in-law of Noé and Josee. Before mid-day I made my way back to Josee's house. I worked a bit on this entry and then Noé and I were off to Monte Casino. It was nearly a disaster, because the hills or so steep my car was having trouble negotiating them. The worst hill nearly burned my clutch out. The problem was a speed bump in middle of the hill. Now I slow to a near stop when they are as big as this one was. It this case it was a huge mistake. Without any initial momentum, I could only kill the engine or smoke the clutch. So I backed down the hill. And got a running head start and barely slowed down at all for the bump. I just cannot understand the logic of why this one was place there. I was pretty freaked out by the rough roads that seemed to climb at angles not suitable to the gearing and power distribution of my Passat. When we finally got to the house, we sat and drank a beer. Noé as I feared that I had damaged the clutch to the point of needing it replaced. He says that $500 will probably cover it here in Mexico - and that he says is a real bargain. It kind of hurt when he said that it was not just the clutch, but that I was a poor driver - and that I may be on mountain roads like these.
Before long we were headed back down the mountain. I called Lalo and he told me that he was as the restaurant, Las Fuentes. Arturo was kind enough to write down directions. That would not have been all that bad, if I had been a Mexican. So I was off down the hill and on to the freeway. Not without some difficulty, I finally found the restaurant. The restaurant had one building for its kitchen and another for its bathrooms. In the large expanse in between was a large patio that was covered with roof of canvass. On one side the patio opened onto some ponds. When I arrived, I was surprise to see that I new many of the people at the table. Of course Nellie was with Lalo. Louis was there along with his brother, Ricardo, and his girlfriend, Juliet. I have not met Juliet before. She is quite beautiful with an angular face and penetrating dark eyes; she is also well proportioned and I think tall for a Mexican woman. She is a lawyer who works for the bank that has the nursing school's accounts. Louis is the main bookkeeper or finance director for the nursing school. At the other end of the long table was another couple that I did not know. I know that she also is at the nursing school. A while after I arrived, Lalo's brother, Eric, and his fiancé, Josephina, joined us. The food was primarily of the sea and although not spectacular it was pretty good. I had ceviche, tuna, and fish empanadas. With this and some beers I really began to enjoy the setting. Besides the good company, the ambience was mustered by some excellent music. There was a sing dressed in a Mexican cowboy outfit that included a large sombrero, a play gun strapped to his belt, decorated and matching shirt and pants, and boots. He sang his heart out for the three or so hours I was there. He made the rounds at the table and tried to get the patrons to sing parts of the well-known songs that he entertained us with.
After we left Lalo, Nellie and I headed for the Plazuela del Zacate that is like one huge outdoor bar. It makes for good people watching. The beers are cheap - 2 for 25 pesos. The music varies a bit, depending on which bar is nearby. About one in the AM, we left for Lalo. I could not see how I could find my way back to Monte Casino. Eric let me have his bed. It was comfortable, and yet I could not sleep. When I have had too much to drink in the last few years, the result at times is this sleeplessness. So I just tried to rest, but without dreams there is no real recharging of the soul.
Saturday, March 06, 2004:
Lalo and I split up about midday. I would have liked to go with him. He was headed for this river that is well suited for swimming. I guess there are a number of natural pools that form along the river that are nice to use.
I headed up to Monte Casino where I expected to find Noé and Josephina. What I thought was amazing was that I only made one bad turn that I was quickly able to discover. Although I must say, I was never sure that really on the right track. I must have crossed path with Josee on the way up, because I had just missed her. I wrote a bit and then took a nap. Josee was to return about an hour after I fell asleep. When I got up, Maribel, Arturo and Josee were there. We had a bit to each - rabbit, rice and tortillas. I ended up talking quite a bit to Maribel and Josee napped and Arturo and Noé worked on building a second floor closet. A little after six, we went down the hose.
We got ready to go to a wedding. I was amazed by how quickly we got ourselves together and out the door. The wedding was lots of fun. The daughter of one of the nursing school instructors was getting married. The food was really good. I got a good chance to talk to a number of the schools teachers. The conversations were fun. I cannot remember the names of everyone at the table but I do remember have some excellent conversation with Edith and Mara. Later in the evening when everyone else was dancing, I got on the floor too. They say that I am a good dancer, but when I see the young ones at it I know that I am only a passable dancer. I thought that we stayed way too late. It was two before we got back to the house. But I did get a good night's sleep.
Sunday:
This has been a very relaxing day. We had a Mexican breakfast with lots of fruit, fresh orange juice, eggs, beans, tortillas, and some very good coffee. I washed my car after breakfast. Then I started writing and talking with Arturo. I showed him all the photos in my electronic photo album. He wanted to know about the Twin Cities, especially industry as he is studying industrial engineering at the university.
Lalo finally made his way to the house with Nellie. Maribel joined us to see a movie, Along Came Polly. Given the actors, I did not expect much, but it kept me laughing all the way through. As we headed for our car we ran into one of Lalo's cousins from Chilpanzingo and his wife. And that was my very quite Sunday.
Posted by bill at
03:00 PM
|
Comments (0)