Cuernavaca, the Countryside
Press HERE to see a slideshow of going to Cuernavaca.
The Church in Atlatlahuacan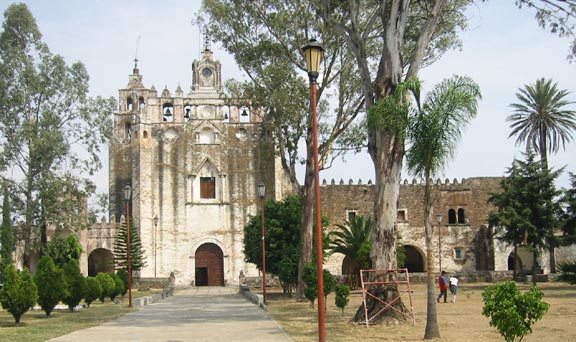 Wednesday, March 10th:
By midmorning I had arrived at Lalo's office. I came to post my BLOG and to talk about places to visit. Because I could not use his connection wire, I took out my wallet and removed the flash memory stick that I carry. I also wanted some advice on a place to drive to in Morelos. While I drove off in the countryside, Lalo, Erik and Josephina went to a graduation ceremony in Mexico City. The first part of the drive to Cuautla was uneventful and I turned north toward Atlatlahuacan. Before long I was driving through a small village, looking for an old church. I found it but not the entrance. I asked a passing woman for directions, which she gladly provide. She asked me to by some of her fruit. I agreed and reached for my wallet. I was shaken to discover that it was neither in my pocket, nor in the car. I thought long and hard about where it might be. I was immediately worried that I had dropped it when I stopped to use the bathroom. Then I hit upon it; I left it and the flash memory in Lalo's office. Now my only worry was confirming that and getting some one to let me into his locked office. Well, there was nothing that I could do about either right then, so I went to the entrance of what at first I had assumed to be a church in ruin. To my surprise it only looked a bit disheveled, because as I entered the church, I beheld a very pretty interior. The best part was the flowers; hundreds of bouquets adorned the church. Continuing my journey, still with a bit of angst about the wallet – I passed through Tlayacapan where I had intended to look around a bit. When I got close enough to Cuernavaca to get a cell signal, I called Louis. It was a good thing that I caught him, because he was just about to leave. He told me Patty could let me in to the office. A few minutes later he called back to say that he had found my wallet. I went over and hung out with Nacho for a while. Lalo called and asked me to meet him and go to a movie. Erik, Josephina, Nellie, Lalo and I all piled into my car and off we went. We saw Captain and Commander – the Far Side of the World. It was a good war movie, but still a war movie – no favorite of mine.
A View of Taxco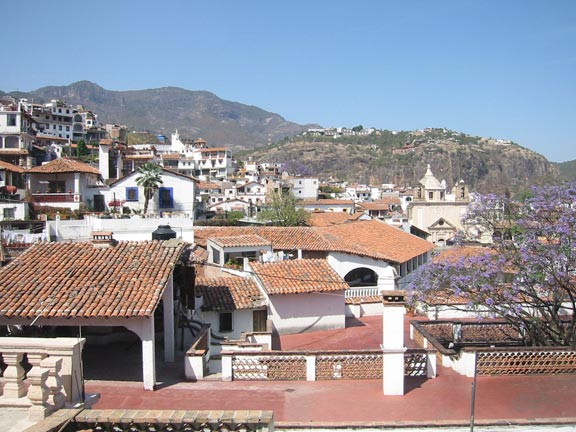 Thursday, March 11th:
I had decided to drive to Taxco. Taxco is an old silver mining center that today is a tourist destination for people looking for a quaint city to visit and buy some inexpensive and beautiful silver jewelry. Unlike so many towns, this one has no industries surrounding it. I suspect because the terrain is so rough. When I got there I quickly discovered that I had not brought much cash. Credit card use is only available at a few of the more expensive stores. Still it is a great place to visit, with its steep winding streets, colonial buildings, and fantastic views. I stopped to talk to a number of people and enjoyed learning what I could about the town. After a couple of hours I drove north thinking that I might visit a village along the way to Iguala. This drive is extremely beautiful as you descend from the heights of Taxco to the valley below. I stopped in Iguala for gas, and gave the common order fill-it-up. The problem was that I didn't think about how much money that I had. The gas emptied my pockets; a problem as I had planned to take the toll road back. So I doubled back through Taxco and got to Cuernava a little after 7:30 PM. I went straight to Jorge's where a little party had already started. Most of those who came to the party were students. I tried to get most of their names. There was Danielle, who had lived in Madison for a year and spoke near perfect Midwestern English. There was Oscar and his girl friend, Alma. There was Denise, an accounting student. Nachos and his friend, Arturo, came as did Daniel and Lety. There was Coral, a flight attendant for Mexicana Airlines, who was very well-travel and was athletic looking. There was Paco, the architect, and his wife. From him I learned that typical, but good, construction costs for new homes were 5000 pesos per square meter or about $45 per sq. ft. I had some great conversations. If things work out I will visit Jorge in Mexico City this weekend.
Fiesta de Jorge
| | |
| --- | --- |
| Denise, Jorge, and Danielle | Alma and Oscar |
| Paco and his Wife | Daniel and Lety |
Another twist in the plans came this morning when I learned that a nephew of the Jimenez's and his family will come to visit them from France early next week. So, I may shift gears and go visit some other locals in Mexico – then return to Cuernavaca in a week or two.
Posted by bill at March 12, 2004 09:22 AM