Mexico City
Press HERE to see a slideshow of Mexico City.
Part of Mexico City Cathedral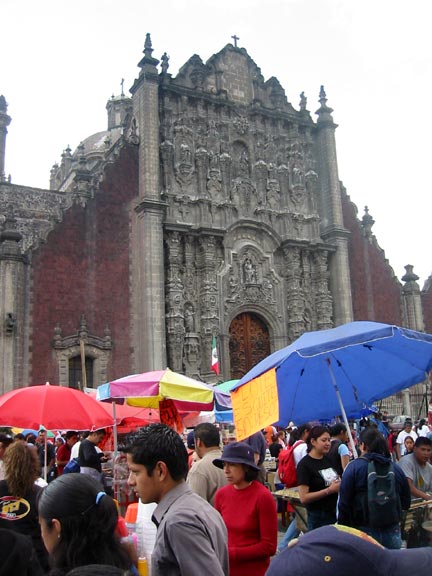 First Mexico City Cantina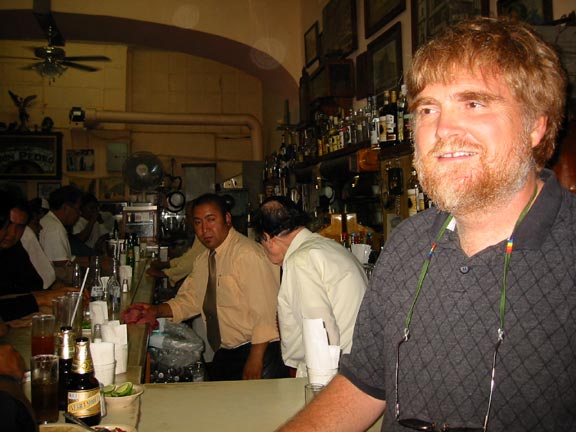 Mexico City Post Office


First Sanborns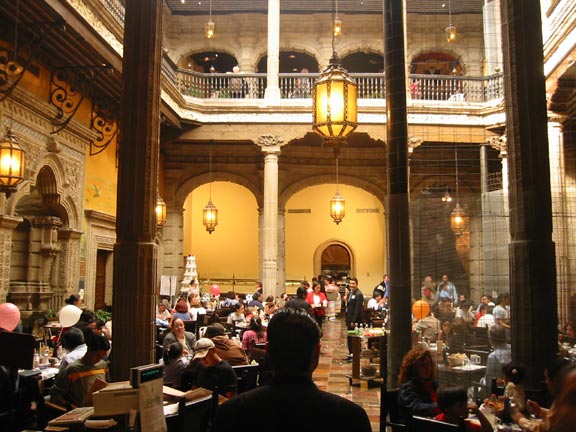 Sunday Street Theater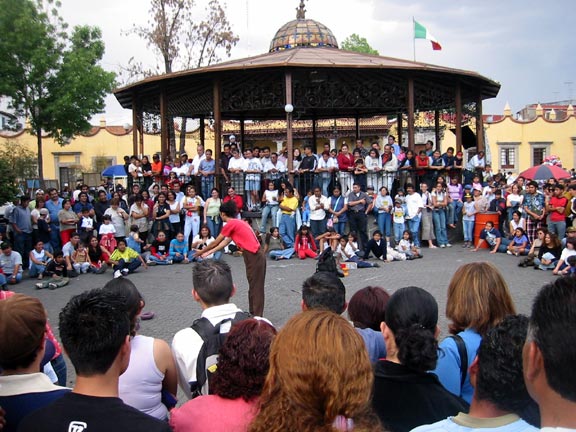 Friday, March 12th:
I had hoped to go to Mexico City before noon by following Jorge. I could not seem to locate him in the morning. I got his cell number and Mexico City number from Daniel. Only problem was that the cell number was old. I packed, loaded my gear into the car, and did some writing in the morning. I had said my good-byes to Josee and Maribel early in the morning. And as I left the Jimenez compound about noon, I bade Noé hasta luego. I went to Nacho's office, where I finally got a hold of Jorge. He said that I should come after 8:00 PM. I really wanted to leave for Mexico before dark, but as the afternoon progressed, Nacho discovered that there was a big demonstration in Mexico such that the traffic was blocked. That explained why Daniel had been stuck in traffic and hardly moved for more that one hour. He had been in Mexico to get visas for some of his karate students that will go to Dallas to compete in the Chuck Norris competition. So, I stay in Cuernavaca. About 8:30 I finally heard from Jorge that it was a good time to come. Right then Nacho and I were on our way to Arturo's to eat tacos and drink beer. I let Jorge know that it would be at least an hour before I could leave. An hour later I was on the toll road to Mexico. Jorge met me at a Burger King and I followed him to his house. We went out to check out a couple of bars in Coyoacan. They were pretty tame but still good meeting places.
Saturday, the 13th:
We were up and breakfasted before noon. We picked up Jorge's current girl friend, Ceci, before we drove to with in a block of so of a green-line metro station. We took the underground train to the Zocala. It is a magnificent plaza at the center of the city. We entered the cathedral. It was a magnificent structure that appeared to be two-hundred or more years old. The president's offices are also on this plaza. Hundreds of vendors filled the open spaces with their wares. We walked to the first cantina in Mexico City. It was just a simple old bar. We each had a shot of mescal that was way too expensive for Mexico. Back on the street we walked through the downtown walking by many beautiful old buildings. One could clearly see not only the Spanish influence on the structures, but also the French influence. One of the coolest buildings was the first big post office. I thought that it was like to have been built between 1870 and 1900. It used a tremendous amount of wrought iron in its construction. We got a chance to have coffee in the tile house, where the first Sanborns was established. Sanborns is the biggest department store chain in Mexico. We got only a brief look at the art museum. It was closing by the time we arrived. I would have like to seen the large Rivera mural that is displayed there. Soon we were back on the metro.
We were tired and just talked and hung out in the evening. Danielle came by and joined us for drinks and tacos. We had a good time. We should have gone out and by the time Jorge felt like going, midnight, I just wanted to crash.
Sunday, March 14, 2004:
To say we got out of the house late today would be an understatement. We went to a great area in Coyoacan where there was an abundance of small plazas and hundreds of street vendors, and dozens of street performers. We wandered around, had cappuccinos, talked the odd street vendor and watched the people having a good time.
My first impressions of this city are extremely positive. It is a beautiful city with wide boulevards, trees, and green-space. The downtown is vibrant and extremely beautiful. We drove through a few neighborhoods on the south side of the city. They were all nice, some richer than others but all with nice looking homes and clean streets.
Int the evening we looked for some fun bars. Sunday night is a very quite night in Mexico City. We went to many of the typical night light places only to find them empty. Eventually we found a fun bar and drank a pitcher. I am off to Puebla now.
Posted by bill at March 14, 2004 11:04 PM