Tlaxcala
Wednesday:
Betty suggested that I head some 40 miles north to Tlaxcala. I arrive in early afternoon. I found a wonderful little hotel with large rooms and a fantastic view. I paid 200 pesos and it was worth every centavo. I could not have been happier with finding it. This is a very charming little town. The buildings are well maintained. Some of them are 500 years old. I walked all over the town in about four hours, seeing the theater, a small chapel, the basilica, the main plaza, the town hall with its fantastic murals. In my wandering I met a letter carrier. They make about $500 a month. I saw his apartment. I could not like in such a place. It was an interesting encounter. I went to a museum of local handicrafts. One thing they produce here is pulque, liquor similar to tequila - but made from a relative of the agave.
In the evening I went I had an excellent dinner. I asked for a typical plate from Tlaxcala and received Pollo Tocatlan. After dinner, I stopped at a bar that had tap beer, an extreme rarity in Mexico. I spent an hour or two chewing the fat with the bartender, a waiter - Oskar, and the bar owner's son - Marko. There is little to do in these sleepy little towns in the evening. So, I quickly called a day.
Press HERE to see a slideshow of Puebla and Tlaxcala.
Bird's Eye View of Tlaxcala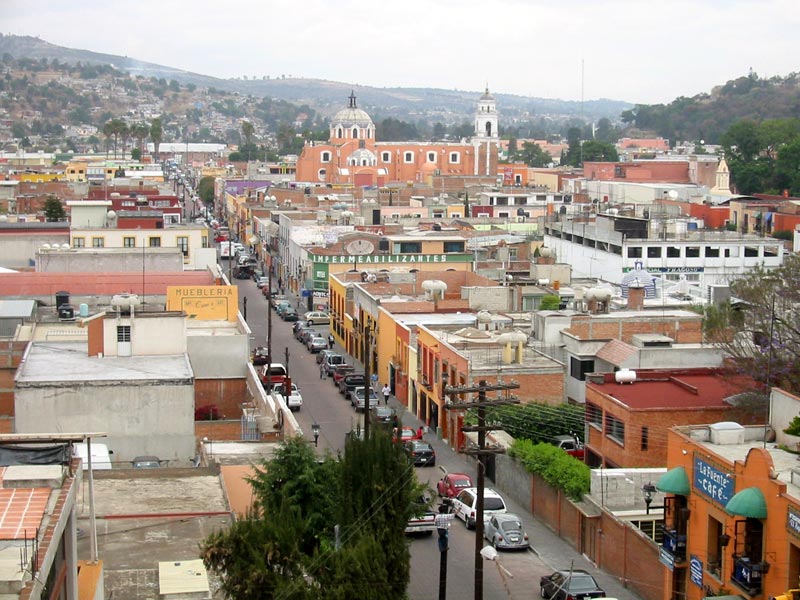 Posted by bill at March 17, 2004 11:25 PM