Guanajuato
Before moving on to Guanajuato, I will wrap up my activities in Morelia.
On Tuesday night, after my last journal entry that afternoon, I returned to Porfirianas. I ordered a beer with lime and played a game of pool by myself. Three guys and a girl were playing dominoes. They occasionally watched my play. After I was done and sipping my beer they asked if I would like to play with them. I asked if they knew the rules, because I have seen some sloppy play here. They assured me that they knew them. It was David and Louis against Romero and me. We were pretty evenly matched for skill, in other words - we were not the greatest of players. What I liked best is that we won almost all the games. We were certainly slightly better in most of the games, but often David and Louis excelled only to scratch on the eight ball. The one rule that they did not know was the scratch rule when you do not hit your own ball first. It took a while to explain, but they finally got it. I explained that the penalty was either two shots for the opponent or they had to spot a ball. On a table where you can pull the balls, one usually spots a ball, which should have been the case here. However, they decided the penalty would be two shots. They seemed to like this rule, especially when I missed the eight ball all together and lost the game. Romero had a car parked out front and gave me a ride to my hotel. We agreed to meet the next night, but we did not connect, which I was very sorry about.
Press HERE to see a slideshow
of Guanajuato and San Miguel.
Views of Guanajuato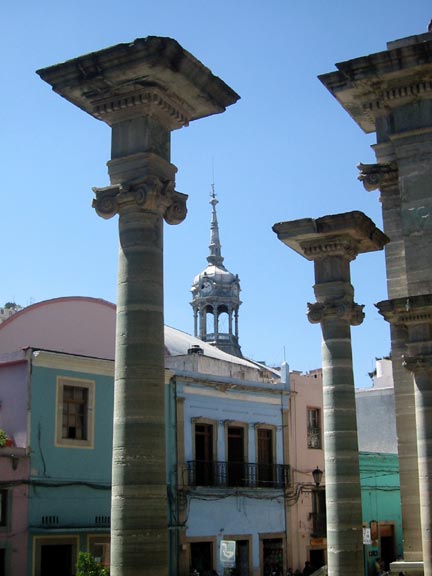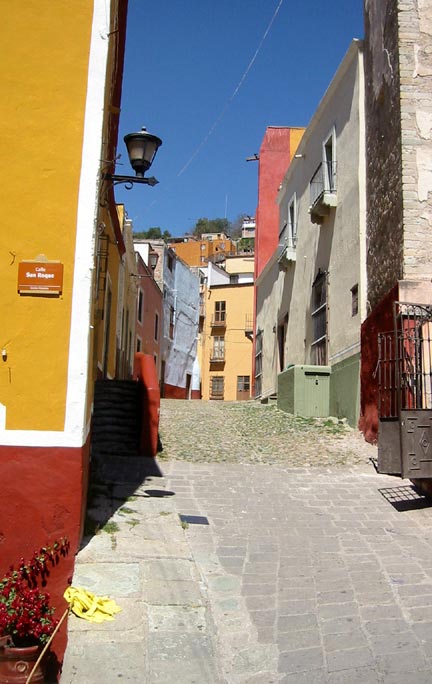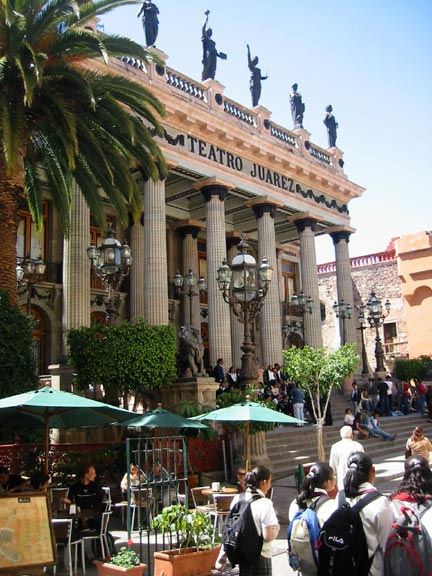 Wednesday, the 25th:
I had planned to do next to nothing on Wednesday, and I pretty much succeeded. I slept latter than usual, although I have not been getting up all the early. It was eleven before I walked out of my hotel for breakfast. I hopped in the car and drove to a larger park near the medical school. I tried to study Spanish, and did but it was a far cry from my studies in Guatemala. I really need a teacher like I had there. My Spanish seems to disappear when I return to the States. It is coming back, but without a guide it is coming fairly slowly. I am probably ready for another trip to Antigua. In any case, I sat and studied and observed for three or so hours. Eventually, I made way back to the hotel for a nap. Then it was back to the restaurant by the little plaza for a glass of wine. I was beginning to tire of the Mexican fare, so I decided to go Italian. I found a nice restaurant that was a notch above the ordinary. The meal was very good: veal marsala with pasta, salad and a glass of wine - all for only $16 USD. I actually was in bed by ten, but the TV kept me up until after eleven.
Thursday, February 26, 2004:
I was up early, packed and headed north to Guanajuato. The free road was far better, mostly four-lane too. I passed through some beautiful territory in the 100 miles. There is a great lake about 30 miles north of Morelia. There were lots of rich farm fields between there and Salamanca. It was actually green. I think they raise a lot of strawberries around here, based on all the stands with signs selling them. But north of there, it got very dry again. The vegetation reminds me a lot of the area around Cuernavaca. And how dry is it. More often as not, the dry grasses have burned back from the road more than 300 yards - and often much more. I have not mentioned how often the fire has raged along side the road. It has been too often that I must drive through the smoke or worst yet the flames.
I arrived in Guanajuato in the early afternoon. This is a small city of 75,000. It is so different. The first thing that you notice as you drive in is that it is honeycombed with tunnels under the city. Why? It is built in a crevasse between high hills. It is so confusing when you are underground, that I was maddening for a guy like me who can usually find his was around every city. Even with a map it is difficult, because one cannot be sure about the level of the road on the map. Parking in el centro is nearly impossible. There are a few pay lots at 8 pesos an hour. Not outrageous for a shopping trip but not something you want to pay 24 hours a day on top of a hotel. I found my way to one of these parking ramps near several cheap downtown hotels. It didn'­t long to figure out that I would not stay there.
I did spend some time trying to get my phone working. I did figure out how to call for info. It seems that my first 200 pesos evaporated. As most modern conveniences, telecommunications are incredibly expensive here. There is probably a state monopoly on the trunk line services. I discovered that my cost twice what they assured me it was for roaming and the cost to the USA was a total shock - 15 pesos per minute. No more cell phone calls home, still even to receive a call outside of Morelia is 4.25 pesos per minute or 40 cents per minute. I was told about a special being sold at a particular store, but guess what - they had no cards at both that I check at. In the USA we would call such a practice unethical at the least.
I figured to settle a bit from the center. To tell the truth is probably less than a half-mile to the center. I am paying a lot more ($32 USD per night) than in Morelia ($18 USD). This hotel actually has a restaurant, besides a parking lot.
There appear to be a good number of American students, tourists and even some expats here. In the evening I got a glimpse of them all. I walked to the main plaza for evening activities, Jardin de la Union. I had one of those unexpected moments of pure glee as I entered the square. There were hundreds of people, mostly students from the nearby university. I the plaza in lined with restaurants, and bars. An old theater is across a very narrow street. I ate a restaurant 20 yards from the square, watched a footfall game and was serenaded by a troubadour. After diner, I just sat on a bench on the plaza. I struck up a conversation with the gentleman sitting next to me. His name was Jerold and he was a young lawyer, working for the government. We talked quite a bit. He has a wonder lust to visit the northern forested areas of the world: Canada, the USA, Sweden and Finland. I can tell that he needs to escape the desert that he has live in most of his life. A little after ten, I wandered 50 or so yards over to El Bar. I mainly went to watch the salsa dancers. Some of them were fantastic. I kept on thinking how much Gitta would enjoy a place like this. At moments like that, I feel sorry for her NYC existence. Ah the simple, oh yes now I remember why NYC, and poor life of Mexico. Well maybe it is not so poor. It is one of the more expensive places in Latin America. It is still cheaper than Canada, yet developing quickly. One thing that I hope will never change is the music and the people. I left the bar after an hour, and was headed back to my hotel when I heard some live jazz flowing from a second story bar. I had to stop and listen. I was a very small place, but I was surprised to find it seven or eight younger American women partying. Finally, the music ended a little after midnight. I was on my way out when I received some nice invitation to continue the festivities. I politely decline and got an invitation to return the next evening.
Friday, February 27, 2004:
I slept way too late, but - what the hay - this is a vacation. I just wanted to see the city and find a cheaper place to stay. So as I walked through the city I stopped a few hotels. The main part of the city is even smaller than I thought, but Gerardo has told me that twice as many people - 140,000 - live in the city than stated in the guide. He also told me that San Miguel de la Allende is much larger than Guanajuato. Again this is very different from the guide books, leaving me to speculate that these cities are rapidly changing. The city has a large number of streets dedicated to pedestrians. Most streets that allow cars are very narrow - just wide enough for a single car. There are a few streets with two way traffic, but I think this is to allow access to the tunnels under the city. Most buildings are from the 1800's. It is so picturesque. The streets and many small plazas are never empty.
Diego Rivera was born and lived in this city as a young boy. There is a small museum dedicated to him, and it resides in the house were his family lived. The first floor has some period furniture, said to be his family's furniture. The second and third floors are dedicated to his works. His early works show his growth and learning as an artist, in other words they are not that great. His works of the 30's and 40's a wonderful. There was a good variety of his pieces: portraits in oils and ink, simple pieces describing ancient Mexican-Indian tales and myths, and the occasional landscape. I enjoyed this museum a lot.
Tired from the walking, I settled in the Jardin de la Union for a couple of beers and a bit of music from the minstrels wandering the square. I headed back to my hotel for a nap. In the evening I ate a great diner. Food is cheap here; at this very good restaurant, the steak diner with wine still only cost less than $14 USD. After diner I spent a good amount of time talking Jerald. He met a young Uruguayan woman on the internet. Despite his meager government wages, he has been able to visit her several times in Uruguay. He tells me that she is a first-year university student. They plan for her to come here this summer and that they will marry. We visited the El Bar, where the music was loud and not many people were there. Perhaps it is too early. After one drink we left. He works on Saturdays, and needed to retire for the evening. As I walked back to my hotel, I looked in a couple of other bars. I stopped a one to listen to a bit of live music and another glass of wine.
I must say that I like Guanajuato a lot.
It is more than charming with its colonial motif. The university gives it an intellectual life. It public spaces are wonderful and often full of people. I will stay one more night before departing for San Miguel.
Houses on the Hills of Guanajuato

Posted by bill at
07:06 PM
|
Comments (1)