SM to Tequisquiapan
Press HERE to see a slideshow
of going to Cuernavaca.
Tequisquiapan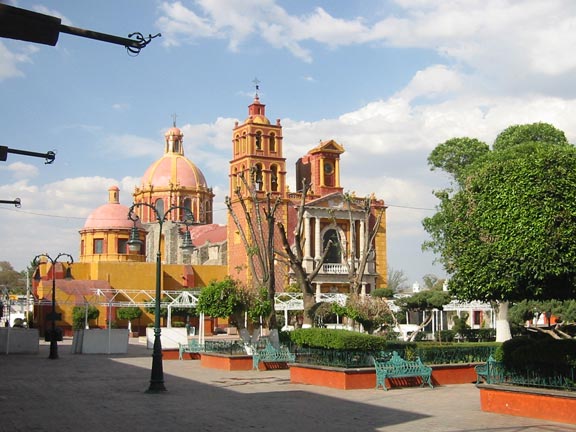 Tortilleria in Tequisquiapan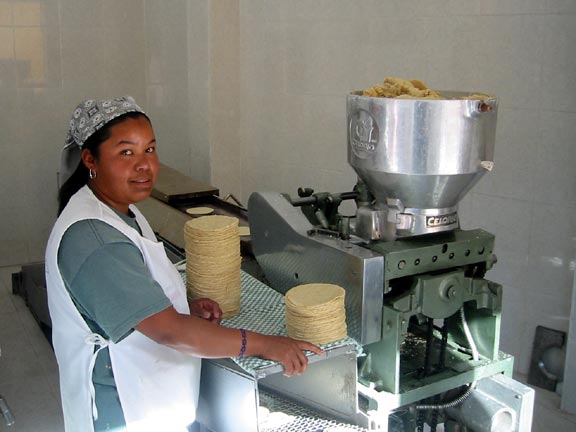 The Lake Created by the Zimapan Dam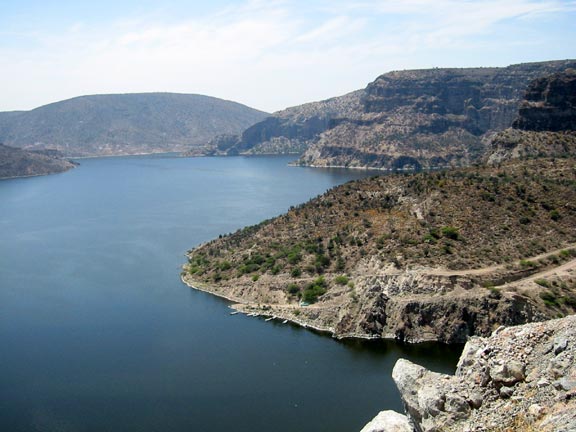 A Goat Herder and Her Herd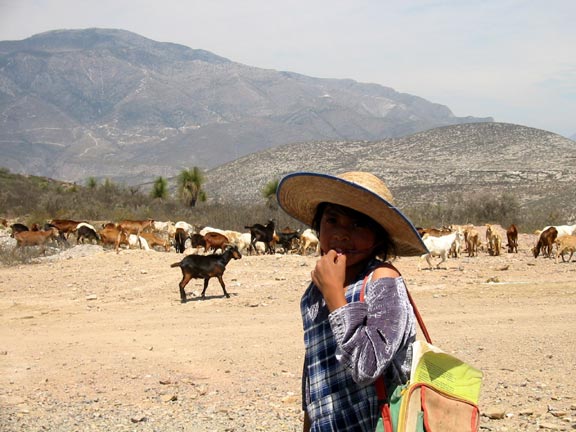 Bernal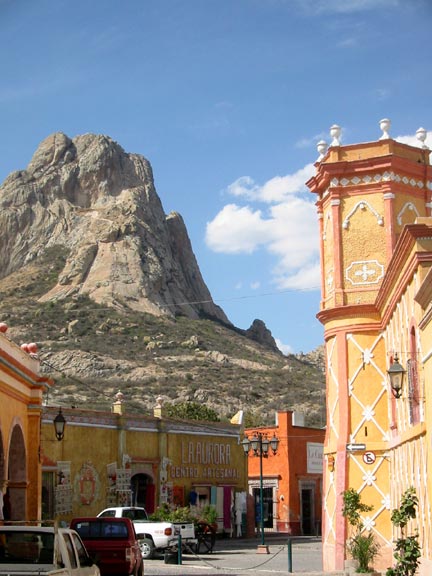 Monday Evening:
While eating diner I struck up a conversation with a woman who sat down at an adjoining table. She moved over to my table and we had a long conversation. Karla Tibbetts is a young, good-looking red-head from Oakland, CA. She seemed to be almost as well-traveled as me, despite her 24 years. She told me about her experiences in San Miguel. She came for a vacation to study art. The city has a long and well-earned reputation as an artist's community from people seeking a quite place with good light to work from around the world. She had been there nearly three weeks and was departing the next day for Guanajuato and the next day a flight home. Mainly, she came to study painting. She spent nearly every day on the roof-top garden with a fabulous view of the city and valley below. She seemed to purr with pleasure as she thought back about how relaxing the vacation had been, sleeping, eating and working when ever she wanted. She told me that about a week before, she had engaged a local sculptor to show her how to create castes of several types, and how to cast metal sculptures. We also got a chance to share the various places that we had visited. About eleven, a friend of hers wandered into the restaurant. We said our good-bye and they were off; she had much to do in the morning before her departure to Guanajuato. She mentioned that on Tuesday there was a huge market on plaza at the edge of the city.
Tuesday, the 2nd day of March, 2004:
After breakfast, I made my way up the hill on the east side of the city and eventually found my way to the market Karla spoke about. I thought it to be a very large market for such a small town. Having travel so much, it was not as great a surprise as the first time I saw a huge market. This one had a wonderful feeling of community, and a festival or a county fair. It had mostly new goods, but also had used - mostly tools. I love all the produce, the most beautiful being fresh and dried peppers. I thought about buying some fruit, after all a kilo of fresh strawberries only cost ten pesos, that is 40¢ American per pound. I did look for a couple of items that I needed, but I couldn't find what I wanted. What I did get a lot of was photos. I may post some at the end of this entry. I had planned to visit Querétaro. It is a fairly large city, more than a half-million. There is an old part of the city, but what dominates the city is agro-business industries. I drove through the center of the city and even started looking for a hotel, but I knew I did want to spend the night. So, I looked at the guide book. There is not much about this state in the Lonely Planet, but they mentioned a town that Mexicans escape to on the week-ends- Mexico City is only 120 miles away. So, I made my way down the eight-lane freeway to San Juan del Rio, a much uglier industrial city. Here I headed north about 30 miles to Tequesquiapan. I found this small town is the smallest and nicest place that I have been to yet. I guess it is very busy on the week-end, but it was extremely sleepy on this Tuesday. I walked about the center of the town in less than 30 minutes. I worked my way to the north edge of the town and crossed a river and walked a few blocks to an area on new homes. I looked them over. They are incredibly overpriced. I continue to be surprise by the cost of homes in these gated groups of homes. Some cost as much as $400,000 - less than some of the more expensive casas in San Miguel, yet this is such a small town. After re-crossing the river, I saw some more homes for sale. They were very nice ten-year old, three-bedroom homes; I even got a chance to walk through one. These were $130k. Before buying one, I would hope the buyer would check the quality of the footing - I had a sense that there was some uneven settling of the homes.
There was almost no restaurant open in the evening on the square. The one that I found ended up costing too much. I had to remind myself that this is an escape for rich Mexicans from the big city. With only one empty bar open, I decided to return to my hotel. They have pool tables, so I played for an hour. Speaking of my hotel, at this moment I am sitting in the hotel garden, typing away. The garden is very large, with plenty of interesting water pools and table and chairs to enjoy the great out-of-doors. When I think about how cheap it is - $18 per night, I feel truly amazed.
Wednesday, March 3, 2004:
With not much to do in this town, I decided to explore surrounding area. Between the guide book and some local tourist information I decided to first visit a huge damn. The lake that it produces is beautiful. It is located where the Tula and Moctezuma rivers flow together about 45 minutes east of Cadereyta. Then I headed back to Ezequiel Montes to visit the winery that produces some of the Freixenet wines in Mexico. I guess only the Freixenet Negro is produced in Spain. What I tasted was OK, but I am not really a great lover of champagne style wines. Their cabernet was only adequate. I did like the sauvignon blanc and bought two bottles. Then I drove for to Bernal. The road I took was all cobble stone. Bernal was very lovely; it is another week-end tourist stop. Along the roads I saw fantastic hills, lovely small towns, goats and their herders. It was late in the afternoon by the time I returned to Tequisquiapan.
I am still not sure where I am headed but in a few days look for a new posting.
Martes Mercado en San Miguel Allende
Posted by bill at March 3, 2004 08:00 PM