American Theocracy
by Kevin Phillips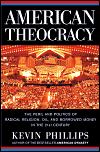 I read American Theocracy and found it riveting. Kevin Phillips is an old line Republican. Anyone who knows me, knows that I do not take much stock in what folks of the GOP have to say. Here was the exception. Kevin brilliantly researches the effect of the born-again Christians taking over GOP and the federal government. What is more surprising is that he does it in an historical context, relating the religious shift in the USA to other great nations at their pinnacle and the precipice of their fall from heights of imperial power into a much less glamorous role on the world scene. Phillips weaves this religious take over with events in the Middle East and especially Iraq. He also talks about the how these forces united with finance capital to create the mess we find the USA in today. I found Phillips analysis fascinating and one the best researched books of its type. Please, pick it up, look it over and read some of it and see if you do not agree with me.
Reviews of American Theocracy found at Barnes and Noble.
Publishers Weekly
Scientists repeatedly prove the limited amount of fossil-based fuels left in the world and emphasize the environmental effects of using them. Yet many Republicans ignore science in the name of God while promoting a debt-driven consumer society. Debt, radical religion and fuel have been individual sources of expansion and destruction for many nations throughout history. Utilizing these precedents, Phillips provides detailed and troubling criticism of the United States' excessive dependence on and promotion of these three factors. Phillips predicts these practices will significantly diminish the power of the United States in international politics. In navigating this sometimes complicated book, Scott Brick delivers an outstanding performance. His command of the text will leave listeners believing that he wrote the book. His intensity matches the author's urgency while his emphasis proves a great value in determining the important information. Nonfiction audiobooks of this breadth often become cumbersome and daunting with information overload. But Brick leads his listeners with the gift of a master performer who knows his audience. While extras such as a time line, bibliography or character glossary could only improve this audiobook, the clarity of the text through the efforts of the author and narrator make it well worth the listen. Simultaneous release with the Viking hardcover (Reviews, Feb. 13). (Mar.) Copyright 2006 Reed Business Information.
Library Journal
When Phillips wrote The Emerging Republican Majority almost 40 years ago, he correctly forecasted the electoral landscape of the United States for a generation and has ever since been among our most prominent political commentators. Now, however, in the latest of his many books, Phillips finds that the party he once served as strategist has become "a fusion of petroleum-defined national security; a crusading, simplistic Christianity; and a reckless credit-feeding financial complex." While some points made here overlap with points Phillips has already made elsewhere, e.g., in American Dynasty, his broadside against the Bush family, the most original part of this new book is his analysis of the "southernization" of American politics, an important component of his case here on oil and religion. If Phillips's political allegiance has changed over the decades, the sharpness of his observations and the historical depth and range of his arguments-as well as the wit and style gracing them-have not. His warning of an "Emerging Republican Theocracy" is sure to capture media attention and draw many readers. For all libraries. [See Prepub Alert, LJ 11/15/05.]-Robert F. Nardini, Chichester, NH Copyright 2006 Reed Business Information.
Kirkus Reviews
A dazzling treatise on the collapse of Republican virtues under the fundamentalists and plutocrats united in the perfect storm of Bushism. Phillips (American Dynasty, 2004, etc.), the apostate former Republican strategist, once coined the term "Sun Belt" and envisioned the Southernization of American politics. He is now in the unhappy position of bearing witness to the birth of a Texas-fried, small-tent politics that blends religious orthodoxy and unwavering uncertainty in presidential infallibility with an economics predicated on indebtedness and extraction. The red state/blue state schism marks several old divides, he holds, one between "a preference for conspicuous consumption over energy efficiency and conservation," one between secularism and theocracy. Why would a good American encourage the latter? Well, a certain school holds that the Second Coming will not be triggered until theocratic rule is established in this most divinely favored of countries, after which, presumably, it will be up to the damned to sort through the ugly business of paying the debts and filling the tanks. Many of these divides are very old, Phillips observes, between "greater New England and the South"-save the polar reversal of the South now being Republican, the Northeast Democratic. As to the manifold manifestations of theocracy, few are subtle: Consider the Schiavo case, and unprecedented federal meddling in science education (with the executive's expressing a clear preference for so-called "intelligent design"), and the endless effort to undo various civil liberties. And the financialization of America? Again, writes Phillips, it's not subtle: "Never before have political leaders urged . . . large-scale indebtedness on American consumers to rally the economy," to say nothing of an economy based on servicing debt rather than making anything useful-and, of course, on ever-scarcer oil. Other credit-happy theocracies, like Inquisition Spain, went bankrupt, collapsed under their own weight, disappeared from influence and view. Phillips's historical essay/polemic is provocative, though plenty of folks in Houston-to say nothing of Washington-won't like it at all.
Collapse: How Societies Choose to Fail or Succeed
by Jared Diamond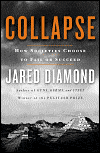 Diamond's book is more academic, but not less critical that Phillips' book. Diamond explores several criteria that he believes lay the basis for the collapse of a society. His work is based on the collapse of several civilizations including Norse Greenland settlement, the Maya, the Easter Islanders and the transformation of modern Montana. Along the way he compares these old societies to the modern age. As I read his tome, time and again I thought about how the modern world will find it very difficult to change as oil is depleted from the earth.
Synopsis
Diamond (geography, UCLA) casts a wide net in the realms of history, geography, and science to address questions essential to humanity's continued survival. Forty-two b&w plates, grouped together, illustrate the scope and some of the examples of his narrative: the deforested landscapes of Easter Island, Chaco Canyon, and Haiti; the forests of Japan-preserved because of top-down management initiated four centuries ago; victims of the 1994 genocidal killings in Rwanda; air and water pollution in China; destruction of environment by sheep and rabbits in Australia; President John F. Kennedy and advisors deliberating during the Cuban Missile Crisis (evidence of group decision-making informed by past mistakes); oil and chemical disasters in the North Sea and in Bhopal; and a gated community, urban sprawl, and smog in Los Angeles. Concluding pages are devoted to reasons for hope. Annotation ©2004 Book News, Inc., Portland, OR
Reviews of Collapse found at Barnes and Noble.
Robert D. Kaplan - The Washington Post
In a world that celebrates live journalism, we are increasingly in need of big-picture authors like Jared Diamond, who think historically and spatially -- across an array of disciplines -- to make sense of events that journalists may seem to be covering in depth, but in fact aren't. He did this so well in Guns, Germs, and Steel, which has been a huge bestseller since its publication in 1997, that one might think Diamond would have little more to say about the vast sweep of human history. Think again. In his extraordinarily panoramic Collapse, he moves his wide lens to yet another telling phenomenon: failed nations, of both the distant and the recent past.
Michiko Kakutani - The New York Times
Mr. Diamond - who has academic training in physiology, geography and evolutionary biology - is a lucid writer with an ability to make arcane scientific concepts readily accessible to the lay reader, and his case studies of failed cultures are never less than compelling. He presents some intriguing digressions about methods used by scientists and historians to diagnose the trajectory of long dead societies, and provides some provocative analyses of current environmental problems in Australia, the United States and China.
Publishers Weekly
In his Pulitzer Prize-winning bestseller Guns, Germs, and Steel, geographer Diamond laid out a grand view of the organic roots of human civilizations in flora, fauna, climate and geology. That vision takes on apocalyptic overtones in this fascinating comparative study of societies that have, sometimes fatally, undermined their own ecological foundations. Diamond examines storied examples of human economic and social collapse, and even extinction, including Easter Island, classical Mayan civilization and the Greenland Norse. He explores patterns of population growth, overfarming, overgrazing and overhunting, often abetted by drought, cold, rigid social mores and warfare, that lead inexorably to vicious circles of deforestation, erosion and starvation prompted by the disappearance of plant and animal food sources. Extending his treatment to contemporary environmental trouble spots, from Montana to China to Australia, he finds today's global, technologically advanced civilization very far from solving the problems that plagued primitive, isolated communities in the remote past. At times Diamond comes close to a counsel of despair when contemplating the environmental havoc engulfing our rapidly industrializing planet, but he holds out hope at examples of sustainability from highland New Guinea's age-old but highly diverse and efficient agriculture to Japan's rigorous program of forest protection and, less convincingly, in recent green consumerism initiatives. Diamond is a brilliant expositor of everything from anthropology to zoology, providing a lucid background of scientific lore to support a stimulating, incisive historical account of these many declines and falls. Readers will find his book an enthralling, and disturbing, reminder of the indissoluble links that bind humans to nature. Photos. Agents, John Brockman and Katinka Matson. (Jan.) Forecast: With a 12-city author tour and a 200,000-copy first printing, this BOMC main selection and History Book Club featured alternate is poised to compete with its ground-breaking predecessor. Copyright 2004 Reed Business Information.
Foreign Affairs
Huls Farm and Gardar Farm seem to be models of successful agricultural enterprise. Both have lush settings, good grass, and imposing barns that house 200 head of cattle, and they are owned by respected community leaders. They also face significant difficulties: their high-latitude locations make for short growing seasons, and a changing climate signals greater problems to come.
The two farms form the center of an anecdote that comes at the beginning of Jared Diamond's Collapse, and the story's O. Henry ending, stealthily arrived at, encapsulates the book's message. Huls, Diamond reveals, is a still-expanding fifth-generation farm in Montana's Bitterroot Valley; Gardar, despite its apparent prosperity, was abandoned 500 years ago when Greenland's Norse society collapsed amid starvation and civic unrest.