Kuala Lumpur, a Modern Metropolis
To view a slideshow from
Kuala Lumpur, press HERE.
The Flag of Malaysia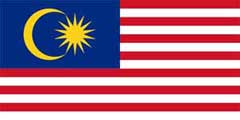 Betty, Seri and Salsa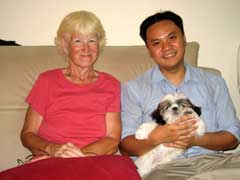 Petronas Towers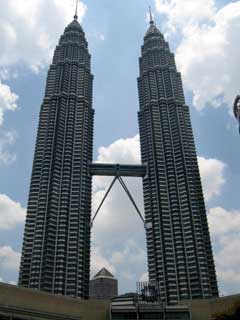 In Central Kuala Lumpur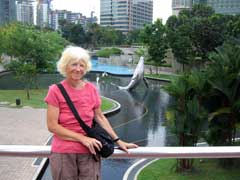 KL's Lake Garden Park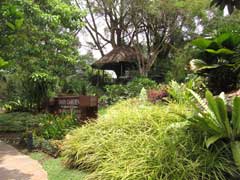 A New Travel Alternative:
Couch Surfing
Betty and I learned about couch surfing from our good friends, Paivi and Santeri. Couch surfing is a new travel alternative. I like to use the analogy of file sharing to explain couch surfing. In file sharing a person shares his music or video files with friends and through some peer-to-peer web sites with the world. In couch surfing a person shares his couch with a friend or a stranger. You connect with strangers at CouchSurfing.com where Betty and I registered two months ago. We did not feel the need to couch surf until we got to Malaysia, where accommodation costs are two to three times greater than the rest of Southeast Asia. Couch surfing can be done all over the world, not just in Asia. I checked the number of folks offering a couch in the Minneapolis area, and I found more than 150 couches.
How can you couch surf?
First you register, which costs nothing. Then you search for a couch in a city you plan to visit using the provided search tool. You look through the list of folks with couches. Click on their names and their profiles appear. Then you send an email to a few of the people that seem like a good fit. You will want to send several email messages, because we sent out about nine for KL and got three responses. Finally, you meet your potential host and hopefully enjoy a few days with them.
CouchSurfing.com is not the only hospitality service organization. There are several others. One of the organizations is Hospitality Club. I met the president of the local chapter of Hospitality Club, while in KL. Another organization is Global Freeloaders. Personally, I could never belong to an organization called free loaders, but I am sure some find the name charming. Wikipedia lists several other hospitality organizations, like WOOFF and Servas International. In these later organizations, you often work or help others where you are staying. Take a look at their web sites.
In my previous entry I mentioned how friendly all the Malaysians have been. They continue to be warm, kind and gracious to us. Two of these gracious Malaysian, Benny and Esther, agreed to give us a lift to KL from Cherating. How all of our gear and their gear and their two pet rabbits fit into their little car was beyond my understanding. The roads and highways of Malaysia are simply excellent. The four-lane expressway and toll road wound its way through rolling hills, thick jungles and vast palm plantations. The country is the greenest we have seen; probably, because it is the rainy season now. Green is beautiful to me, so Malaysia is beautiful. After three hours of enjoying the countryside, we arrived in Kuala Lumpur.
We did not check into a hotel in KL. We went to the flat of Seri Naga Leong. He was going to be our host for the next four nights. To put it mildly, Seri is a great guy. We met Seri online through the couch surfing website. To learn more about couch surfing, read my comments on the left. We had many long and interesting conversations with Seri. He had much to ask about America and he had much to tell us about Malaysia. In the middle of our conversation, we all went for a walk to have a dinner at wonderful outdoor restaurant a couple of blocks away to eat chicken satay and fat rice. Not long after we returned to the apartment, his partner, Felicia, came home. She is a lovely young woman. Seri and Felicia are professionals. He sells botox to doctors; and she is a loan officer with a local bank. Besides these two, there were three others living in the apartment: Michael, another roommate, and two little Shih Tzu dogs called Nachos and Salsa. We continued to talk late into the evening. The couch would have been ok for me, but not with Betty. So we slept on a comfortable mattress that lay on the living room floor.
The next three days, we really got to see Kuala Lumpur. We started at the Petronas Towers, made famous in several movies. They are simply stunning to see. They are more beautiful than any picture can show. These towers are not the only great architecture in this city. The modern buildings are just fantastic. We were continually surprised as we discover one after another as we walked and rode around KL. But modern architecture is not the sum total of KL architectural excellence. The Moorish influenced high court building is delightful to view. We saw many of these 19th century masterpiece buildings.
KL is a very green city. Trees can be seen in most neighborhoods and even in the city center near the Petronas Towers. There is a large and extremely beautiful park, called the Lake Gardens. In it we found an orchid garden, hibiscus garden, a bird park, a deer park, sculpture garden, and a running path with exercise apparatus along the way. The gardens are extremely well maintained.
The weather is hot here, especially when the sun is out. Everyday it was in the 90's and extremely humid. Our first three days it started raining at 4:00 PM and stopped around 6:00 PM.
Riding the Bus in KL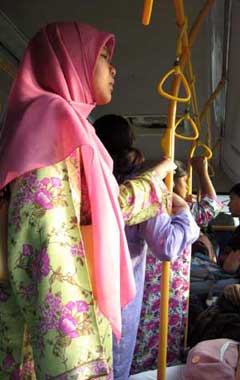 Every evening we talked and talked with Seri. He also gave us copies of some Heroes episodes that we had missed; and we gave him couple of audio books. On Wednesday he had to leave for Ipoh, but we were allowed to remain another night. I have got to add that I really love this couch surfing, because we got to really know our host. It is so much more personal than the impersonal experiences of life in a hotel.
On Thursday we moved to the Wongs' home. They live on the outer edge of KL in the Overseas Union Garden, named after the Bank that developed the area. We wanted to live with a family for a few days. And the Wongs seemed perfect. They were perfect. The Wongs are Simon, Karen, Phoenix and Jeaney - father, mother and two daughters. They live in a beautiful home in a very nice neighborhood with two dogs.
On Friday, the family was busy with work and school. In the evening we went to restaurant and met a couple of fellows, C.K. Tan and Selva, in the local Hospitality Club (see sidebar on couch surfing.) On Saturday, I got up at sunrise and went with Simon to hike in the nearby hills of Bukit Gasing. We met several on his friends, Mr. Young, Mr. and Mrs. Leong and another fellow. The hike was extremely strenuous for me and we climbed and descended along a rough path through a thick jungle. There were hundreds of people who shared the path with us. Everyone was out for their morning exercise. After 75 minutes I was totally done in, while the locals seemed completely at ease. We had a typical Chinese breakfast of noodles and meat before returning to Simon's home. In the afternoon, Simon, Betty and I met C.K. We drove to the new city of Putrajaya. It is about 35 kilometers south of KL. It is a city of federal government ministries and their buildings, the residence and offices of the Prime Minister, a new residence for the local Sultan, a new, colossal mosque, a huge man-made lake many bridges across the lake. We went to see the architecture. I will state it again and again, Malaysia has some of the best architecturally designed building in the world. In the evening we had a great meal prepared by Karen.
We left Kuala Lumpur this morning. Our stay with the Wong family was great.
We will miss all our new friends. Seri Naga and Felecia were wonderful hosts, too.
The other thing about today, the 8th of April, is that it is Betty's birthday.
Happy Birthday, Honey!

View from Seri Naga's Apartment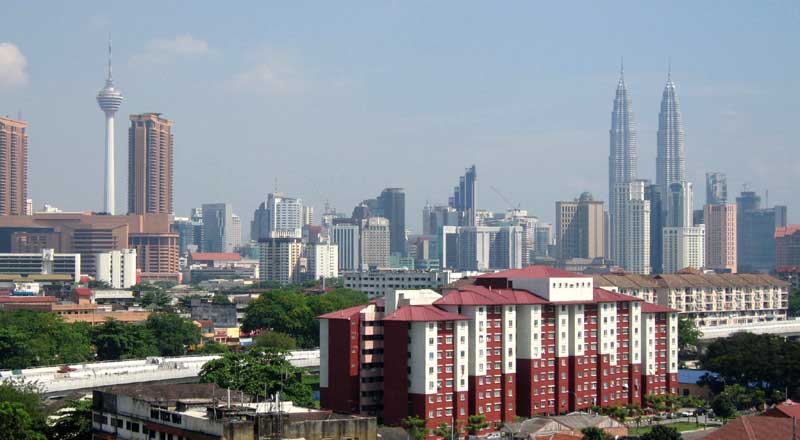 Posted by bill at April 8, 2007 11:26 AM