Life, Death and the Danish Boys
We have been visiting our daughter Birgitta in Minnesota. We have also continued to decompress from the six months of travel in Asia. There is nothing like work to help with a return to a clear mind and body. I have made the yard and garden ready for the summer. The load was much lighter this year. We are looking forward to a beautiful summer and some travel to the places unknown, but very likely to Canada.
Simon and Jakob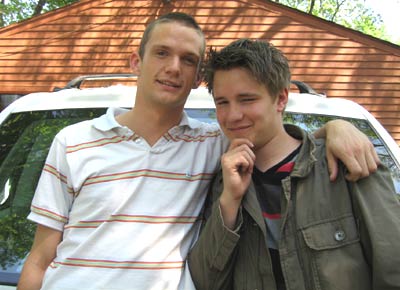 Final Preparations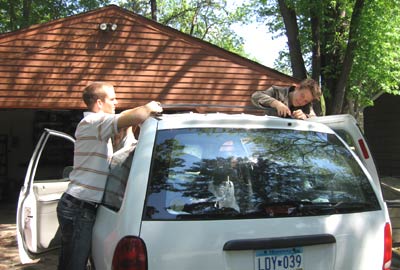 Ready to Ride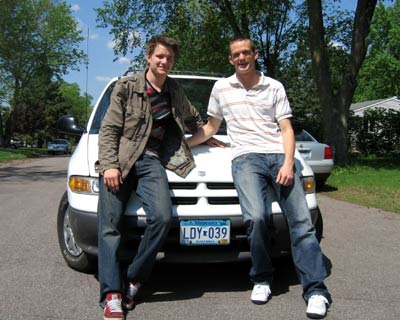 We are happy to announce that we plan to be grandparents in November. Birgitta is with child. We are overjoyed with this. Yes, new life comes. Tom and Heidi Schmitt are expecting their second any day now. Tom lived with us when he was a teenager 15 years ago. Our very dear friends in places like Argentina and Germany have also brought children into the world in the past year. Sometimes we feel like grandparents many times over.
We have two very good friends in Denmark, Nils and Bett Simonsen. They have a son Simon. Simon just turned 21 and he is between secondary school and the university. I met Simon when he was just a little boy, when he and his parents were on the beach in Mexico. Betty and I have been to their farm in Denmark. Simon's best friend is Jakob Rasmussen. The Rasmussens and the Simonssens are partners in the Danish farm.
Simon and Jakob were our very first couch-surfing guests. They arrived about a week after our return to Elliot Avenue. It was great fun having them here. Their main goal in the Twin Cities was to get a vehicle and the gear they would need to travel across the USA. They got 96 white Dodge Caravan for $1200 and a used futon mattress for $20. We introduced them to a bit of the restaurants, stores, parks and night life in the metro area. They took off more than a week ago with a couch-surfing invitation in Rapid City. They also left with a few names of our friends and family to visit as they travel. We wish them well in their journey and hope they find kind hearts as they cross the continent.
The news of new life has brought great joy to us, but the deaths of friends and family has brought sorrow to our lives, also.
J. Scott Renne died the first week in May. He was more than a friend. He was my boss at the City Assessor's office for many years. He was a real visionary when it came to assessment practices. He was instrumental in recognizing my abilities. Thus he gave me the job of designing an economic model to appraise home values in Minneapolis. The two models that I developed to value homes and apartments are used today. Scott saw all this long before I did. I think what really surprised him was how I could integrate the valuation system into all the other functions related to evaluation reviews.
He was loved by many. There were several hundred people at his funeral. The attendees included his family, but it included many more people. There were more than a hundred folks from the assessing community. There were old rival in the legal profession. And there were many real estate appraisers. He was well loved by his family and the community. He will be missed.
Betty's nephew, Ben Cassady, passed away the 8th of May. So sad, he was so young, just 31 years old. We can all remember him as an energetic boy. As children, our kids played with Ben and his brother.
Travel plays an imporantt part of our lives now. We made friends with Megan Cowell, when we were in Mexico in 2006. She travels even more than Betty and me. She studies in the Twin Cities, when she is not traveling. We were able to get together with her last week. It was great to see her and catch up with what's going on in our lives. We asked her if she had tried couch-surfing, and - sure enough - she had tried it and enjoyed it as much as we did. She is going to visit the Ukraine again this summer, where she teaches English.
There are a number of couch surfers in the Twin Cities. The local couch-surfing ambassador hosted a spring gathering for local surfers. It was fun to get to know and talk to folks with interests similar to ours. Some were travelers and others were just thinking about it. Those that travel all had good stories to report. We really liked couch-surfing, and hope to do more of it in the future. We want to encourage our friends to join the on-line community and sign up at CouchSurfing.com. Whether you become a surfer or a host, we think you will enjoy it as much as we do.
Well, you can tell by this entry, we have not been up to much.
We have seen new life come and the old depart. We helped two young men strike out on an American adventure. We saw old friends and new.
It has been a good month.

Altogether - Birgitta, Jakob, Simon and Bill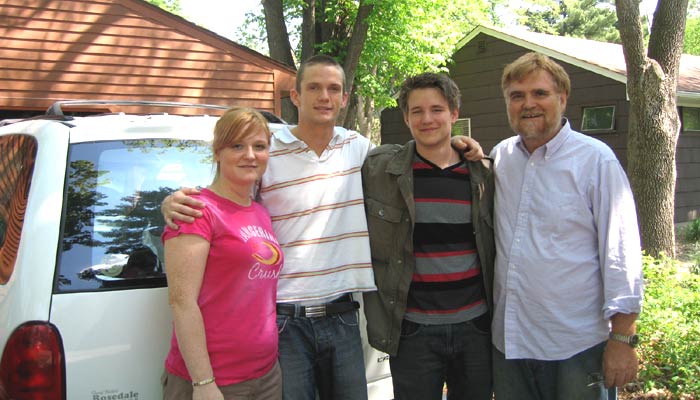 Posted by bill at
04:19 PM
|
Comments (3)