A Quiet June
Raspberries Ready to Eat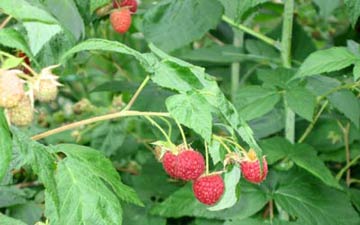 Sweet Corn All in a Row
Tomatoes and Cosmos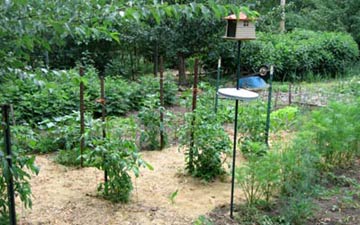 Today is the longest day of the year in the northern hemisphere, where there will be almost sixteen hours of daylight today. While we travel most of the year, we still enjoy the Midwest in the summer. As much as I disliked working in a garden when I was a boy, I really love it today. I enjoy the sun and the heat, clearing the garden of weeds, putting in a new brick pathway, transplanting hostas and flowers, breathing the fresh air, and the rolling storms of thunder and lightning. So, it has been a peaceful and enjoyable month.
Flower Beds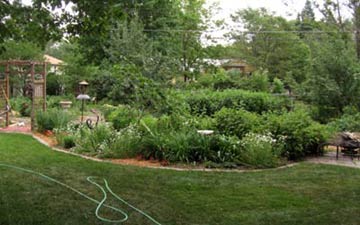 And Poppies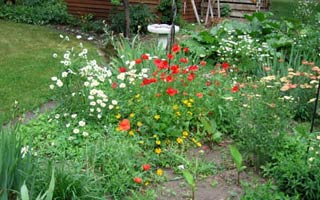 Birgitta and Betty have been preparing for my Sixtieth Birthday Celebration. They have prepared invitations and ordered all kinds of foods - not only including cakes and normal party fare, but also a whole roasted pig.
That is not all that I have been up to. I have an old Vespa that Birgitta wanted fixed up. To tell the truth, I have been riding so many motorbikes while traveling around the world, that I, too, really enjoy riding the motos. I got a good start. Having the gas tank cleaned and coated was awfully expensive, but - hey - this is the good old USA, where everything is expensive. I got a new battery, too. I cannot figure out how to adjust the carburetors, but when the repair manuals finally arrive - I hope to get it running smoothly. The fork and the handlebars donít line up either. Until those manuals come all is on hold.
My airplane got its annual check up. I took the mechanic a long time, but it finally came together. The cost was over the top this year. It was nice to finally be flying again. I also got a chance to fly the plane that I will buy in the next couple of weeks. If all goes well, I will be buying a Piper Comanche 250. I will need some more training, because it is a much more complex aircraft. With any luck I will be flying to Canada and the west coast in July.
Another a week or two of this quiet June is about all I can take. My feet are itching for a journey. When I next write, I will let you know what happened at my birthday party and if I got off the ground.

Posted by bill at
11:59 AM
|
Comments (0)