Melaka, a City of Old
To view a Melakan slideshow, press HERE.
Around St. Paul's Church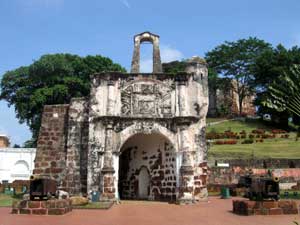 Scenes around Melaka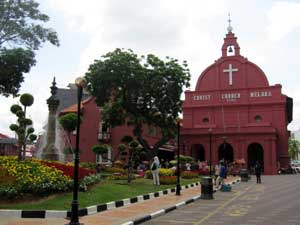 Melaka River
Song and Dance in Melaka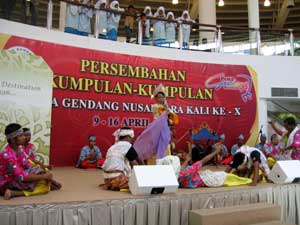 On Sunday Betty and I traveled by bus to Melaka. The bus station is a few kilometers north of the city center. We got a ride to a so-called hotel that was more like a guesthouse by the owner from the train station. His price was far too high for the quality he offered. I began to search the city. I had a list that I worked off. We had heard about the Fenix Inn from another traveler, which is where we ended up after checking out many places. All of them were expensive compared to the rest of SE Asia. The Fenix was not the cheapest, but it was the best value at $25 per night.
The next day we checked out. We left our baggage at the hotel, and we would return around 6:00 PM to either check back in or pick it up.
We spent the day exploring the older part of the city. One can see the primary historical sights in one day. Melaka, spelled Malacca until just a year ago, was more than a city 600 years ago. Then a Sultan created a state that encompassed much of western Malaysia and eastern Sumatra. 100 years later the Portuguese invaded and took over. The Portuguese were followed by the Dutch and then the English, who allowed Malaysia to become independent in 1957. Melaka was the center of all these rulers. There is an old fort, ancient churches, and administrative buildings, built by the Portuguese, Dutch and English. We also walked through Chinatown. 90% of the city residents are ethnically Chinese and 20% of the city is Christian, which is unusual in a country that is 75% Moslem and close to 25% Buddhist.
We planned to connect with a couch surfing host in the evening. When we returned to our hotel, we waited to see if she would come to fetch us before checking back in. Finally, Allegra arrived and we went to her apartment. She is a marketing consultant on a temporary job contract in Melaka. The company provides her with a sparsely furnished three-bedroom apartment, which she was kind enough to share with us. As with our previous surfing experiences, we talked on and on getting to know each other. Along the way, we went to small Malay restaurant run by Suzanne. Before we knew it was well after 11:00 PM and I was yawning. We got a room to ourselves with mattresses on the floor. We both slept great.
Betty, Allegra and Bill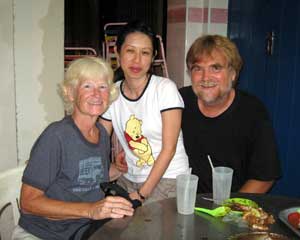 On Tuesday we did not do a lot of things. We again walked to the historic district. We had lunch in Chinatown. Then we visited the Baba Nyonya Heritage Museum, which is an old house. Baba Nyona refers to the children of early Chinese immigrants who married the local Malay women. The boys were babas and the girls were nyonyas. This house was really three houses for three generations: children, parents and grand-parents. The family that owns this house is well into the sixth generation. The houses were really great with hand carved stairways, old furniture, lanterns, costumes, etc. We stopped twice at an air conditioned mall, where there was a stage and cultural performances all day long. In the evening we spent a lot of time talking with Allegra.
Things slowed down on Wednesday, Thursday and Friday. We hiked to an old Portuguese settlement area on Wednesday. It was hard to believe that there are still many Portuguese living here after 400 years. It was easy to see that the children in the neighborhood had Portuguese blood flowing in their veins. We are sure that there has been some intermarriages, but - still - after 400 years, one might think that it would disappear. Thursday was even slower, all we did was go to a movie. It was a bad one at that. I guess that I just do not care for those supernatural horror flicks. And The Reaping certainly was one of those that I dislike. Friday we waited until Allegra got home in the early afternoon. She had to go back to Penang to tend to her sick mom. We had lunch before she left. After that we waited for the Chinatown to get busy as it does on every weekend. It is a colorful fun time.
We love staying with Allegra. She was a great hostess. Allegra is a kind and generous person. Although she worked all day, we were able to eat dinner with her every night. She introduced us to some great Nyona food from local curries to fabulous deserts, made with cream, palm sugar, nuts, fruits and ice. My favorite was the hot pot of boiling satay peanut sauce in which we cooked sticks filled with meat, prawns, veggies, fried bread, and more. It was simply scrumptious!
Today we are off to Singapore. It will be our last stop before returning to Los Angeles.

View of Malacca Straights from St. Paul's Church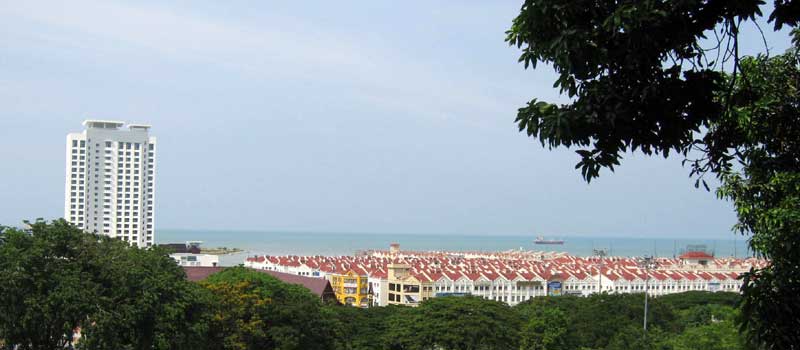 Posted by bill at April 14, 2007 08:03 AM