Singapore - Hot, Humid and Clean
To view a slideshow from
Singapore, press HERE.
On the Streets of Singapore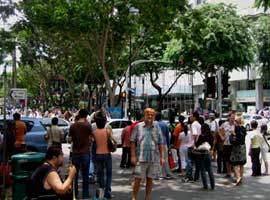 More of Singapore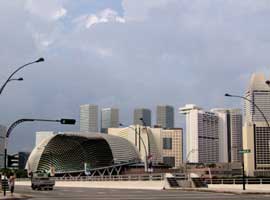 At the Raffles Hotel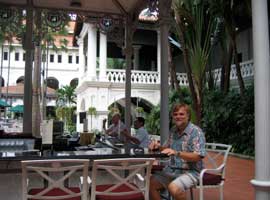 Chinatown Shop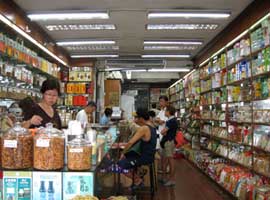 The bus on Saturday took about five hours to get to Singapore. We walked about ten minutes to a nearby MRT station. Two stops later we were walking again to our hotel, the Fragrance, Ruby. The neighborhood is quite lively, a mixture of working class and working girls. Singapore is very expensive. A lot of things cost more than in the states and certainly more than any other country that we have visited in Asia. This super budget hotel costs $42 per night, the most we paid anywhere in Asia. A 24-ounce bottle of beer costs at least $3 USD. Compare that to China where is cost less than 50 American cents. These two examples should suffice.
We explored the city on Sunday. It is by far the most beautiful city in SE Asia. It is super clean, modern, great (but expensive) public transportation, hundreds of western franchised stores. The only thing wrong with the place is the heat and the humidity. Like Malaysia it is over 90 (32c) and dew points in the mid 70ís, which for folks that know nothing about dew points is so damn uncomfortable that you want to die. Only AC makes the city bearable. We walked down Orchard Park Road, the Fifth Avenue of Singapore. We saw the famous Raffles Hotel. It deserves its great reputation. The old building had a fantastic redevelopment around 1990. We walked into the Anglican Cathedral and visited the old parliament building. The river, the old bridges and the colonial buildings all mixed in with modern skyscrapers are quiet the sight - even if the modern are far inferior architecturally to Kuala Lumpur. We skipped Chinatown and the Indian Quarter, but could have seen it all in one day. What that means is that the city is knowable in just one day. If you come this way, two nights should do nicely and three at the very most.
Chinatown is very small and basically a tourist-draw to expensive, low-grade souvenirs. We tried to stretch out our visit by eating and still we had seen enough in less than two hours. At one time the Indian district was adjacent to Chinatown, which explains why there is a beautiful old Hindu temple there. We took a bus to the Indian area. Like Chinatown, it is very small. To be honest, there was not much to see.
We returned to our hotel by mid-afternoon to prepare for our flight back to the United States.

Posted by bill at April 16, 2007 06:02 PM