February 27, 2007
Chiang Mai Two
The last ten days have been very easy going for us. Some days we did almost nothing and others we were out and about. That does not mean we do not enjoy Chiang Mai; it is one of the nicest cities in Southeast Asia.
To view a Chiang Mai
slideshow, press HERE.
In the Textile Musem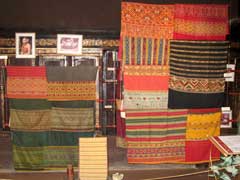 Wat Suan Dok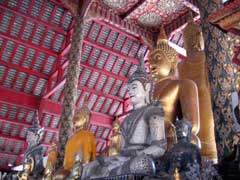 Wat Umong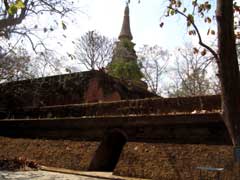 Lazy Sunday in the Park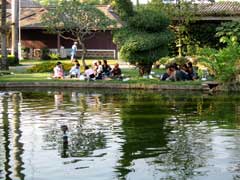 Wat Chiang Man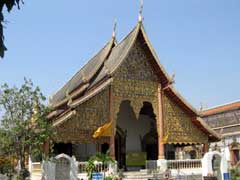 Wat Meun Ngun Krong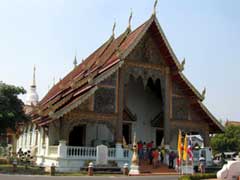 Elephant Camp in the Foothills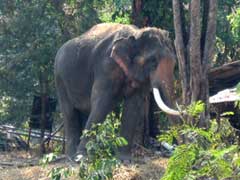 Friday 16 February 2007:
We tried to visit a number of places on the outer edges of Chiang Mai. I visited a textile museum. They had a fairly large, well laid-out collection. As much as I enjoy examining textiles, seeing the art embedded in weavings, the care and quality of their production and design and the clothing and coverings that can be made from them, I am surprised at how little I really know about them. I should take a class or read some books on it. We saw some more of the local handicrafts at a hill tribe store.
We visited two Buddhist wats: Wat Suandork and Wat Umong. At Suandork we saw an extremely large chedis. A chedi is a worship tower that should contain a relic of the Buddha. U-Mong is very old, more that 600 years old. It is famous because part of it is underground tunnels.
There is an art University with a museum of what I believe to be mostly student art, but perhaps not. In their techniques, the themes and styles seemed very childish, but excellent compositions in their own way. I am not expert on art, so if you visit Chiang Mai, you should see these pieces for yourselves.
In the evening we ate at the Writer's Club. There are a good number of ex-patriots here – especially on Friday evenings. We decided to forego Thai food this evening. Instead, I had a steak that was excellent and Betty had fish and chips that were just awful.
Saturday and Sunday were very slow days. I cannot even remember doing anything on Saturday. Sunday we went to a lovely little city park and played card. As nice as Chiang Mai is, it really lacks in parks. Because of this, the park is fairly crowded on the weekend. Still it is lovely and it is fun to watch all the folks resting and playing in the park. About an hour before dark, we headed for the river, where there are many good bars. It was a perfect setting for a sunset drink. The Sunday night market was great once again. We ate a lot of food from the vendors and looked at handicrafts. This market night brings all the small producers out with their homemade things. I really enjoy it.
Monday was a day of visiting wats, wats and more wats. There are so many in Chiang Mai that you could visit a dozen a day and not see all of them in the old city in a month. We visited the largest – Wat Meun Ngun Krong - and the oldest – Wat Chiang Man - in the walled city. And we visited the wat across the street from our guesthouse.
Tuesday was another low-key day. I went to the airport to check out the budget airlines. Then we both went to visit Lao Airlines. After learning as much as we could we went shopping. We were looking for a portable hard drive. They are quite cheap here and now. But we only looked and did not buy. After talking to Dain, I decide to wait and get one in the states, where it might cost a bit more – but at least I might get a guarantee good in the USA. In the evening we had dinner with Alan and Marijke. We ate at an excellent little restaurant called Kanjana. It always has lots of customers for its extremely inexpensive plates of Thai food. Typically, Thai restaurants cost about $1 per plate. The tourist places are 2 to 4 times higher.
Wednesday was another do-nothing day. I guess we were exhausted after the busy Tuesday!
On Thursday, February 22nd, :
We took a long drive around Chiang Mai Countryside. I had taken a similar route three years ago when I visited the city and my son's friend Jason Dillon. We thought that we might visit the typical tourist spectacles. But we decided not view any of them. Everywhere they wanted a significant payment to see their game. There were orchid farms, and a snake show and monkey training camps and elephant camps. Had we visited one of each, we would have shelled out $34. We figured that the money would be better spent at the Minnesota Zoo. We did see the elephants from the road. They are impressive and I always admire them. The road wound back-and-forth through the foothills off to the west of Chiang Mai. In the afternoon we stopped at a lovely restaurant in the hills called Proud Phu Thai - or at least that is the way I remember it. Near 5:00 PM, the bike tire went flat. I had not run over anything, it just gave up the ghost. We quickly got it fixed and were soon back in town.
In the late afternoon on Friday, we went over to Alan's apartment to see his slideshow on his January trip to Burma (aka Myanmar). They were the most amazing photos, partly because of his skills and partly because of Burma. The country is simply amazing. Unfortunately, it is run by a brutal military dictatorship that keeps the people in poverty and enslaves a good number to compete their projects. He and Marijke were torn about the visit. One does not want to support the government, but one does want to know and help the good people of Burma. His stories make me not want to go there, but his pictures are like a magnet that pulls you to the place. I am sure we will go there one day.
Saturday was a funny day. We did not do a whole lot. We prepared some photos for a visa to Laos and got them printed. We tried to hook up with Alan and Marijke to get our tickets to Laos, but the shop was closed. We had a very late lunch at Charlie's English Fish and Chips. Charlie is retired restauranteur from Blackpool, England, where his family once owned a dozen fish-and-chips restaurants. He lives here now and decided some years ago to open a good fish and chips place here. The fish was brilliant. His place is just off Kampangdin and Thapae Roads.
Later that evening we had some wonderful barbecued pig at bar near Alan's apartment. We watched them start the barbecue earlier in the day. It was a birthday party that we could go to and where great table of food was set. There was strawberries and ice cream for dessert.
Sunday we washed clothes went to the Sunday night market again. And Monday we visited one wat. Later we wandered around the Night Market that goes on everyday down by the river.
We reserved our last full day in Chiang Mai for a Thai massage. We had heard that the best place to get it was at the prison rehabilitation program down by the Three Kings Museum. We only had time for foot massages, which we thoroughly enjoyed. We are going back to Charlie's tonight; and off to Laos tomorrow.

Posted by bill at
05:00 PM
|
Comments (1)
February 16, 2007
Chiang Mai
The train ride to Chiang Mai was cleaner than India, but nowhere near as good as what we experienced in China. There are no compartments, just bunks laid out along the sides parallel to the direction of travel. Worse yet, there were no western-style toilets. After 18 hours and 700 kilometers of travel we arrived in Chiang Mai.
Chiang Mai is the Thailand's fifth city, but for me it is the nicest: clean, with less than 160,000 souls – small, but with all the services of a big city. By the way, Bangkok has more than 5.5 million people.
We booked into a good guesthouse, CM Blue House, which was recommended by Merie (see her excellent musings). The Blue House was just an excellent value! It is run by Americans who want to provide good service, and almost succeed in getting an overall very good rating – with good value being their best feature. We got room with TV, a frig, and hi-tech fan for $10 per night. The guesthouse I stayed at in 2003 just was not the value it was then. Maybe I got a deal then, because I was here during the off-season.
I rented a motorbike for the week. While most of the rentals are $4.25 to $5.65 per day, I got a weekly rate of about $15. With wheels the city is pretty much ours. Later I would rent it for another 12 days at about $3 per day.
Chiang Mai's old walled city is a one kilometer square surround by the wall and a moat. We visited a couple wats: the Thai Buddhist temples of Pan Toa and Jediluang. Sunday we drove 10 miles up the mountain to Doi Suthep. It is one of the most beautiful wats in the area. Not only is the temple great, but there is a wonderful view of the city, which is at least 1000 feet above Chiang Mai. On Sunday evening we met will Alan Puzey and his companion Marijke. Sunday, we talked and the ladies shopped at the wonderful Sunday night market and drank beers and had a great dinner while listening to an excellent keyboardist and singer.
Alan is a great guy. I had met Alan four years ago in the south of New Zealand and we have stayed in touch ever since. He regularly sends me stories of his travels. One of my favorite things about the messages is his photo montages. He usually attaches one to each message. They are really good. I wish I could make one just half as good. You will find one in this entry. Click on it to get the full picture. Like me, Alan posts stories of his travels online in a Yahoo's 360 BLOG, which can be found at http://blog.360.yahoo.com/alanpuzey.
Monday, we looked for a new place to stay. Blue House would soon be fully booked with reservations and we knew that we would need to clear out in couple of days. We looked and looked and had almost given up on finding a place better than Blue House. Finally, we did. We got a room for two weeks and will pay only $100. The place also has free access to a kitchen and they have a coin-op laundry. The only shortfall is no pool.
We had made a date to meet Alan and Marijke at midnight to listen to some blues at the Brasserie, a club on the other side of the river. Much to my surprise, Betty stayed up and joined me at the Brasserie. The Thai musician was a great guitar player covering a wide range of blues and rock.
We did very little next couple of days. We did visit a number of cooking schools. After running a guesthouse and a restaurant, running a cookery school is perhaps the third most popular business to operate in Chiang Mai.
Thursday morning Betty arrived at the Asia Scenic Home Cooking School at 9:00 AM. The school was the least expensive at $21 per day. Asia Scenic is also a guesthouse run by two sisters, Gay-ray and DuAnn. Gay was Betty's instructor and I dutifully recorded the class and ate as much of the food as I could. The class went smoothly: from a visit to a local market to cooking six Thai dishes: pad thai, spring rolls, papaya salad, massaman curry, steamed fish with curry custard in banana leaf and chicken in coconut soup. To see more photographs click here. I was so stuffed by the time we finished at 1:30, it was all I could do to rush back to our room for an afternoon nap.
In the evening we had a wonderful meal with Alan and Marijke. We talked about our travels, politics, Thailand and about going to Laos together. It was a good evening.
I noticed how great the US economy is working the other day. I did a cash withdrawal at an ATM machine. The next day I checked my bank records. Damned, I thought, they cheated me. Then I checked the rates. To my chagrin they had not cheated me. No, the dollar had fallen by more than six percent. The last time the dollar was so worthless was during the reign of the last Bush. Got to love those Republicans, they screw up our economy and the dollar every time they get elected – not to mention the wars they get us into.
I saw something new on the cable at CM Blue House, which must be seen.
Some of the cable TV packages in Chiang Mai have Aljazeera, the Islamic television network. Wow is it good! Well, at least as good as CNN or BBC. And it is in English. It ought to be available to everyone in the world. I guess there is an Aljazeera web site that you might want to take a look at it.

February 06, 2007
Bangkok and Kanchanaburi
To view a Bangkok slideshow, press HERE.
Bangkok's Chao Phraya River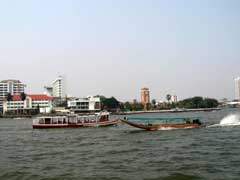 Wat Pho's Golden Resting Buddha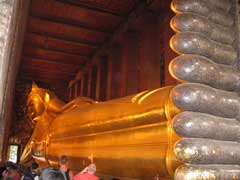 The Bridge over the River Kwai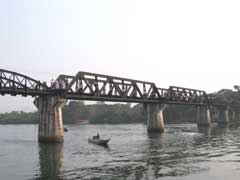 The Kwai Yai River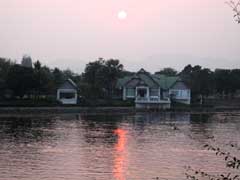 Friday the 2nd of February:
We were up, breakfasted and ready to go by 7:00 AM. The bus came late about 50 minutes later. The bus continued to make its rounds, going from one guesthouse to another. We finally left Siem Reap about 9:30 AM. The distance to the border was some 130 kilometers. Once outside of town the road is very different from the smooth new asphalt road to Phnom Penh. Here the pavement was often broken which often turned into enormous potholes. The broken pavement rather quickly turned into a completely earthen road. So for almost 100 km. there was a cloud of red dust that layered plants and buildings along the way in thick layer of redness. The dust also filtered into the bus. We could feel it on our tongues and in our eyes. Our hair, our clothing, our baggage, all was inundated. After four-and-one-half hours, including an hour of stops for food and the toilet, we arrived at the border. We walked from immigration office to immigration office then waited 40 minutes to board a sleek Thai bus. It was 3:00 PM and we had 330 km. to go. The expressways in Thailand are great. Three-and-one-half hours later we were on Khao San Road. The only problems were that so many of the guesthouses were fully booked and they were all quite expensive. I looked around for about an hour before finding one that was OK.
I was immediately reminded about why I do not like Bangkok. Here is another Asian city where the tourists, the millions of tourists, make the place crazy and uncomfortable. All I wanted to do was to get out of the city.
Saturday, the next day, we walked along the river to the Royal Palace, which was closed. Wat Pho was open and we walked there. This was Betty's first and my second visit to Wat Pho. The story of my first visit can be found at my home page. It is a spectacular wat that I had visited three years ago. Betty really enjoyed it. We walked back to Khao San Road and ate at McDonald's for the first time in two months. This McDonald's left much to be desired; there was not a place to wash your hands - a must when eating finger food in Asia.
Back at our hotel we tried to figure out what to do. We wanted to leave Sunday night on the train to Chiang Mai, but it was fully booked for two days. We sat around the rooftop pool trying to figure it out and finally we did. We would leave for a three day side trip to Kanchanaburi, the site of the "Bridge on the River Kwai." In the evening we found a real Thai restaurant: good tasting and super cheap food and beer.
We took a van to Kanchanburi: comfortable and fast. We found a nice guesthouse along the river. We declined to stay in a bamboo hut or a floating raft room. Still we liked our great view. The other thing about this place is that there is almost nothing to do, but take it easy.
Monday was a very lazy day for us. We read, played cards and just took it easy. The only thing of significance that we did was walk about two kilometers north to the Bridge over the River Kwai. Yes, this was the famous bridge depicted in the 1957 movie of the same name. But unlike the beautiful bridge in the movie, it was really just a simple railroad bridge. If you don't know the story, then you should search online. The Japanese forced 250,000 Asians and 60,000 prisoners of war to build the Thai-Burma railway. 12,400, mostly Australian, prisoners of war and 60,000 civilians were killed building this railroad.
Tuesday, 6 February: we are doing much the same as yesterday. Tomorrow we will return to Bangkok for a few hours and then board the night train to Chiang Mai.

Posted by bill at
09:21 PM
|
Comments (0)