Chiang Mai
The train ride to Chiang Mai was cleaner than India, but nowhere near as good as what we experienced in China. There are no compartments, just bunks laid out along the sides parallel to the direction of travel. Worse yet, there were no western-style toilets. After 18 hours and 700 kilometers of travel we arrived in Chiang Mai.
To view a Chiang Mai
slideshow, press HERE.
Wat Pan Toa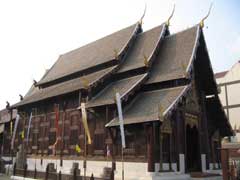 City Pillar and Wat Jediluang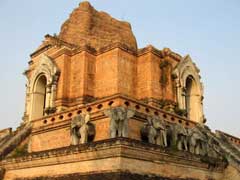 Steps to Heaven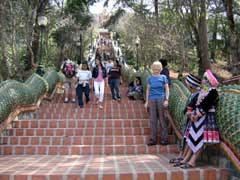 Chedi at Doi Suthep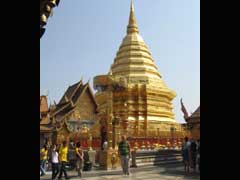 The Bells of Doi Suthep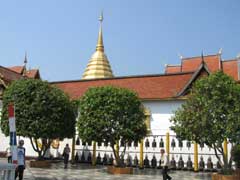 Chiang Mai is the Thailand's fifth city, but for me it is the nicest: clean, with less than 160,000 souls – small, but with all the services of a big city. By the way, Bangkok has more than 5.5 million people.
We booked into a good guesthouse, CM Blue House, which was recommended by Merie (see her excellent musings). The Blue House was just an excellent value! It is run by Americans who want to provide good service, and almost succeed in getting an overall very good rating – with good value being their best feature. We got room with TV, a frig, and hi-tech fan for $10 per night. The guesthouse I stayed at in 2003 just was not the value it was then. Maybe I got a deal then, because I was here during the off-season.
I rented a motorbike for the week. While most of the rentals are $4.25 to $5.65 per day, I got a weekly rate of about $15. With wheels the city is pretty much ours. Later I would rent it for another 12 days at about $3 per day.
Chiang Mai's old walled city is a one kilometer square surround by the wall and a moat. We visited a couple wats: the Thai Buddhist temples of Pan Toa and Jediluang. Sunday we drove 10 miles up the mountain to Doi Suthep. It is one of the most beautiful wats in the area. Not only is the temple great, but there is a wonderful view of the city, which is at least 1000 feet above Chiang Mai. On Sunday evening we met will Alan Puzey and his companion Marijke. Sunday, we talked and the ladies shopped at the wonderful Sunday night market and drank beers and had a great dinner while listening to an excellent keyboardist and singer.
Alan is a great guy. I had met Alan four years ago in the south of New Zealand and we have stayed in touch ever since. He regularly sends me stories of his travels. One of my favorite things about the messages is his photo montages. He usually attaches one to each message. They are really good. I wish I could make one just half as good. You will find one in this entry. Click on it to get the full picture. Like me, Alan posts stories of his travels online in a Yahoo's 360 BLOG, which can be found at http://blog.360.yahoo.com/alanpuzey.
Monday, we looked for a new place to stay. Blue House would soon be fully booked with reservations and we knew that we would need to clear out in couple of days. We looked and looked and had almost given up on finding a place better than Blue House. Finally, we did. We got a room for two weeks and will pay only $100. The place also has free access to a kitchen and they have a coin-op laundry. The only shortfall is no pool.
We had made a date to meet Alan and Marijke at midnight to listen to some blues at the Brasserie, a club on the other side of the river. Much to my surprise, Betty stayed up and joined me at the Brasserie. The Thai musician was a great guitar player covering a wide range of blues and rock.
We did very little next couple of days. We did visit a number of cooking schools. After running a guesthouse and a restaurant, running a cookery school is perhaps the third most popular business to operate in Chiang Mai.
Thursday morning Betty arrived at the Asia Scenic Home Cooking School at 9:00 AM. The school was the least expensive at $21 per day. Asia Scenic is also a guesthouse run by two sisters, Gay-ray and DuAnn. Gay was Betty's instructor and I dutifully recorded the class and ate as much of the food as I could. The class went smoothly: from a visit to a local market to cooking six Thai dishes: pad thai, spring rolls, papaya salad, massaman curry, steamed fish with curry custard in banana leaf and chicken in coconut soup. To see more photographs click here. I was so stuffed by the time we finished at 1:30, it was all I could do to rush back to our room for an afternoon nap.
In the evening we had a wonderful meal with Alan and Marijke. We talked about our travels, politics, Thailand and about going to Laos together. It was a good evening.
I noticed how great the US economy is working the other day. I did a cash withdrawal at an ATM machine. The next day I checked my bank records. Damned, I thought, they cheated me. Then I checked the rates. To my chagrin they had not cheated me. No, the dollar had fallen by more than six percent. The last time the dollar was so worthless was during the reign of the last Bush. Got to love those Republicans, they screw up our economy and the dollar every time they get elected – not to mention the wars they get us into.
I saw something new on the cable at CM Blue House, which must be seen.
Some of the cable TV packages in Chiang Mai have Aljazeera, the Islamic television network. Wow is it good! Well, at least as good as CNN or BBC. And it is in English. It ought to be available to everyone in the world. I guess there is an Aljazeera web site that you might want to take a look at it.

Posted by bill at February 16, 2007 07:00 AM