Bangkok and Kanchanaburi
To view a Bangkok slideshow, press HERE.
Bangkok's Chao Phraya River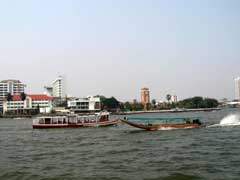 Wat Pho's Golden Resting Buddha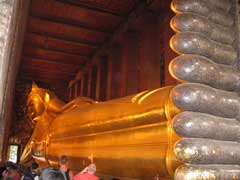 The Bridge over the River Kwai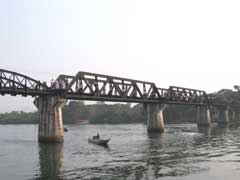 The Kwai Yai River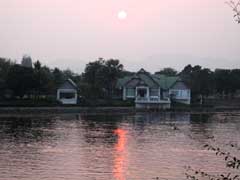 Friday the 2nd of February:
We were up, breakfasted and ready to go by 7:00 AM. The bus came late about 50 minutes later. The bus continued to make its rounds, going from one guesthouse to another. We finally left Siem Reap about 9:30 AM. The distance to the border was some 130 kilometers. Once outside of town the road is very different from the smooth new asphalt road to Phnom Penh. Here the pavement was often broken which often turned into enormous potholes. The broken pavement rather quickly turned into a completely earthen road. So for almost 100 km. there was a cloud of red dust that layered plants and buildings along the way in thick layer of redness. The dust also filtered into the bus. We could feel it on our tongues and in our eyes. Our hair, our clothing, our baggage, all was inundated. After four-and-one-half hours, including an hour of stops for food and the toilet, we arrived at the border. We walked from immigration office to immigration office then waited 40 minutes to board a sleek Thai bus. It was 3:00 PM and we had 330 km. to go. The expressways in Thailand are great. Three-and-one-half hours later we were on Khao San Road. The only problems were that so many of the guesthouses were fully booked and they were all quite expensive. I looked around for about an hour before finding one that was OK.
I was immediately reminded about why I do not like Bangkok. Here is another Asian city where the tourists, the millions of tourists, make the place crazy and uncomfortable. All I wanted to do was to get out of the city.
Saturday, the next day, we walked along the river to the Royal Palace, which was closed. Wat Pho was open and we walked there. This was Betty's first and my second visit to Wat Pho. The story of my first visit can be found at my home page. It is a spectacular wat that I had visited three years ago. Betty really enjoyed it. We walked back to Khao San Road and ate at McDonald's for the first time in two months. This McDonald's left much to be desired; there was not a place to wash your hands - a must when eating finger food in Asia.
Back at our hotel we tried to figure out what to do. We wanted to leave Sunday night on the train to Chiang Mai, but it was fully booked for two days. We sat around the rooftop pool trying to figure it out and finally we did. We would leave for a three day side trip to Kanchanaburi, the site of the "Bridge on the River Kwai." In the evening we found a real Thai restaurant: good tasting and super cheap food and beer.
We took a van to Kanchanburi: comfortable and fast. We found a nice guesthouse along the river. We declined to stay in a bamboo hut or a floating raft room. Still we liked our great view. The other thing about this place is that there is almost nothing to do, but take it easy.
Monday was a very lazy day for us. We read, played cards and just took it easy. The only thing of significance that we did was walk about two kilometers north to the Bridge over the River Kwai. Yes, this was the famous bridge depicted in the 1957 movie of the same name. But unlike the beautiful bridge in the movie, it was really just a simple railroad bridge. If you don't know the story, then you should search online. The Japanese forced 250,000 Asians and 60,000 prisoners of war to build the Thai-Burma railway. 12,400, mostly Australian, prisoners of war and 60,000 civilians were killed building this railroad.
Tuesday, 6 February: we are doing much the same as yesterday. Tomorrow we will return to Bangkok for a few hours and then board the night train to Chiang Mai.

Posted by bill at February 6, 2007 09:21 PM