Cambodia, the Angkor Kingdom
To view all 205 photos from the Angkor Kingdom in a slideshow, press HERE.
| | |
| --- | --- |
| Phnom Penh Monuments | Old Friends |
| Crowds in Bayon | More of Bayon |
| Other Parts of Angkor Thom | Thommanom to Ta Keo |
| Ta Prohm | Banteay Kdei |
| Tramping through the Jungle | Jungle Natives |
| Preah Khan | Buffalo and Banteay Prei |
| Angkor Wat | More of Angkor Wat |
Thursday, 24 January: First thing in the morning we started looking for our friends Santeri and Päivi. We walked about a mile to where they were last staying. We looked for them and checked out a room. They were not there. So, we finally check our email and discovered they had moved. We returned to our hotel checked out and made ready to go to their guesthouse. I contacted a tuk-tuk driver and he pulled out a map. Suddenly I was already on the street where they were staying. I retrieved the card of the hotel we were at and compared the addresses. We were less than twenty meters from them. We found them and checked in to the Burly Guesthouse. One bad thing about the guesthouses in Cambodia is that they do not include breakfast, but they make up for it by costing less.
We hung out for a good long time, eating breakfast and talking. Santeri was not feeling well and retired for a nap. Betty and I went for a long walk checking out several of the sites. We walked by the genocide museum, but I did not want to be reminded of that particular horror. In case you don't remember what happened here 30 years ago, a despot - called Pol Pot - killed some two million Khmer. Soon we where visiting a large wat or temple. It was very run down and needed many repairs. We pushed off and headed for a large outdoor market, the Russian market. Before we got to the market we passed by an open garage where I saw a new Cadillac Escalade pickup. I stared at it and realized that it was most likely stolen in the USA, because I could clearly see decal from a New Jersey dealership. I started to look more closely at cars in Cambodia. I am convinced that large numbers of stolen cars end up here. The Russian market was the filthiest outdoor market that I have seen, and I have seen them all over the world. The quality of the vegetables was shit. The fragrance of the fish and poultry and meat was retching. The visit was a truly extreme experience. We headed east toward the Laotian Embassy, only to find it closed from 11:30 to 2:00 PM. I guess they do not want visitors; we never returned. We had wanted to find out the price of a visa. We have heard that it is very high and is only two weeks long. We hiked back to the hotel stopping to rest and drink tea along the way. In the evening the four of us visited an Indian restaurant, where the food was good and inexpensive.
After breakfast on Friday, we walked to the riverfront. We planned to visit the Royal Palace, but at 10:30 in the morning they were not letting visitors in as they closed from 11:00 to 2:00 PM. The midday siesta is strong and well in Southeast Asia. We never returned. We did get into the National Museum. It was hardly worth the time, while Päivi and Santeri departed for a cafe. After the museum, we accompanied our Finnish friends while they check out two apartments. They plan to live in Cambodia this next year. The second was nice enough and only $130 per month. We sat and drank and ate all day on the riverside. We taught Päivi and Sateri how to play 500 Rummy. They get very serious when they play cards. We end the evening early.
Saturday we left early and took the bus to Siem Reap. Everything went well, except the bus does not enter the city. We took a tuk-tuk into the town. The price was included in out fare, but of course - he wanted us to use his services to visit Angkor. We ended up taking rooms at the guesthouse that Marie Vittoria recommended. When she knew it as the Lovely Guesthouse, but it is under new management - Sophie, a Canadian woman. She calls her place the 2C Angkor Guesthouse. It is near Home Sweet Home Guesthouse, which is listed in the guides. It is a gem of a place. It is extremely clean and inexpensive - just $8 for a fan room. It quiet and has a large covered terrace. Sophie has a lovely attitude and gives excellent customer service. We ate dinner in the town center where there are several WIFI networks that connect you to the slowest internet system in the world. Cambodia is truly underdeveloped.
Sunday, 28 January:
The four of us visited the Angkor Archaeological Park. We thought that we had hired a car with driver for the day, and I will explain why this was not the case later. First, we stopped to get tickets: $20 for one day or $40 for three days. I cannot say that the price justifies what you experience, yet more than a million visitors come here every year. I later learned that a private concern had gotten concession rights for the entire park. Based on our tickets, I would guess that the Sokha Hotel is the concessionaire. The person who gave me this information thought that the concessionaire was Vietnamese. According to this source, they only provide a couple of million each year to the government for the concession that grosses $20 to $40 million annually.
We first entered the largest temple area, Angkor Thom, where there are many temples - the best being Bayon. Bayon was overrun with tourists from all over the world. It is truly amazing and I took many photos, some of which you will find in this entry and others with Santeri's BLOG. We are merging our BLOGs for this entry. You can find his BLOG at . After Bayon we walked by Baphuon and Phimeanakas and the Terrace of the Leper King. We got back into the car and continued to two smaller temples: Thommanom and Ta Keo. Santeri had been hanging in the car, but exited and entered Ta Keo. It seems that his father and grandfather had visited this exact place some 55 years ago in 1952. He remembered from old photographs. Our next temple was Ta Prohm. This temple has been overrun by giant trees that are growing amid the ruins. Päivi was taken by this temple. Finally we were getting hungry. It was about 12:30 and we wanted to stop to eat and figure out where else to go. We were expressing our desire to visit Preah Khan and some of the temples to the north.
At this point our driver seemed to lose his mind. He was taking us on some mini-tour, and we dare tell him were to go. He was shouting and freaking out as we drove. I told him to calm down that it would not do any good. After the next temple, Banteay Kdei, he intended to take us to Angkor Wat and the end of his tour. That would have been at about 2:00. Since we had asked for a car and driver for the day, for us meaning sunset, and since he was clearly out of control, we decided that was the end of it. He continued to rage and followed us into the temple where we sat and ate our sandwiches. He threatened to call the police, an idea we liked. The best he could do was to call our hotel and talk to the man there who put us together. I made it clear that we would not go with him another inch, even though we were nearly ten kilometers from our hotel, and that we would not pay, as he failed to deliver a car for the day. I also told the hotel man that he should stay out of it. Finally, the driver left us alone. This incident changed the nature of our day dramatically. We all thought that the result was an improvement. The only draw back was that we were on foot.
Just another Disneyland
by
Päivi Kannisto
The absolute highlight of our travels in South-East Asia has been meeting our friends. We met Bill and Betty in Phnom Penh, Cambodia, and after spending a few days in the capital they wanted to head on for the famous temple area of Angkor. We joined the caravan.

The whole temple area was - sad to say - a tourist rip-off. The entrance fee was outrageous: $20 USD for a one-day pass, $40 for a three-day pass. If you compare this with the average $20 monthly Cambodian salary, or with the price parents get when they sell their 5 to 6-year old children to brothels ($10 according to a 2007 BBC documentary on child prostitution in Cambodia), you will see the discrepancy. Worst of all, the money from Angkor does not end up in the pockets of Cambodians. The whole Disneyland is, according to an urban legend, run by a Vietnamese company called Sokha Hotel Ltd.

We have to admit that, by and large, we are not too keen on seeing any tourist attractions. There is always a terrible hassle with all the hawkers molesting you. Any place boasting to be one of the world's biggest wonders or offering ecstatic tours is a place to be avoided. The same applies to Angkor. It is just another market place, very far from a sacred temple area. There were lots of street vendors offering us all kinds of things from postcards to flutes. Usually the vendors were little, toothless children who maybe should have been at school instead.

The best part of our visit was a lovely five-hour walk via small dirt roads through the jungle, guided by Indiana Bill. We got a better feeling of how big the area was. We saw many locals who greeted us happily. They were living in small shacks in the middle of the temple area. We were definitely the only tourists walking around there that day. It was like in the 50's when Santeri's grandfather and father visited the area. There were no mass tourists, tuk-tuks, or roads. That is, in our opinion, how it should have stayed instead of becoming just another wonderland for tourists to explore and boast about.

For more of my thoughts go to Just Another Disneyland.
Banteay Kdei was another interesting temple. When we finished exploring it, we doubled back toward Angkor Thom. Along the way we tried to engage tuk-tuk drivers to take us the three kilometers we were walking. Since none would take us for a reasonable price, we could see that prices were basically fixed within the park. Along the way we passed many workers cleaning the roadside. We were quite a site, the only westerners on foot. We always said hello, which led to happy greetings. I guess no one ever speaks to them. Finally, we made it to a dirt road that should lead to Preah Khan. It was a track unused by cars, just an occasional motorbike. When we got to the place where I thought we should head north again, the others insisted that we take the more traveled track. 500 meters on it ended at a dam on the Siem Reap River. We rested and doubled back to where the track turned north. It narrowed to a single path. The jungle moved in on us. I was looking for cobras and monkeys and saw nary a one. 400 meters north of our turn we came upon a dwelling with a family cooking and then the entrance to Preah Khan.
Preah Khan was the last of the great temples that we saw. It seemed older. It had a large moat. We only had one more to see, Banteay Prei. On the kilometer hike we passed a heard of water buffalo feasting in a dried wetland. After visiting this small, untouched temple we returned to sit with the buffalo herdsman. The four of us really enjoyed resting and watching them eat. We made our way back to the main road, and talked our way on to a bus. We rested in an air-conditioned beauty with Japanese tourists. Unhappily the bus brought us even further from town; now we were 14 kilometers away instead of 12. We tried to talk our way onto another bus, but failed. We were approached by a woman asking about a tuk-tuk. We simply let here know that they were all too expensive. She asked what we would pay, I said $4 and she suggested $5. Finally, someone who was willing to deal! We rewarded her by accepting the offer. She called over her man and he took us to town. It was 5:30 and we had been walking pretty steadily for the past five hours.
We were so tired and cover with road dust that all we could think to do was shower and grab some food. After washing the dust off we made our way to a Korean BBQ buffet, whuch for $3, was a good value. We were back in the hotel after stuffing ourselves. Betty and I were asleep before you could count to one-hundred.
Betty and I had gotten three day passes. The only thing left for us to see was Angkor Wat. With a good vehicle or even just a bike, you can see all the major sites in one day. They try like hell to keep you here longer with bull shit about mini tours and two day tours and where they stall at every site. Recently the police and powers-that-be banned the renting of motor bikes, because too many tuk-tuk drivers were put out of work. This Ludite mentality again cranks up the cost of the place. Angkor has turned into a tourist haven that is really a traveler's nightmare. We tourists have ruined the ruins.
We did not return on Monday. Rather we took it easy, thinking, writing, reading and talking. We met a lovely girl, Dana, from NYC. We visited the McDermott Gallery with her. This gallery is dedicated to photos by John McDermott. They are compelling photos from Angkor, Thailand and Vietnam. You can find his photos at his website, www.asiaphotos.net. We left Päivi and Santeri at a café uploading photos. And we returned to write some more.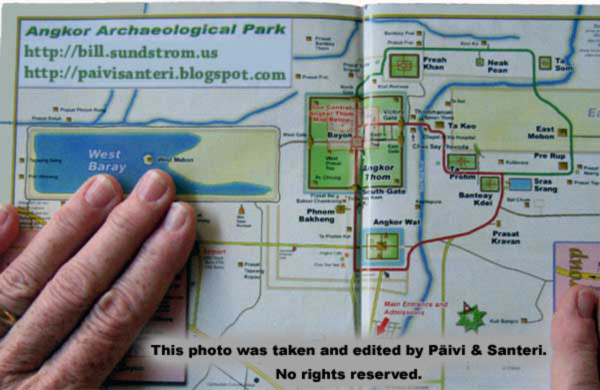 Please note that the Virtual Angkor Map on the right will link you to several small photo albums. The link will take you to another map where you can choose the part of Angkor that you wish to visit. The photo application should be easy to follow. When you have finished your visit just come back to this window. If you want Angkor's heritage to live on, please join our virtual ride instead of going to the real one.
Tuesday we returned to the Angkor Archaeological Park to see Angkor Wat. We rented bicycles in the morning and peddled about seven kilometers out to it. Angkor Wat is the most restored site. It is very beautiful and has a very large central temple, which has many spires and fantastic view of the area from roughly 15 meters above the surrounding countryside. While above it all we looked off too the west and saw a hot air balloon, what a wonderful way to view all the temples and wats in the park. We spent a good long time there. We ran into Dana from NYC again and gave her a better guide for the park. We also met a nice Swedish couple who we talked to for a good long time. Eventually we made our way back to our bikes and then back into town. Thus we saw, as Santeri calls them, our last pile of rocks.
In the evening we sat down for a second night of wine and cheese. Unlike the rest of Southeast Asia, French wines are fairly cheap here - a little as $3 per bottle. The guesthouse manager, Sophia, and another French lady joined us. It was a delightful end to a good day. .
Tourist: Guests or Customers
My hackles have been raised twice in the past week, once in Vietnam and once in Siem Reap. Without a doubt there is a strong tendency among some travelers to accept things as they are. I should not complain because "you are just a guest in this country." This sort of bullshit leaves no space to use the only weapon that exists against incompetence, tourist rip-offs, and poor quality service and products. The simple fact is that tourists, myself included, are not guests. We are customers or clients of the country that we are visiting. We pay high fees for visas. We pay for accommodations and food and transportation and communications. We are not guests living in the home of a gracious host. We are paying customers. And if we get bad value for what we pay, it is our job to put the seller right and call him on it. We do this not for ourselves but for the next client that walks through the door or visits the country. If you think the world outside of Western Europe and North America understands or is in tune with customer satisfaction, think again. Think about a place where there are absolutely no guarantees. Think about not being able to even test high cost equipment - like computers or cameras - before you buy. Think about outlandish demands for horrible product - like $1.80 per hour for a network link that connects your laptop at speeds slower than a telephone modem. Some westerners believe that you should remain passive, accept this reality and never demand that things should be different, that they should change. To this I say bull shit. And if this makes me the ugly American - so be it. At least I am not so arrogant as to think that I am a guest in places where they only want to take my money and give me dirt.
Several months ago my friends wrote a similar commentary on there BLOG.
Be sure to visit it for a very humorous recital on the same topic at Paivi & Santeri on Guests and Tourists.
Posted by bill at
03:13 PM
|
Comments (0)