Last Days in Hanoi
We have not been very busy in the past two weeks. We have tried to slow down and relax mostly. This has meant more venues for entertainment. One Friday or Saturday evening, we saw the first set at the Minh Jazz Club on Hang Ngang, the main street of the old quarter. Like most bands that play in Hanoi, they were Filipinos. The jazz was straight ahead and a delight. We have also seen a few movies, including Casino Royale. And we finally watched a DVD of The Departed that we got in China. Our favorite pastime still seems to be playing cards. I recently taught Betty how to play Gin Rummy, which is the only game that I can regularly beat her at as she was always good at 500 Rummy and has become a very good Cribbage player.
We went to the Vietnam Military History Museum which was filled with remnants of their victories. Especially telling were all the captured weapons. Two small anti-aircraft guns seemed to say a lot to me. On had shot down 357 French planes and the other 124 US planes It rattled my cage a bit. It was a shocking reminder of how short a memory Americans have, about how arrogant our so-called leaders can be and about how the will of a people will always win out - no matter the obstacles. Even today, Vietnam is no industrial giant; it is just a poor, mostly agricultural country. Yet, it defeated the Japanese in WWII, the French in the early 1950's, and finally the USA in the 1960's and 1970's. Why? The most likely reason is that when 80 million people in unison decide they want to change their lives, nothing and no one can stop them. I cannot totally blame the US people for their stupidity in their memory loss. The USA's quick victories in Grenada and Panama against tiny populations or causing enough pain in Nicaragua to cause a change were the anesthetic. And the knock out punch was the pain the USA inflicted on the Iraq after their so-called invasion of Kuwait. The USA got away with that and caused Iraq to withdraw. But try to subdue 40 million people without their implicit consent. Let their land fester in poverty and fear. Let them grow united in their opposition to the invader. Then you get Vietnam all over again. Such arrogance, such stupidity, such is the legacy of George W. Bush.
On Ha Long Bay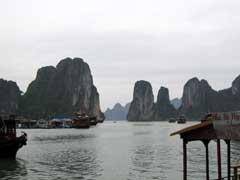 To view the Ha Long
slideshow, press HERE.
With Laura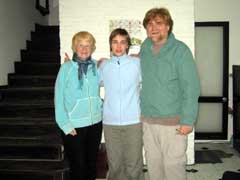 Hanoi Tours Sucks
Should you decide to use a tour service in Hanoi, I recommend that you avoid Hanoi Tours at all costs. They are located on Han Bac street in the old quarter. There are dozens of tour offices on this street. Scrutinize them with care before using them, because some will be like Hanoi Tours. Hanoi Tours was not honest with us. They did not honor their agreement. They did not fully refund our money. Yes, as far as we are concerned, Hanoi Tours sucks big time.
We had heard many wonderful things about the beauty of Ha Long Bay and we wanted to go. The weather forecast had been poor everyday, yet the weather seemed to be getting better everyday. Finally we booked a five hour cruise on the Bay with Hanoi Tours. The next morning as we departed, we noted how cold it was and the lack of sunshine. Based on the weather, we clearly booked for the wrong day. Three hours after leaving Hanoi we arrived in Ha Long City. But the boat they were trying to put us on was not the promised deluxe boat; it was the worst junk on water. Worse yet, the tour was switched to the four hour cruise. I raised holy-hell but to no avail. It was clear that the agency executed a famous bait-and-switch con. I knew that the four hour tour did not show you much of the bay, but it was even less than I had imagined. The next day, I got sick from the shell fish I ate on the tour. We also returned to get a refund. We only got partial reimbursement, which is better than nothing. All we could think was of the thousands of tourist who book, but are never back in Hanoi the next day. What little of the bay we saw was beautiful. I would like to get a proper tour one sunny day. The other thing that was extremely enjoyable was the people we met, especially the Vietnamese. Two Vietnamese women were even from Minnesota visiting family for the first time in several years. Two other Vietnamese men had immigrated to Australia years ago. They were interesting and charming people.
The day before we left on the Ha Long Bay tour, one of our roommates, Laura, returned after going home to Finland for two weeks. We had met her the day we arrived and she left later that day. Our other roomy had grown continually irascible. Lorraine is a bully at heart and uses her orneriness to control people. We had tried hard to ignore her, but it finally came to head over money. I had chipped in $50 for household bills when we arrived as the normal cost of the household was jus a little over $100 per month. Just after Christmas, I paid for the November internet bill - because service had been cut. I asked for a reimbursement. But she refused to pay. We argued and she was so angry that she invited us to leave. We declined and she offered to refund the payment and for our remaining days. We took her up on the offer and moved out Saturday morning. I won't say that I will never move in with folks again, but if the opportunity comes again, I will be extremely careful about who we will be living with.
Laura was also moving that day into a new apartment that she and her husband will share when he arrives next week. We had only known Laura a few days and yet she offered to let us stay at her new apartment. She is a lovely person. After leaving our old home we visited her new apartment. God, is it wonderful! It overlooks Truc Bach Lake. It is sunny and airy and full of life. We booked a hotel nearby, and went back to cook a dinner from the food we had brought from the other house. The spaghetti sauce was very good and the Bordeaux was excellent.
Today was our last day in Hanoi. We had heard about the pottery village of Bat Trang and finally decided to take a look. Riding the 16 kilometers was a chilly proposition. The road was very narrow and in very bad condition. The cars and the trucks almost push the bikes off the roadway. Buses are even scarier on this narrow pathway. When we arrived we thought that there was nothing special about the pottery. It was mostly commercial Asian style pottery. We bought a house warming gift for Laura and received the one special thing of Bat Trang, a very low price. I returned the motor bike a week early. Now, we are preparing to leave tomorrow morning on a 6:30 flight to Hue.
Posted by bill at January 7, 2007 07:29 PM