Merry Christmas from
&nbsp Ha Noi - the Motorbike City
Betty and I want to wish my BLOG readers and all of our family and friends a very MERRY &nbsp MERRY CHRISTMAS.

Well, it is Christmas Eve as I write this in Hanoi. The Christmas spirit is not as strong here as it is in the West. But in the last few days the intensity has risen to a crescendo, as we have seen the Christmas decorations go up in the parks and St. Joseph's Cathedral. Tonight the entire town seems to be in a festive mood. Thousands passed by the cathedral during the early evening mass, and I am sure that they will continue to come until the midnight mass. One could even see Santa on the streets over the last couple of days. When we turned to folks on the street and wished them a Merry Christmas, their eyes lit up and they returned the Christmas greeting to us. It feels good to be in Hanoi at Christmas.
Here is what we have been doing over the past two weeks:
The train ride from Nanning to Hanoi is just OK. And we made it safe and sound to Hanoi on Tuesday morning, the 12th of December. We quickly booked into a nice hotel near the youth hostel. The hotel was cheap for a capital city at $15 per night. This a fairly common price too. We did a bit of exploring the next couple of days. One of our main concerns was finding an apartment to rent for a month, because we wanted to slow down a bit. We were able to get a place in just a few days and had moved in by Friday the 15th. Our roommate had little Christmas party for her students and a few friends on Saturday. It was fun getting to know them. The Vietnamese are much shier than the Chinese, so it was a good opportunity for us.

To view all my photos of Hanoi, press HERE for a slideshow.
Lorraine and Friends

French Bread Seller

The Temple of Literature

From the Fine Arts Museum

Museum of Ethnology

Burial Tomb Art

Inside the Opera House

From the Green Palm Gallery

Motorbike City and Insanity

Hanoi Lake Views

We had heard good things about Hanoi, but were uncertain as to why people were so enthusiastic about it. Hanoi is a charming place and very different from the frenetic pace of China. Hanoi is a small town. The guide book says that there are almost four million souls here, but it feels much smaller - more like a city of one to two million. There are dozens and dozens of lakes in the city. West Lake is quite large, bigger than Lake Harriet in Minneapolis. Most are smaller and come with a park around it. Unlike China the parks are free and the people really enjoy them. Overall the pace of life seems slower here than in China. A lonely exception is the traffic. The streets are not well laid out, there are far too few controlled intersections and the drivers seem to be totally insane. Oh, did I mention that 98% of the vehicles are gas-powered motorbikes. Try to imagine that you come to a controlled intersection. What do you see? A hundred motorbikes with up to four people riding. Some ignore the light and proceed anyway. Then the light changes and the bikes are just inches apart as they proceed. When you come to an uncontrolled intersection, they weave through in all directions at the same time. For a pedestrian to cross a street, he slowly walks across and the bikes drive around him. You got to have faith that they will not knock you down. Hanoi is growing on us and I like it more and more everyday.
It is probably appropriate at this time to admit that I rented a motorbike for the month. It only cost $50 including a helmet that Betty uses. I am into the riding frenzy and although I do not much like the lack of traffic controls, I have adjusted to it. Betty seems to have lost her fear. If you are a believer, maybe you could say a little prayer for our safety.
Another fact of life in Hanoi: we are not very exceptional. Unlike China where we were one of the few Westerners traveling, there are thousands of tourists in Hanoi. If you want to believe the paper, they get a half-million per month. If true, they do not spend much time here - because I only see a couple of hundred or so per day. This makes Hanoi extremely cosmopolitan.
What have we been doing?
First we have been to the opera house twice. First, to hear the symphony orchestra and a large choral ensemble singing patriotic poetry. Second, to hear a Christmas concert that included a trumpet soloist playing Haydn, a piano soloist playing more modern classical music and concluding with a symphony by Dvorak that was simply wonderful. I am sure that we will be back a couple of more times before we leave.
Another cultural venue was the Temple of Literature, which was the first university in Vietnam dating to 1076. We have also visited two excellent museums. The Museum of Ethnology has a good display of all the minority groups in Vietnam. It included wonderful outdoor exhibits of old and native homes and tombs. The tombs are surrounded by carvings of pregnant women and men in fairly erotic poses, because the other side of death is the living and the creating of new life. Interestingly the museum grounds are a favorite backdrop for wedding photos, but nowhere near the burial vaults. Another really great museum is the Fine Arts Museum, which has a large collection of Vietnamese art. The Chinese seemed to be the masters of making copies. Not so for Vietnamese, who seem to produce really marvelous sculptures, paintings, posters (Vietnam Old Poster shop - 122 Hang Bac - Hanoi), watercolors, block prints, and an interest technique of carving lacquered wood to make some impressive images. We have also seen some great pieces in galleries and shops. One shop had hundreds of posters created over the past forty years. I, for one, love Vietnamese poster art. I first saw it in the 70's. I was impressed then and still am impressed. An example of the really good galleries here is the Green Palm gallery. I would encourage you to visit their web site to get a sense of the quality of modern Vietnamese artists, or click on my photo from the gallery.

I think I will wrap up with some discussion of food in Hanoi.
There are hundreds of restaurants and bars that cater to foreign tastes. That mean everything is available. Yes, we have eaten in many Vietnamese restaurants, be we have also eaten in French, Italian, American and Russian restaurants; and there are foods from many, many more countries. Just tonight we ate a gourmet quality dinner (snapper with a mustard sauce and all the trimmings) for six dollars in a French bistro. Eating is cheap and a joy here.
This is all for now.
Sunset on West Lake - Christmas Eve 2006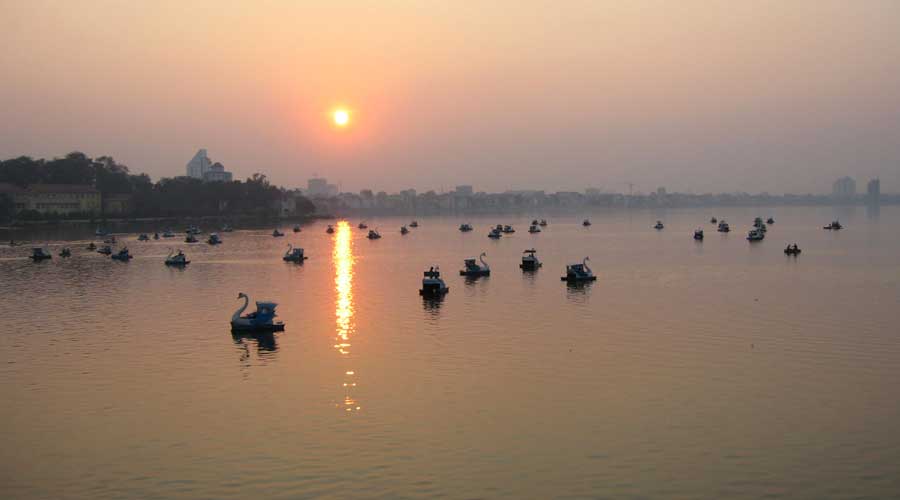 Posted by bill at
12:14 PM
|
Comments (10)