Farewell to China
To view all my photos of Guilin and
the River Li, press HERE for a slideshow.
Views of Guilin
On the River Li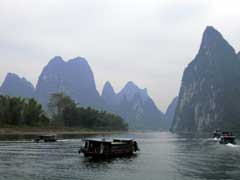 Friday, 8 December:
The bus ride to Guilin was long and wearisome. Still it was among the most interesting of our journey to China. We saw more of the rural countryside, small towns and cities that we had been missing. I enjoyed the views greatly. I did not enjoy the slowness of the trip. It is a little over 250 miles from Guangzhou to Guilin; and the bus ride was just a few minutes short of twelve hours. The temperature dropped drastically along the way. When we left Guangzhou it was in the mid-70's and it was no more than 50 (10c) when we got to Guilin. The hostel room was not any warmer when we arrived. The heater finally got the room temp up to about 68 (20c), which was acceptable but still no banana.
Saturday:
It was just as cold and raining when we awoke. We had come to Guilin to ride the boats on the River Li. There was no way that we were going out on the river in this weather. We even talked about heading for Nanning, but it was really far too late by the time we figured out the weather situation. We went to the train station and discovered that they had already sold their quota of tickets for Monday. So we bought tickets to Nanning, hoping to acquire tickets for Hanoi from there. We walked around the city some. It is truly a very beautiful place. Typically, the Chinese are charging to visit every little thing, so we skipped getting into the more lush gardens or the temples. We would like to come back here when it is warmer so we can enjoy it all the more. We booked a river cruise for Sunday, hoping for better weather.
Today, Sunday, 10 December:
The river cruise was very good, even though the weather was cold and cloudy. It was not raining and the wind was not blowing all that hard. Yes, it was hazy, which does not make for good photos, but all of China seemed hazy. An Irish woman and an Italian man, who were staying at our hoste,l and two Chinese gentlemen were our companions all day long: Ciara the Irish, Luca the Italian, Michael the Canadian-Chinese and Mr. Chou the Chinese. We talked and ate and viewed the beautiful scenery together. The cruise started several miles south of Guilin due to the low water. At times our large, flat-bottomed boat struck sand and gravel where the water was but a meter deep. The four-hour journey passed by two villages before reaching Yangshuo, which was a stunningly beautiful little city nestled among the strange little mountains of this region. The bus trip back to Guilin continued to display the natural beauty of this area.
We will be traveling all day tomorrow. With a little luck we will be in Hanoi on Tuesday morning.

Classic Iconic View of the River Li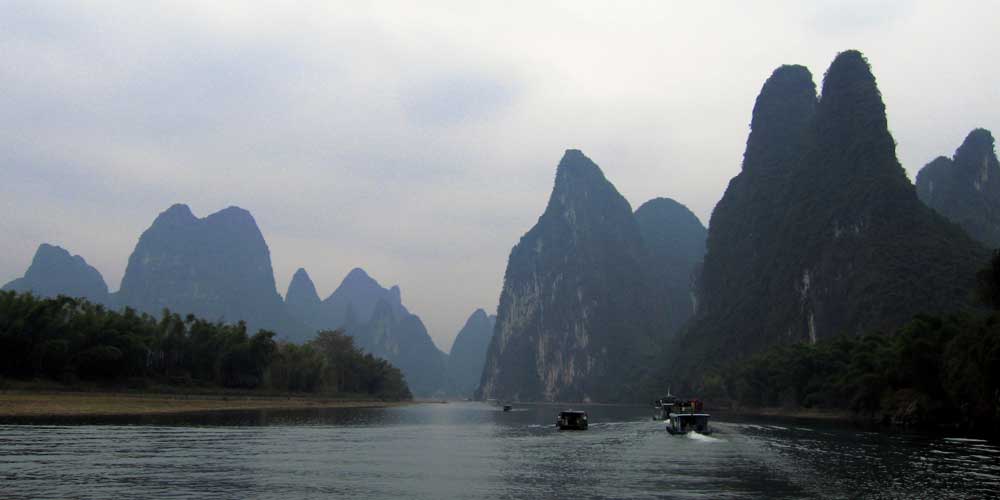 Parting Thoughts on China
Betty's Rant
Asian Unsanitary Facilities
Many times before Bill and I left for China, Brian asked me how I was going to deal with the Asian toilet. Well, I did fine, but that does not mean I liked it.
An Asian toilet is basically a hole in the ground. The Chinese manufacture porcelain fixtures with places for you to place your feet and squat over them. Some will have a flushing mechanism. Other variations include a trough that runs through a series of stalls, with or without doors, which you straddle. This is most common in bus or train depots.
In old buildings I can understand that the fixtures have not been upgraded, but in a new bus depot having the stainless steel lined gutter is gross. If there is a western stool, there will be many people waiting to use it. It appears that Chinese people will choose the western toilet if given a choice. Unfortunately, even McDonald's and KFC have installed Asian toilets.
The biggest problem with the Asian toilet is that many people have a bad aim. There is often waste all around the fixture and the smell is horrendous. At one bus depot there were three rats running up and down the trough. These places are so filthy and unhygienic that I would not touch the walls and would use hand sanitized after leaving. The worst places I would not use at all.
What I don't understand is why the Chinese people would put up with conditions like this. In the US if the restroom is dirty someone would demand that management clean it. But so often there is filth everywhere and nicely dressed people just roll up their pant legs and don't complain. It makes no sense to me.
Many years ago the common clothing for the Chinese was baggy pantaloons that were open at the crotch, for both men and women. Now this clothing is only for very small children. I suppose when people wore clothing like that it was fine to straddle a hole in the ground. But now everyone wears slacks or very tight jeans. It is more difficult to peal those jeans down and aim accurately. Most are not too accurate.
Enough for that rant!
We will bid China farewell for now. I am sure that we will come back again. We would urge you to visit soon, if you are thinking about it. It is easy to travel here and not too expensive. I am sure that it will only become much more expensive to be here.
Why should you visit?
The reasons to visit China are numerous. Here are some of the things that we loved:
The people are some of the friendliest in the world. They like us and the children seem to be excited to get to know us. Their innocence and openness were a constant and great pleasure to experience.
There is an explosion of building here: tens-of-thousands of building, roads and highways, and municipal projects.
There are wondrous sights: The Great Wall of China, the Terracotta Warriors, Panda bears, and great metropolises.
Chinese food is very good and very different in China.
The transformation from peasant based rural socialism to rampant capitalism is also simply mind boggling. And despite all that is great in China, the Chinese Communist Party has screwed up some parts of this transformation to such a degree that they should be ashamed of themselves for having completely fled their socialist ideals. The following lists a bit of what I am talking about:
There does not appear to me much of a social welfare system here. There are millions of beggars, mostly the elderly, the sick and the crippled.
Primary education is not paid through taxes, rather the families of school children pay, and the tuition is not cheap.
It does not appear that medical services are socialized. I read of a woman with leukemia that had to pay for her treatment, and again the treatments did not come cheap.
After our trip to Guilin, it looks like most intercity roads are toll roads. The condition of most expressways is good. But the road to Guilin was horrendous, and every 20 minutes we stopped to pay a toll. Personally, I find such funding systems disgusting, but the point is that the roads are not really treated like a public good.
The same can be said about city parks and museums. People must pay to enter them. This means that they are pretty much reserved for the rich. Many were so expensive that we often would not enter them. Can you imagine paying one to six dollars to enter an ordinary city park? For the Chinese it is like paying three to 25 dollars. Only in Hangzhou did we find a large, free city park and museum. Both of which were well used by the local populous.
The Chinese people are a hundred times better off that they were 25 years ago. With a few tweaks of their thinking, I would predict a glorious future for them. It appears to me that many of the changes taking place here will continue to lead to a better life for most people. And I wish them every success in that endeavor.
The only serious problem that I have not mentioned is the traffic problems. The most critical problem is the lack of training for drivers and the lack of good right-of-way rules for all types of transport from pedestrians to two-wheeled bikes to autos, trucks and buses. They need to decide the rules, establish good path and roadways and advertise them through constant public announcements on the media.
A Note on Kenny G:
Since coming to China I have heard more Kenny G than in the past 10 years in the US. His music is ubiquitous in shopping malls, airports, bus and train stations. It is everywhere. But, after hearing some traditional Chinese music, the similarity to Kenny G is noticeable. Maybe that is why he is so popular here.
In any case, I have tried to say a bit about what we love and dislike here. But you need to see it yourself to believe it. So, try to see it sooner rather than later.
Posted by bill at December 10, 2006 09:04 PM