Shenzhen and Guangzhou
We thought that we left Xiamen early enough to get to Shenzhen by late afternoon. But alas it was not to be. No bus was leaving for Shenzhen until late in the afternoon. So we departed on a bus that would take us about half way. The driver took more than 90 minutes to get out to the tollway. He had to make several stops to pick up passengers before proceeding. Then when we arrived at our midway point, it took more than an hour to get into and then leave the city. By the time we got to Shenzhen, it was almost 9:00 at night.
To view all my photos of Shenzhen and
Guangzhou, press HERE for a slideshow.
Dongmen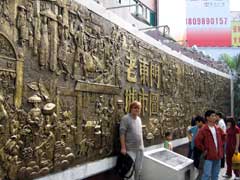 Grace's Students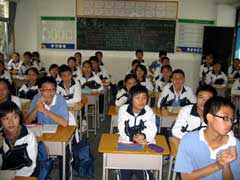 Five Rams and 100 Kids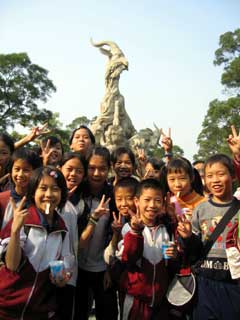 Some of the 500 Buddhas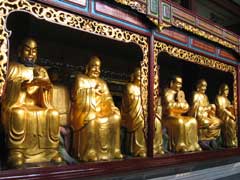 Sunday, 3 December:
Not much doing, we visited an area of Shenzhen called Dongmen, or the East Gate> Being Sunday, the throngs were much larger than normal, because this is an area to buy the essentials of life and where bargaining will give you an 80% discount. We met our friend Grace Sui in the evening. We went out for dinner and talked about her class on Monday.
On Monday I finally picked up a new credit card that the credit union sent me in care of Grace. Unfortunately FedEx had classified her address as undeliverable. I found that strange, since she regularly receives mail at the address we provided. Luckily, they held the package after a call I made from Hangzhou last week. I had to take a taxi to their depot and then rode the metro back.
Betty and I left about noon. We took our time strolling through the stores on Hua Qiang Bei Lu. We got to the school much faster than we thought. We stopped at a KFC to play cribbage. Betty is getting quite good at the game.
Just at two, we arrived at Grace's school: the Shenzhen Experimental Middle School. Betty and I had volunteered to be guest speakers. We gave a short presentation and then asked for questions. They started slowly, but soon the students were asking many questions: some thoughtful and mature and others were typical teenage questions. We thoroughly enjoyed it and we think the students did too. We went out for coffee and planned to join in an after-school English club. But the school cancelled these activities - so the student could prepare for an upcoming marching competition.
We were joined by Grace's friend Roosevelt. He is another American teaching at a nearby school. We went out for a fabulous meal. After dinner another teacher, Angie, from Grace's school, picked us up at the restaurant. Angie and her husband, Wengsi, gave us a short night time tour of the city. All in all, it was a wonderful day.
Betty's Email Home

Subject:
From:
Date:
To:
GUANGZHOU
Betty
6 Dec 2006
Birgitta, Dain
Hi everybody,
This is the strangest city in China yet. It feels like a Disney resort.
The reason for this is that there are so many couples with small children in strollers. The adults are mostly American and the children are Chinese. We stumbled into the adoption capital of China.
At the restaurants all we hear in English talk about babies! It is awful!
The parents are in their late thirties and forties and they are doing this baby-talk shit. Many are here for their second or more time.
We love that the orphans are being adopted into loving families, but we never thought it was so centralized in China. We are across the street from adoption-central, The White Swan Hotel. We are at the down-market youth hostel. Bill's sister Ann and husband Alan came here to adopt Clara five years ago.
This place has an odd effect on me. Since Bill and I don't look much older than many of the adoptive parents, we get all the smiles and knowing looks from the working people and the other couples. And the children are so cute I keep thinking, "Let's get one!"

Love,
Mom
Tuesday, 5 December:
We took the train to Guangzhou. Guangzhou was called Canton by the British and the language spoken here is still known as Cantonese. We check into a youth hostel on Shamian Island across from the White Swan Hotel. The first thing we noticed was all the Americans in the area with children. We figured out that this is an adoption center for Americans, once I realized that this was the White Swan that my brother-in-law mentioned to me in August. Alan and Ann adopted a baby here and spent some time in the White Swan. Betty wrote a note to Birgitta and Dain about what we saw. My only comment about the whole thing was that all I wanted to adopt was some grandchildren.
Wednesday:
After checking out the bus schedule to Guilin, we stated walking through the city. We first visited the Yuexiu Park. The park is extremely beautiful. We enjoyed the greenery. We made it to the Five Rams sculpture, a massive stone sculpture that was built some fifty years ago. There was a class of young students visiting the site. We said hello to a few and the next thing we knew we were shaking all their hands and greeting each other. It is really amazing how well these students can already understand English. It will be a different world when they are adults. When they left we sat down to enjoy the location and play a few hands of cards. Not far from the park is a really great museum, the Museum of the Nan-Yue King in the Western Han Dynasty. It is located on the site of Chinese emperor from about 100 BC. It was only discovered in the 1980's and the large number of nearly perfect relics is fantastic. We thought that we had our fill of museum, but we really enjoyed this museum and recommend it to all who visit Guangzhou.
Today Thursday:
We took the metro to a location about four kilometers from our hotel. We planned to stop at various sites as we hiked back. We visited a pagoda, a mosque, a jade market, a temple with 500 Buddhas, a pedestrian mall and some small alleyways and markets. We enjoyed our day here.
When we got back to our room we decided to check when trains leave Guilin for Hanoi. It turns out, just twice a week, and Monday is one of those two days. We were planning to go to Guilin on Saturday, but we have decided that tomorrow will be better as we will have more time to see the Li River before moving on to Hanoi. So we are off on another long bus ride tomorrow.

Posted by bill at December 7, 2006 08:13 PM