Dresden
After leaving Karlovy Vary, we drove though the industrial north of the Czech Republic and stopped in the city of Teplice. We walked through the town, and it was nice, but not as old as many that we have visited. We had dinner and walked back to our pension and retired for the evening.
Press HERE to see a slideshow from the East Germany.
$5000- Coffee Service for Four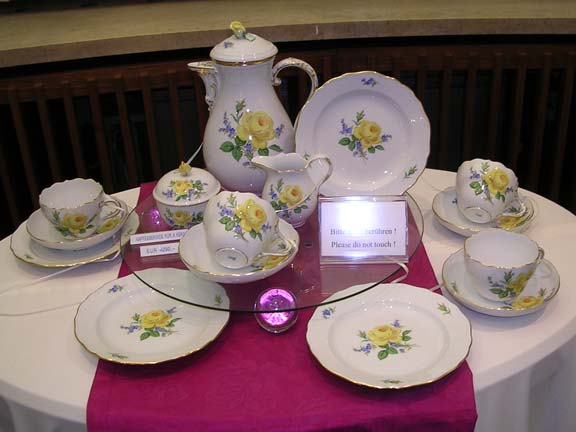 Thursday we stopped a Dubí, just north of Teplice. Betty was still on the hunt for some glassware. She got a nice vase. Then we headed ten miles north to the German border. From here we drove through Dresden and to Meissen. This very small and beautiful town is the home of Meissen porcelain. We stopped by the factory. We decided to skip the tour and just look around in their store. With cup and saucer costing more than $500 and a coffee service for four costing more than $5000, of course, we did not purchase anything. After visiting the store, we visited this beautiful and old little town. We found a room through the local information office. It was a very reasonable private room for $30 per night. Unfortunately we got into a bit of a tiff about the breakfast, when he charged us $11 more after the person at the information office had told us that breakfast was included. The room was on the east side of Meissen. We were less than 300 meters from the Elbe. There is a bike path on this side of the river. The path runs 800 kilometers from the North Sea to the Czech Republic. We saw many bikers and skaters on the path. We only walked for a couple of hundred meters along it, but the beauty of the valley was awesome. By this time it was about 8:00 in the evening. We stopped to eat a wonderful gourmet dinner at the Bauren Hause'l. I had the pork tenderloin and mushrooms and Betty had a chicken breast with a sauce of raspberries, peaches and cheese. Wow, was it great.
Friday we drove to Liepzig. We wandered the city. It is a very nice city. We saw Bach's burial place in St. Thomas church, where we also got a short organ concert. We also visited the church of St. Nicolas - another haut of Bach's. We saw most of the worthwhile sites and we enjoyed watching the people go about the city. About six we drove to Radebeul, a town near Dresden and not far from Meissen. It was late and we could not find a cheap private house, so we stayed at a regular pension that was expensive for us at $55 for a small place in the country.
First thing Saturday morning we got a cheaper place without breakfast but with a kitchen for $40 per night. We drove into Dresden and happened upon a free parking space; paid parking in the center is $7.20 a day. We got a map with a proposed walking route through the city. We tried to find a guided walking tour, but they were all done with sending them out for the day. We did get the route and some info on a bus tour where you can get on and off the bus as often as you like with buses running every half-hour. We declined this tour. It was chess day in Germany. I saw some people from a chess club setting up problems. I asked what was going on and they explained. I did a couple of the problem and nailed them. She asked me to play a game and I accepted. I only play once every year or so, and enjoy a good game. I held my own, but alas I had to surrender. We walked by the main sites in the city. The Frauen Kirche, the Church of Our Lady, was destroyed in WWII, but after the war all the pieces were gathered and numbered. The plan had been to rebuild the church, but little was done until after the reunification of Germany. Now it was rebuilt and being used. It probably will be a few years before it is fully restored, but given the speed of reconstruction in the past ten years - it shouldn't take long to finish. We saw the march of the dukes in Meissen tiles that adorns a block-long castle wall. One of the dukes, Konrad the Great, is in my family tree. By mid afternoon we decided to pick up some groceries and go for a drive. Dresden is a beautiful city that looks like a great place to live. We had a bit to eat and then went to a concert at the Zwinger. It was a nice wind ensemble that performed with ballet dancers telling the story behind the music in dance. We returned to our rooms about nine in the evening.
| | |
| --- | --- |
| Frauen Kirche | Konrad The Great |
| Oper House Hallway | Oper House Auditorium |
We got an extremely late start on Sunday. We were watching the Danes play the Korean women for the gold in the funny handball game that looks a bit like soccer. It was a great game that went into two overtimes. So, we got a late start. First we visited to Frauen Kirche, where we thought we would get a tour. Not so, but we did go down into its basement to hear an explanation of the restoration in German and see a good film on the restoration. Then we wandered about a bit and stopped for beers before visiting the opera house. It is truly a beautiful opera house, one of the finest in Europe. We could not get tickets for the evening performance. By now it was six, so we returned rather early to our rooms. We started to get ready to fly to Germany and then back home by going through all the stuff that we had collected along the way. This was no easy task, but no way could we haul it all back. Then we watched the end of the Olympics, what a show!
| | |
| --- | --- |
| A Zwinger Concert with Dance | The Catedral From the Opera |
Today we returned to Prague. By chance we came upon a hostel just where we wanted to stay on the bus route to the airport. It was the least expensive accommodations on our trip at just $20 per night. Of course at that price there is no breakfast. By the time we got to Prague and checked in it was after four in the afternoon. Before unloading all our gear from the car, we grabbed a beer at a nearby pub. Then we unloaded and decided to head into the center. We walked around for a long time, stopping for the occasional beer and checking out the sights once again. Finally we stopped for dinner. Betty was not too happy with her order, but mine was fine. We got back to the hostel about 10:00 PM.
Posted by bill at
08:28 PM
|
Comments (0)