Timişoara and Western Romania
Sunday we took a leisurely drive from Craiova to Timişoara. The driving was slow due to lot of road construction on E70. There is nothing to say about the first hundred kilometers. Once we reached Drobeta-Turnu Severin it all changed. First there was about 20 kilometers of the most beautiful river imaginable, the blue Danube. It is a spectacular river with wonderful views along the road. We stopped to view a working monastery. At Orşova we turned north into a fantastic Timiş River valley. The valley , was lovely, often with steep or rocky slopes. Along the way we saw farmer selling foods: tomatoes, melons of all types, blackberries and potatoes. Still other sold honey or homemade wine or schnapps. We continued to see the ubiquitous Romanian horse and wagon. The only thing that I could say that was irritating about the drive was how dangerous the roads and the drivers are here. They seem to live with a death wish when they drive, and I guess many of them are granted their wish as their rate for highway fatalities is six times the rest of Europe. The 200 kilometer trip seemed to take forever, but we eventually arrived in Timişoara. We stopped at a couple of hotels. Their rates have doubled or tripled in the past two years, so we decided to check out a pension or two. Luckily we had acquired a telephone like directory early in the trip in Romania. It has maps of many of its larger towns, and directory listings of hotels and restaurants. We made good use of it here. The first pension, the Pensiunea Casa Leone, was just great and the price was good at $36 per night including breakfast. We ate some excellent Italian food at Da Toni just a few blocks away.
The Blue Danube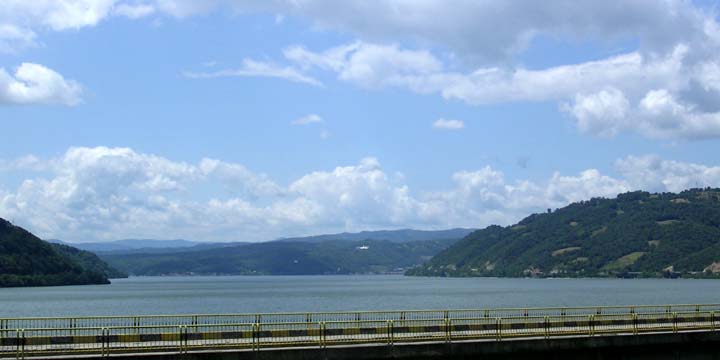 When we arose, Betty was not feeling all the great. I left her sleeping until our breakfast was ready. After breakfast she laid down and I did some writing. But about eleven, I was done and so I called Mihael. We had met her and her husband Octavian when we were on the Romanian Black Sea coast. We stayed in touch by email so it was easy to call. They came by about a half-an-hour later. They both are journalists and so our tour began at their newspaper, the Renasterea. The conversations throughout all this were wonderful and wide ranging. They got even more interesting when we met the editor-in-chief Adrian Pop. He is one of those cynical old news hounds of the yesteryears, extremely skilled at putting out a newspaper even with some pretty fierce competition from some Austrian carpetbaggers. I found him delightful and exasperating at times. No doubt the hard edge and sharp humor is meant to test the intellectually weak. With our having been out the proverbial intellectual loop since we left home, I really enjoyed our conversations with him. Of course, his big question was "Is Bush going to win in the fall?" Up until a few months ago, I would have easily said, "Yes." But as it stands now, I am thinking that Kerry actually has a chance. Bush has so botched the Iraq war and the War on Terrorism that I wonder if the American people will let him continue to make such a mess of it. Kerry would certainly win, if Americans were able to understand the mess he has created - but, alas, my countrymen have never proven to be all the bright - at least in the short run.
After the conversation, we explored a bit of the city together, seeing the bastion built by the Turks, the old town square and many of Timişoara's old and important buildings. The German influence on the architecture here is very pronounced. Then we walked to the new city center with the opera house at one end and the Orthodox Cathedral at the other end. This cathedral was the second most beautiful orthodox cathedral that we have seen. It was on the steps of the cathedral where children were murdered, and more than 200 people in the fronting square were killed as the 1989 revolution began here in Timişoara. Bullet holes were still visible on an apartment building beside the square. From here we slipped over to a lovely park to rest before returning to the car and our hotel.
Press HERE to see a slideshow from Timişoara.
| | |
| --- | --- |
| Betty with Octavian and Mihael Roşa | In the Old Town Square |
| Timişoara's Orthodox Cathedral | In the Cathedral |
Two hours later Octavian and Mihael returned to pick us up. We went to see there apartment. It was the typical socialist era flat. I thought the building to be 40 or 50 years old, but was surprised to hear that it had been built only 25 years ago. The fourth-floor apartment had about 600 square feet with one bedroom and a living room and a lovely balcony. With no lift the climb was an exercise. We drank wine and continued to talk. The entire day the major conversation revolved around their immigration to Canada. It seems that Mihael's uncle has lived in Toronto for many years. He visited the family just last week, and put the immigration notion into their minds. They are very seriously considering a move to Quebec. So, they had lots of questions about life in Canada and the USA.
On the next leg of the evening, there came a real treat. We visited Mihael's parents, Florian and Elena, who are lovely people. He worked as an iron hanger all his life, but he was lucky enough to work in Germany in the mid-70's where he earned enough to build his beautiful little townhouse. We ate a traditional Romanian meal of cabbage rolls - filled with rice and pork - covered with sour cream and thin tomato sauce on the side, and great dollop of polenta or as it is sometimes called in the states - corn meal mush. After dinner we continued drinking the Tokay wine that we had brought and talking late into the evening. Finally about one in the morning we headed back to our hotel.
| | |
| --- | --- |
| Florian and Elena | Cabbage Rolls and Polenta |
Today we are taking it easy. Betty still is under the weather, and hence an extra day in Timişoara. We have had to wash our clothes out in our room at night for the past three weeks. I was pleased to find a laundry here, so we will finally have all clean clothes again.
Also today is Timişoara Day in the city. Maybe we can catch some of the festivities in the old town square. We also might try a movie. If Octavian and Mihael do not have to work super late, they will drop by at the end of their workday around 9:30 in the evening. If anything interest occurs we will let you know. We will be headed back to Hungary tomorrow.
Posted by bill at August 3, 2004 12:09 PM