From Southern Moravia to Bohemia
We spent two days in Mikulov. We found a nice pension in a small town that had a couple of dozen pensions. Most of them cost about $28 a night for double room. Ours cost $32 and it included breakfast. The Venuše Pension has an interesting cast of characters working at it, but none are more interesting than the owner, Josef Toneček. Close seconds are his daughters Barbara and Tayna. The food in their little restaurant was good too.
Press HERE to see a slideshow from the Czech Republic.
At the Venuše Pension

We really did not do much on Wednesday the 18th. We have been trying to figure out how to get to London and when to go there to catch our flight home. We were hoping to change our Air Canada ticket to leave later in the day or leave from Frankfurt. We drove to Brno and finally got a telephone number for them and called. Darned, if they couldn't find our reservations. After we faxed them the tickets the next day, we discovered that we had been reading the return date in error all along. It was not the 4th but rather the 9th of September that our return ticket was scheduled for. We also found out the cost of taking the train to London and it was more than most airline tickets. The bus was not too bad at $75 each. We checked out some other airlines, but all were higher than the budget airlines.
We also had time to stop at two wineries. The wine is sour tasting here and I do not mean bad tasting by that remark. The wines are not sweet and tend to make your mouth pucker a bit. We got a bottle of red, Zweigeltrebe, at the Tanzberg Winery in Bovory. We got a bottle of red at the Turold Winery in Mikolov. After soup and a sandwich for dinner, we called my friends, Bjorn and Heike, in Germany. We wanted to see if they were up for a visit. After that I watched another movie. We had brought several DVD's with and I watched three of them during our three nights in Mikulov.
Fountain Model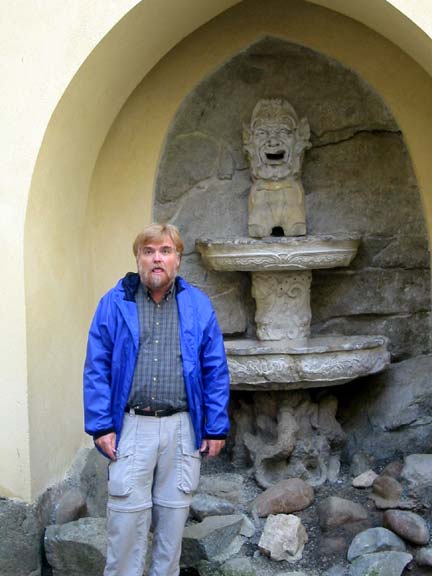 We explored the castle ground in Mikulov on Thursday the 19th. Betty got some pottery. We checked out two other budget airlines the Heike told me about, German Wings and a Berlin carrier. Looks like it will be easy to get a cheap flight from Cologne to London. It was late in the afternoon before we drove to several other small towns near Mikulov. We saw another castle with a fantastic wine tasting cellar in Valtice. Like too many other cellars, they expect the tourist to pay to taste. And we would have, if we had come earlier in the day. The cellar was huge and one could try more than 50 wines. We just did not have the time. The cost was the highest that we had seen, but hey it would be worth $10 each to try so many wines at one time. Or would it? Even with taking tiny sips one would quickly loose his sense of taste, or you would be spitting out an awful lot of wine. I know that is necessary for the professional wine taster, but it almost seems like a sin to me. I only wish that we had discovered the place the day we came, because it seems like a good place to spend an afternoon. From here we drove to three other villages looking for and finding ancient ruins, castles and wine tasting. We found all this and more as we enjoyed some beautiful scenery and several lakes. There seems to be a good number of small lakes in this part of Europe. We stopped for cheese and bread to have with one of the bottles of wine we have bought and enjoyed them when we got back to our room in the late afternoon. After the wine we sat out on the patio of our pension enjoying the atmosphere. The hotel owner gave us a couple of slices of some special stuffed pork that he had just barbecued. We tried to watch The Limey, but the last four chapters were damaged. Betty will have to get a copy when we get back to the states.
The weather turned cold Friday. It had been hot in the 90's everyday in Mikulov. Now it hardly got above 70 and it seemed to get colder yet on Saturday and Sunday. It didn't matter, since Friday was a travel day. We slowly but surely made our way across the southern edge of the Czech Republic. We stopped for two hours in Znojmo and for a while in Jindřřův Hradec. Then we made our way to Tábor.
We spent all of Saturday in Tábor. We started by meeting a nice couple from NYC, Eva and Joe. The newly-weds are visiting her parents. We saw the mid-evil tunnels that honeycomb the old city. We spent quite a bit of time in the Hussite museum; Tabor was a center for the Hussites from the founding of the religion. We also walked around the city enjoying all the old buildings. We stopped along the way to have blueberry dumplings; yum, yum! Betty got the recipe, maybe we can make them when we are back in the states. After a trip to the internet shop to book tickets from Germany to London, we went out for a very light supper.
| | |
| --- | --- |
| View in Znojmo | View in Tábor |
Posted by bill at August 21, 2004 05:02 PM