Bratislava, a Beautiful Pleasant Old City
Press HERE to see a slideshow from Bratislava.

The Church of the Poor Clares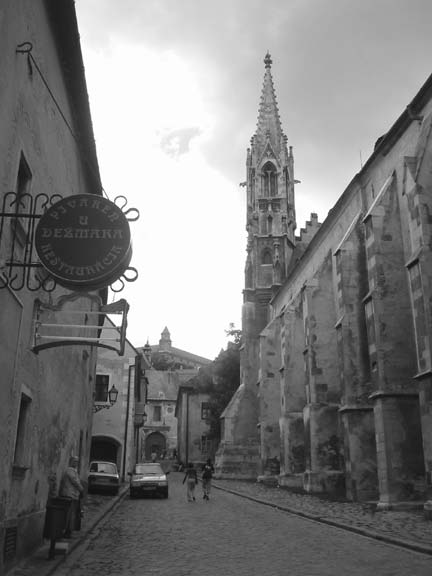 We came to Bratislava on Friday afternoon. We quickly found the tourist information office in the center of the town. We got our first glimpse of the beautiful center of Bratislava. We took their recommendation of Hotel Nivy, about a five minute drive from the center. Although a modern building the hotel has very nice rooms, the cost is $43 per night without breakfast. We usually like to have the breakfast at the hotel, and we did have breakfast here Saturday morning, but the cost-value ration was really bad. Anyway after checking in and taking a brief break, we headed into the center to walk around a bit and get dinner. On our walk we got a sense to the real charm of this place. Unlike the other European capitals, there was easy going and not so frenetic. We stopped to get a USA Today. There we found a lovely restaurant buried in the back of a 250-year old building with a pretty little open courtyard garden. The food was excellent and not very expensive. As we walked back toward the car, we noted the thousands of people in the old center, who were enjoying food and drink - but mostly drink. We stopped to check our email and post a journal entry. They we continued move toward the car, passing by wonderful old buildings and through a lovely park. The night lighting shone on the city, adding an outstanding glow to the life of the city.
| | |
| --- | --- |
| The Old Town Hall | The Opera House |
Saturday was cool and cloudy all day long. We started with a search for English novels. Betty had to get some books to read. She just is not having a good time unless there is a book in her hand. Unlike my Rio mp3, her Lycos player broke down just a few weeks after arriving in Europe. So I have listened to a number of books while Betty has been reading them.
After getting three books, we took a slow and easy walk around the city. We visited museums, churches, and old and narrow winding cobblestoned streets. We ended at the park in front of the opera house, where we watched a chess game on a giant chess board with 25-foot sides. Finally we returned to the hotel and rested for an hour or so before going out to a Woody Allen movie, Anything Else. The movie was OK and I enjoyed it. We finished up the day in the city center with a good tasting dinner.
The Bratislava Fortress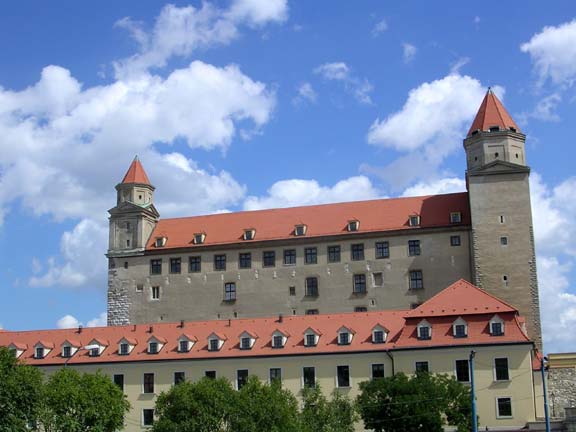 We din not have much planned for Sunday. We visited a couple of castles, we sort of. The first one was an old ruins about 8 miles form the town center in Devon. It was a beautiful location were the Morava River flows into the Danube. The original fortification was built on a rock about 80 meters over the surrounding land. It was quite a sight. Then we visit the massive castle in the center of Bratislava. It looks great but it was built about 1900, so it is not old and has no real historical significance. There was a great view of Bratislava, especially the old town. You can really see how small the city is from this vantage point. We stopped for lunch and beers in the old town. We enjoyed the sun and pleasant atmosphere. Then we went to watch the Olympics.
Castle Ruins at Devon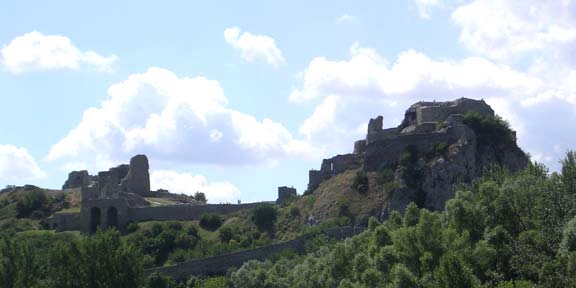 The Spitting Fountain in Trenčín

We left Bratislava on Monday. We drove north along the Slovakian wine trail. The only trouble is that they really have no idea what an open cellar is. There are a good number on outlets at the winery or in store in a town, but we only found open cellar. The wine was good, but they had one of those excellent pinot noirs with the heavy plum or cherry taste. It was expensive as wine goes for Eastern Europe at $12, but I had to have it. We also stopped to look at a few old chalets and castles. We stopped at a beautiful small town called Trenčín for the evening. The largest castle in Slovakia is here. It is an old town with wonderful old buildings and many pedestrian only streets. The warm and comfortable life could be seen on the streets and in the faces of its citizens. Betty wanted to stay another day - just because we needed to slow down. I suggested that we do that in the Czech Republic where accommodations are substantially cheaper.
Tuesday morning we spent some time walking around the city and enjoying the views. About noon we headed toward the Czech Republic. We entered and tried to find some more castles, but had trouble running them down. To worsen matters, a bee stung me on my right wrist. It was on fire for an hour. We stopped at a restaurant to get some ice for the bee sting and some coffee and soup. The nice waitress gave me a slice of onion to put on the sting after the ice melted. It seemed to work. Soon we were cruising toward southern Moravia. We found some beautiful old towns there and stopped for the night in Mikulov. We will spend a couple of nights here, more on that latter.
The Trenčín Castle by Night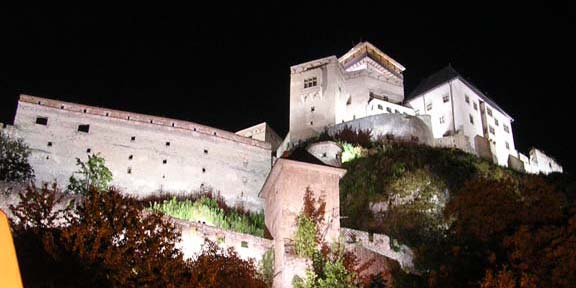 Posted by bill at August 17, 2004 06:05 PM