Bulgaria and the Black Sea
Late Sunday afternoon before we left the Saturn beach near Constanţa, we met Octavio and Mihaela. Like me they were trained as civil engineers, but worked as journalists for years in Timişoara. We had a lovely time talking to them about Romania and how it might and might not change. We were sorry to leave them on the beach and the sinking sun slowly cast ever broader shadows on the sand. If we drive through their city on our return to Prague, we hope to stop and visit.
Press HERE to see a slideshow
from Eastern Bulgaria.
Public Art Found in Near Kavarna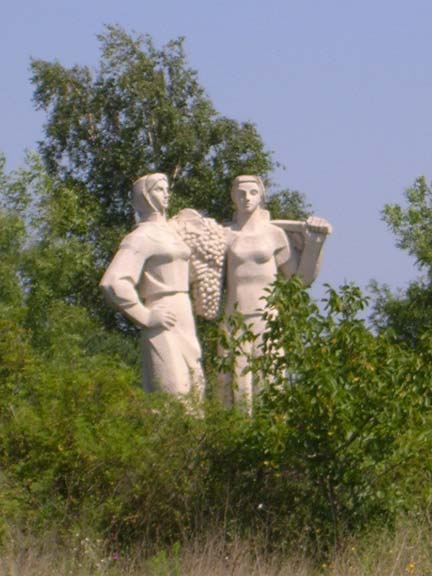 On Monday, we drove south. The fields seemed even more vast and the crops certainly looked in better condition to the Romanian farms. Even though we had merely driven about 100 miles south, the area seemed drier, and warmer. Along the coast there were several very large, expensive resorts - like Albena - where one must pay even to view it. How one would know whether or not it was worth staying at without a look or a discussion with hotel reception was beyond me. Like Romania, they have a funny way of doing business.
It was tough to find a room in Varna, despite all the hotels. We later found out that there is an official tourist information office, but there were no signs that led you to it. I was able to get some info from an information office that was connected to the Odessos Hotel. But by the time I found the recommended hotel it was full. We checked out her other suggestions, but none were acceptable. By the time we figured it all out her office was closed. So we just started looking on our own and mostly a bit out of the city center. One person at hotel told me foreigners pay 40 Euros and Bulgarians pay 40 Lev. I blew up, because it is 2 Lev to the Euro. Then, tired and late and hungry, we stumbled across the Amfora. The hotel was owned and run by former US exchange student. Although it had been ten years, his English was excellent. The room was great and the service seemed just as good with an OK price, but no cheaper than we have been finding all over Eastern Europe. So, we took the room for three nights.
| | |
| --- | --- |
| Varna's Cathereral | World's Oldest Worked Gold |
Tuesday was used to explore Varna. The archeology museum was a joy, and this is coming from a guy who has seen a fair share of them. Since the area had been settled for more than seven thousand years, they had a very extensive collection, marking all the developments in the area. One of the best things was a large collection of gold objects, taken from tombs. One had almost four pounds of decorative gold. They also had the oldest pieces of gold ever created in the world from the 5th century B.C. We also spent a good amount of time just wandering around on their pedestrian commercial streets. Then we saw the town beach. While the sand was a lot nicer than in Romania, the beach was dirty and un-groomed. This did not stop the thousands of Bulgarians enjoying it or the bars and amusements near by. The five-mile long park that abutted the sea was wonderful and well used by people we saw there. We only walked for a kilometer along its pathways, but still we found the place very relaxing. Upon our return to our hotel, we walked five to ten minutes in search of the beach. Here the beach not only had good sand, the place was clean and pleasant. We only had about an hour of good sun left, but we enjoyed it to the fullest. I even went for a swim. The water was no colder that a Minnesota lake in July. In the evening we ate at a nearby restaurant that had live music every night. They liked to cater to the people present by playing tunes from the customer's country of origin. This was OK, but what they really did well was Bulgarian music. As we have gotten closer and closer to Turkey, the influence of Asia on the music has gotten stronger and stronger. By in large it sounds good.
Wednesday we just took it easy. I had hoped to get some information about flying in Bulgaria, but the guy never showed. The hotel owner told us not to wait for him, he loaned us a phone, and said he would call if the guy showed. So, we spent most of the day on the glorious Black Sea beach. I love these beaches. They remind me of the Danish beaches, only with much warmer water. They are full of families and some tourist, mostly Germans. And this is Europe, so swim suits are optional - although only the children seemed to be bottomless. One thing that I thought was missing in Romania was here - the Banana boat. We also saw people selling stuff on the beach, but nothing like Central or South America. Nor were there any waiters working beach, only guys wanting you to pay for the shade of their umbrellas. I would say they have a ways to go here, but still it is fun.
The Black Sea From Our Balcony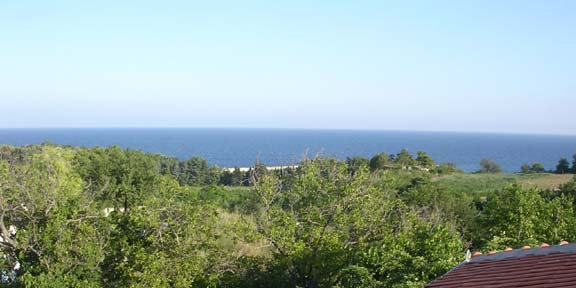 The Best of the Nesebŭr Streets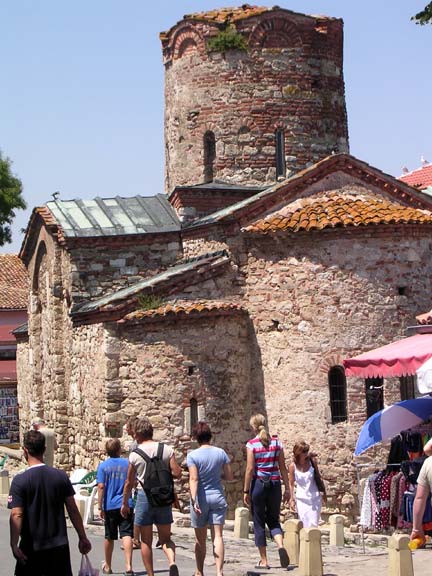 Today we drove south, stopping at several notable, but not thrilling, towns along the Black Sea. The first place that we stopped was Nesebŭr. We thought that this would be a beautiful old town, something like we saw in Transylvania - mainly because it is a UNESCO designated world heritage city. Wrong, the place had a Disneyland feel. True the town was old, but every square foot seemed to be taken up with some sort of commercial activity - from restaurants to souvenir shops to handicraft and fruit sellers. It was almost like being at the state fair. Needless to say we did not spend much time here. Next we stopped in Burgas to try to find a travel book on Istanbul. Despite being less than 250 miles away we could find none. Then we headed south again to stop in Sozopol, which was another huge resort town. Bulgaria has dozens of resort areas that are a bit like Florida - maybe nicer - and they are very crowded. When we got to the place in the road, Tsarevo, where it turned toward Turkey, we continued on along the coast on a smaller and quite dangerous road. Dangerous because it was too narrow and it had little or no shoulder or a shoulder that was six inches or more below the road surface. The scenery here is just brilliant with almost no trees between the road and the sea. The winding expanses of the highland sinking down to the sea were stunning. Finally we stopped at Sinemorets, just a few miles from the Turkish border. It was already late. We looked far too long for the illusive internet connection. We gave up on that and ate a great meal for about $11. Finally the prices are what I thought they would be in Bulgaria. I was thinking about another day here only to enjoy the vistas, but I think Betty will have us on our way to the Sultan's land tomorrow.