July 26, 2004
Istanbul and Edirne
Friday we drove over 200 miles to Istanbul. We crossed over the tail end of the Balkan Mountains. Probably at the crest of that mountain line, we entered Turkey. We were surprised to learn that we needed visas, which we got at the border at cost of $20 each. I personally find it irritating to pay and pay and pay at a border, as was the case here for this and that. An hour after entering the crossing zone, we continued down the mountain. The countryside no longer looked like Iowa or Kansas; it started to look like the western part of the US, say northern California. The soil was red in places; the land was more grassland than fields; and the sun shown brightly as it made the land so very hot. The first 100 kilometers was very hard going of narrow winding mountain roads, but the final 250 kilometers went by very quickly on an excellent toll road.
We had a lot of trouble finding our way to an information office. We had a map with several offices marked; the first was closed and the second had no accommodation information. Finally, we found an office, but again the going was tough. This is a city of 15 million, the largest is Turkey; and getting around with no understanding of where the one-ways are or which are closed to cars and no street signs can be a huge problem and very stressful. The recommendation led us to the Ilkay Hotel. The price was reasonable, the room was OK. Since there was a sign say the water was not drinkable, I asked where the drinking water was. "Oh, you must pay for that!" I have been in so many countries and so many hotels in the past three years that I could not believe my ears - drinking water is part of an accommodation. This was the first time that I had ever been in a hotel that did not provide drinkable water. Worse yet, when I questioned this practice they still refused to provide the water. We went out for diner and along the way stopped to check if the other hotels provided drinking water and they said, "But of course." We decided to move to a much nice hotel and set up the move for the next day.
We quickly learned that Istanbul's Sultanahmet district was not a tourist bargain. It was expensive. We made the mistake of sitting down a place with table clothes. The bill was about 42 million lire, or about $30, before we were through. That's right 42 million; there are about 1.4 million lire to one dollar. I received 145 million lire when I changed my first $100. This conversion can be a bit confusing at times. In any case, beer is over priced and the while the food was in the ball park it all adds up way too quickly. Cheap beer is a rare commodity in a Moslem and Hindu countries. For sure every thing costs less in the surrounding neighborhoods. These areas are rarely seen by the foreign traveler.
The Turkish people are very kind and friendly, although some are a bit too ardent in their selling practices. On must be careful not let them take your money, because they will if you're a bit slow on the up take. The rug sellers are the worst, and for sure their profits are the highest. For some reason or another they say that the other side of the Bosporus is Asia. I cannot buy it. As far as I am concerned everything between the Black Sea and the Mediterranean Sea is Europe. The people certainly seem European to me. And if Greece and all of its island are Europe, then so is Turkey.
Press HERE to see a slideshow from Istanbul and Edirne.
| | |
| --- | --- |
| The Ayasofya Museum | Incide the Blue Mosque |
| Ahmet Metin | Bosporus Fish Market |
| A Palace on the Bosporus | The Inner Gate of Topkapi |
After breakfast on Saturday morning, we checked out. The hotel clerk then tried to get an extra $10 out of us for the stay by saying the price was 60 euros and not 60 dollars. This was the final straw; I would never stay at this hotel again. We moved to the Hotel Yasmak Sultan. It is a really nice hotel. Then we set out on some sight seeing.

Whirling Dervishes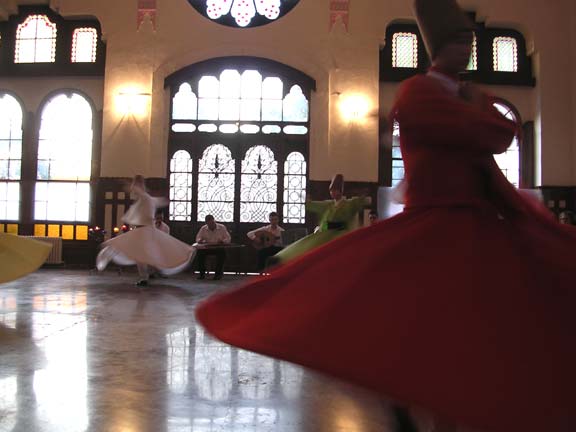 First we visited the Ayasofya (St. Sophia) Museum. The cost of this Museum and the Topkapi Palace Museum are ridiculously high. This one was $11 each to see the inside of an old church or mosque, since it was both. There was no museum, as the church itself was the exhibition piece. We spent as much time as we could, looking at it and the few mosaics that had been cleaned after being plastered over when it was turned into a mosque.
It was just a short walk to the Blue Mosque. It is the second largest mosque in Istanbul, but with the most minarets - six. It is truly a beautiful house of worship. Before we returned to our hotel to rest a bit, we stopped to see the wares of rug salesman, Ahmet Metin. While I cannot speak to the quality of his rugs or prices (we visited no others) I can say that he was a fine salesman with all the qualities that a salesman must have. He might have succeeded with us if we had not been such tough customers.
We did not rest long before we headed to a rendezvous point to connect with a boat tour on the Bosporus. The Bosporus is what made Istanbul a great city and gives her most of her grandeur today. . The boat left the port area about 5:30. The tour guide pointed out the sights of the city as we headed north away from the Golden horn. I love a good water tour. It is a good place to get a perspective of life and this tour was no exception to that. We saw many of the city's universities, playgrounds, and bars, its bridges and expensive homes. After an hour cruising north along the European side, we crossed to the Asian side and before too long made a 45 minute stop. We had beers and some fried muscles before re-boarding our vessel. The tour guide disappeared on our way back to the docks, he got paid. We arrived just before dark. We said goodbye to young Canadian girl that we talked to and a late 20's couple from California. He had immigrated to the US from Turkey when he was about ten and she had originally come from Duluth. Small world, eh? At about $15, dinner was a much better bargain this night. We met a couple of older guys from California at dinner. They were great to talk to.
Selimiye Mosque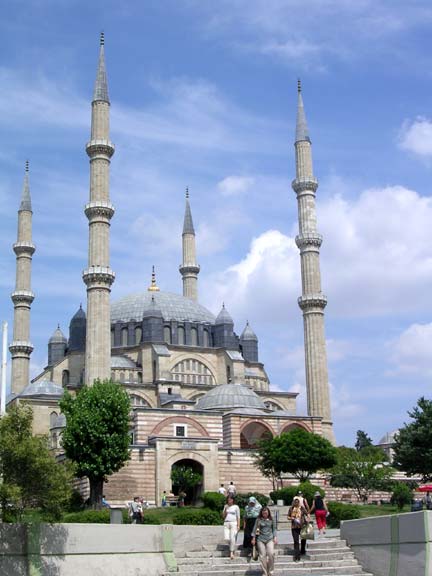 Betty was a bit under the weather on Sunday. So we got a very late start about noon. Because of long lines at the Topkapi, we started at the Museum of Islamic Art. It had lots of very old carpets and decorative objects, but no paintings or sculpture.
We finally got in the Topkapi Palace about 4:00. To see the entire museum it costs about $25 each. We had neither the time nor the inclination to see it all, so we got the cheaper $9 tickets. Basically this is the palace of a lord. And in itself, is an object of interest. The exhibits were pretty good to. I especially liked seeing the clothes of the sultans over time. Betty really liked the display of silver pieces - like the silver model of a mosque. We got back to our hotel at six, which gave us just 45 minutes to rest before going to the train station exhibition room to hear some Turkish or Moslem traditional music and to see the whirling dervish dance. While I like Turkish music, this was not the most exciting music and I felt sorry for the dancers, who essentially whirl for a half-an-hour without any real break. They say that they are in a trance. I would say they must be in a trance in order to not get sick or pass out. Just watching them twirl around and around, gave me sympathetic pains.
We had wanted to see the largest mosque before leaving Istanbul today. It was too far away to walk to, so we opted to check out and stop on the way out of town. Well, it just did not work out, because driving in Istanbul is much easier said than done
So we drove about two hours to Edirne. Along the way we saw a dry countryside with grass and sunflower fields. I am sure that it is green and wet other times during the year. When we got to Edirne we checked into a hotel, then we visited the old mosque, and then the Selimiye Mosque. After this we visited several ancient markets in buildings with leaded domed roofs. We may catch a couple more things before we head back to Bulgaria tomorrow.
Posted by bill at July 26, 2004 06:23 PM