Sofia and Western Bulgaria
On Tuesday, the Turkish-Bulgarian border crossing was worst ever. These counties have the greatest amount of bullshit when entering or leaving. Add the fact that this is a very busy crossing and it adds up to nearly three hours of horseshit. There is no such thing as customer service here. Everyone is treated like a criminal. For me once again, the worst part is that the people of these counties allow their government to treat them like this. Why three separate agencies, customs, immigration and police, have to check your passport - sometimes more than once each - and other essential documents is beyond me. They have never herd of one stop shopping, and would not want it if they had. After all, most of their jobs would go. This will probably only get worse when Bulgaria joins the EU and they lose their reason to harass people as the tourists cross Bulgarian-Romanian border. Then there are the farcical taxes and fees. At least Turkey was honest about the visa fee, well sort of. It is really just an entrance fee, since they do no background check and keep no real records of your entry. The road tax is another honey. Both Turkey and Bulgaria have them and you must pay them to drive in the country. Bulgaria actually had the gall to charge it twice - as we entered twice. Clearly, it is not road tax, if you must pay every time you enter. The biggest piece of bullshit is the disinfection fee. Why bullshit? Because no one disinfects the car. To me this is the worst sort of corruption, because it is built into the system. And the people allow it to go on. No one really believes that it is their world to make and control.
Press HERE to see a slideshow from Bulgaria.
| | |
| --- | --- |
| Inside the Bachkovo Monastery | Monastery Mural |
It was a good thing that we got early start. Even after the malarkey at the border, we still had time to visit the Bachkovo Monastery. We did not stay long before we headed to Plovdiv. For a change we quickly found private quarters that were good and cheap. After we settled in, we wandered down the main pedestrian street of the city. We stopped for a beer at an outdoor café that sat in front of an outdoor stage. We had heard that there was an International Folk Festival. In no time the performance of three national tradition folk dances were being preformed before us from Macedonia, Italy and Costa Rica.
| | |
| --- | --- |
| Macedonian Dancers | Zlatyu Boyadzhiev Painting |
We started Wednesday with a walk around Plovdiv. We really only explored the old town. We saw several churches along the way. We skipped most of the museums, but one where the works of Zlatyu Boyadzhiev were displayed in his home, now the museum. We met an old man on the street, an artist selling some of his pieces. We bought a small one. When we reached the old Roman ruins we also reached the highest point in the city. The view was wonderful. Once again I noted that all the post WWII housing expansion was in ten-story flats - surrounding the center.
Shortly after noon we were driving toward Sofia. Two hours later we were getting info about accommodations in the center of Sofia. We were directed to a hotel at the edge of the town. Unfortunately we drove there during rush hour, so it seemed like forever before we got to the hotel. We asked about traditional Bulgarian food and were direct to a nice restaurant a couple of kilometers up the mountain at the base of a ski slope. The food was very good and the atmosphere near perfect. The only problem was that I was in a bad mood. I didn't spread it around (except to Betty) but it didn't make the dinner all that great. I guess we all get in a funk from time to time.
| | |
| --- | --- |
| Sofia's Largest Cathedral | Open Air Market |
On Thursday we had and incredibly pleasant day exploring the city. We saw Sofia's churches, public art, mosque, public baths - now in rehabilitation after 100 years, shopping district, open air market, more churches, national opera and national theater, parks and a flea market. After nearly six hours of hiking around. We decided to take it easy. We went to se a movie, Spiderman 2. It was so good that I could hardly believe it. I just didn't expect it to have such a good script. The other great thing about the movies is that it does transport you back home - if it's an American movie.
Betty begged off dinner, so after returning to our hotel I walked over to the best pub I have been in since the Czech Republic. The food was good and the local black beer on tap was even better.
Julka at Her Loom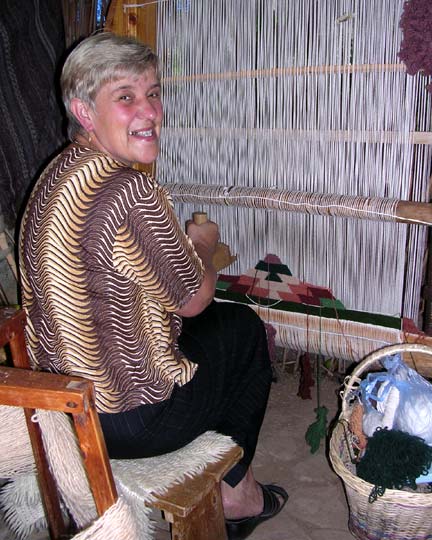 Friday was a very slow drive toward Vidin. We took some small back roads, in some incredibly beautiful valleys by the mountains. We made our way to Chiprovci, a village of rug makers. Nearly every home has a loom and a rug maker. And almost no one speaks English. Then with a little of that magical travel serendipity, Betty was able to communicate our desire to see a loom and a rug maker with a woman. We followed Julka Ignatova to her home to discover that she was a rug maker. Betty watched her work on a rug. Even more luck was with us when she introduced an English speaker who was visiting the rug weaver. We are able to carry on a conversation with the help of her translations. Julka was a lovely person with a wonderful smile and a good heart. Betty bought a piece then we continued on our way on some really terrible roads to Vidin.
We once again found some (maybe all) hotels here that have dual pricing. That's probably why there are no real bargains for foreign travelers here. They seem to think that it is OK to charge a foreigner twice the price of what a Bulgarian pays. If they had the same prices for Bulgarians and the foreigner a lot more people would visit and spend their money here. In any case we eventually found a very nice hotel for a reasonable price. It is the Angelov Han Family Hotel and I can recommend it.
After dinner I wrote most of this entry. While typing away, the TV droned on in the background. I looked up once to see the news being read by two topless women anchors. Moments later the weather lady pulled her clothes off too. Strange country, no?
Posted by bill at July 30, 2004 10:55 AM