Wine and the Black Sea
Press HERE to see a slideshow from Romania.
Winery Tour with Iulian and Luminiţa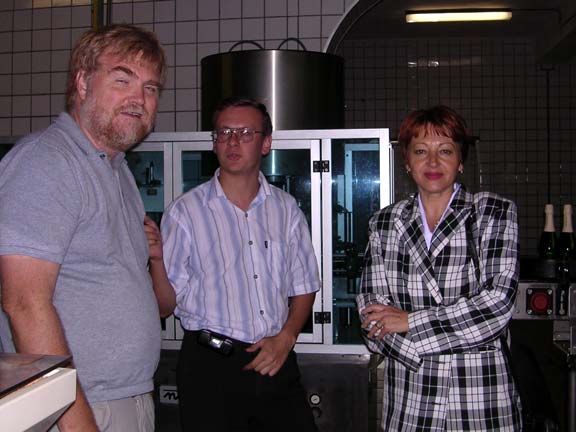 Typical Romanian Wagon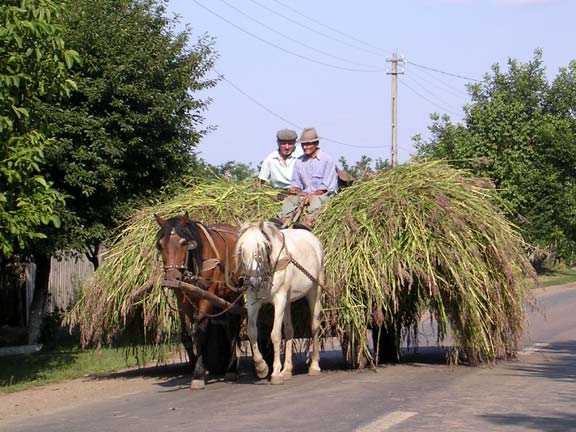 On Friday we drove about an hour to Focşani. I expected to find a tourist information center here, but did not find one. I ended up at the town hall where a very kind fellow, Catlin, told me where the wineries were. He suggested Panciu first. About that time one of his colleges, Camilla, said that she knew the mayor of Panciu. They both said that he would arrange things at the winery. Why this would be necessary was a mystery to me, but what the heck - the mayor would be our guide. Well, Iulian Nica was not the mayor but he was his aide. He set things in motion, and it was a good thing that he did. Romanian wineries - at least in this region - are not prepared for visitors. Since I have visited wineries everywhere in the world this came as a surprise to me. The particular winery that we visited did occasionally have tour buses roll through, but an on going cellar operation was not present. He introduced us to Luminiţa Watkins, the export manager for Veritas Panciu. And she gave us a wonderful tour of a sparkling wine production line, where they have a capacity of 3,000,000 bottles per year. The wine is aged two years; the first year without turning, and the second with the 1/8 turn per day. A winery worker will turn 24,000 bottles in a day. She showed us how they freeze the end of the bottle and then remove the frozen part with the residue or dregs. At the end of the production line we tried a bottle of their brut. It was marvelous, some of the best champagne that I have had - and that is saying a lot because I usually do not like champagne. This very good wine in Romania cost only $8 per bottle. We bought one and one of their sparkling reds too. This was by far one of the best and luckiest connections that we had made.
We went to the next major winery's town - Odobesti, but we could not find any public presence. We asked and found nothing. While it was late in the afternoon, we decided to head toward the Black Sea. This part of Romania has little of interest; it's like Southern Minnesota or Northwestern Iowa, just fields and more fields. The one thing that we did take a hard look at was the people out and about in the villages. Farmers do not seem to have pickups or cars. They use horses and wagons to get around. The smell of horse manure often wafted in our windows. The people seemed to be dressed in clothes from a generation or two before my youth. The roads that led to Bucharest were smooth and flat, while the roads the crossed these were often full of pot holes and a mess to navigate. At one point we saw oil derricks and couple of working oil wells. We were a bit worried now; we had not seen a hotel since we left Focşani. Then well after 8:00 and about 30 km outside of Constanţa, we found a nice hotel and put down for the night. Another thing to note is that we were for the first time at about the same latitude as the Twin Cities.
The Casino in Constanţa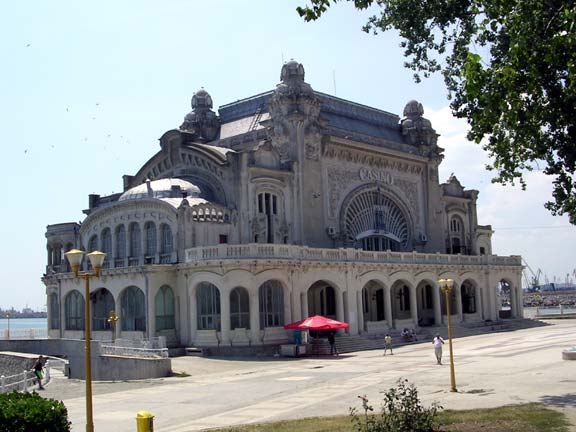 Yesterday we were going to drive through Mamaia, a Black Sea resort area just north of Constanţa's city center. When we saw the booths collecting an entrance tax, I could not believe my eyes. I turned around and we entered the Constanţa from another direction. We have found many odd and sometimes irritating customs in Romania, and I guess I will just add the tax to the list. Constanţa was not what we expected. Like most of the large towns and cities outside of Transylvania, it is a city of one apartment block after another. Its old town did not have that many old buildings. The best one was their Casino that I thought was from the 1800's. We saw some ruins with a Roman mosaic floor from the third century.
From here we drove south about 25 miles to a resort area. The hotels are mostly 30 to 40 years old. Some are very clean others need work, but most are not that expensive for a seaside resort area with nightly rates from $20 to $100. We walked on the beach to find them full of families enjoying the sun and some even the water. The water may be nearly as cold as Superior is this time of year. I thought that it might be 60 degrees or a little more, but I am not great at telling water temperatures. But it was more like a Minnesota lake in early June than mid July. The beach is not groomed and the sand is not that great maybe a bit like the lake sand of many Minnesota lakes. From the waves I would say that there is no surf action to create the sand. In fact, despite a light breeze, the waves were very small indeed. We drank beer and watched the families play.
We will take it easy today. We will try to get some sun and get this posted on the internet. We will head to Bulgaria tomorrow or Tuesday.
Posted by bill at July 18, 2004 11:50 AM