Puebla
Press HERE to see a slideshow
of Puebla and Tlaxcala.
Ricardo, Bill and Pancho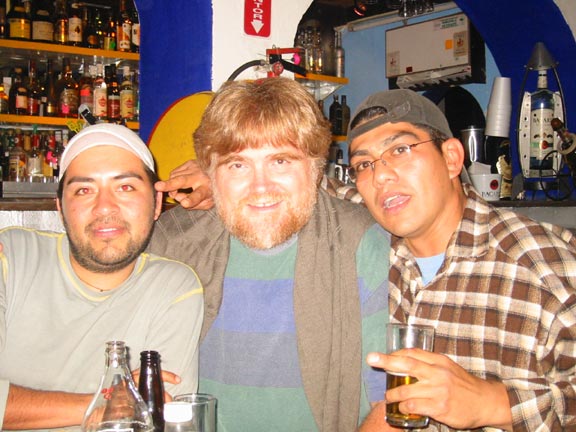 In Puebla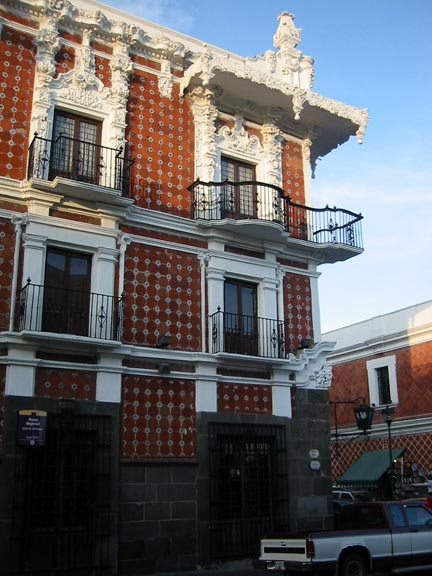 Monday, March 15th:
I left for Puebla about noon. Jorge and I had to return the electronic map of Mexico that I had bought on Sunday night. I could not install it because in required a floppy disk drive; something my new laptop does not have. I dropped him in Coyoacan so that he could tutor a photographic student. Then I was off. I did not make even one wrong turn. The road was much slower than what I had thought it would be. It is only 80 miles to Puebla, but it was more that three hours to central Puebla. Such are the free roads. Often these ways are more interesting, but it was not so on this trip.
After settling in at a hotel that I had doubts about, I had some great mole enchiladas. I tried to get some more info from the tourist bureau, I check a couple of other hotels - based on their recommendations. But I did not find what I wanted. Then I went to music bar, where it was just too mellow. Based on what I saw, it was romantic stop for couple. The square where it was located was very pretty. Anyway, I left after one beer. I found another bar, where a couple of students Ricardo and Pancho struck-up a conversation with me. It was fun. Ricardo was studying to be a vet and Pancho to be a dentist. Pancho said that he would show me the down on Tuesday, which I thought would be great. It was about eleven, and despite the early hour, I decided to call it a night, because I was tired.
Tuesday, March 16, 2004:
I checked out one final hotel in the morning, one that Lalo had recommended, the Reforma 2000. It was real nice with parking, but the room was a bit small for the 200 pesos. Since I had not see a cockroach yet in the Virreyes, I decided to say one more day. After breakfast, I tried calling Pancho. I was not able to get a hold of him. I also called in the afternoon and talked to Ricardo and left my number - but he never called back. Anyway in the morning, I tried driving around the city. The map that I got at the information office was not very good. But I got to see the good and the bad of the city. Outside of the downtown it is very similar to Cuernavaca. The nicer neighborhoods are close to the universities. There are more than four universities here. There is a lot of new construction going on. But there was nothing appealing in these newer neighborhoods because of the dry, treeless landscape. The nicer areas are always hard to get a good sense of because the wall around the property is a requirement. I don't know why, but I laid down for a nap when I got back from my drive. I was gone for about two hours.
I had gotten a taste of el centro the night before. Now I was walking and taking photos. Puebla's center is incredibly beautiful the buildings are from the 1800's - most in a baroque - rococo style. Block after block of buildings in this style and for the most part they are in excellent condition. They are often adored with tiles that form beautiful designs. I walked for two or three hours, and because it was late afternoon and early evening, the streets were full of people shopping and enjoying the fading light of day. Without a doubt this center has just about as much charm as the smaller Guanajuato or San Miguel de Allende.
In the evening I ate some great tacos at new taquerilla. Then I tried to find some night life. I did find a block similar to the party plaza of Cuernavaca, but I thought it all fairly tame. Mexicans really reserve Friday and Saturday nights for going out. After a couple of beers and no conversations, I hiked back to my hotel.
Puebla Photographs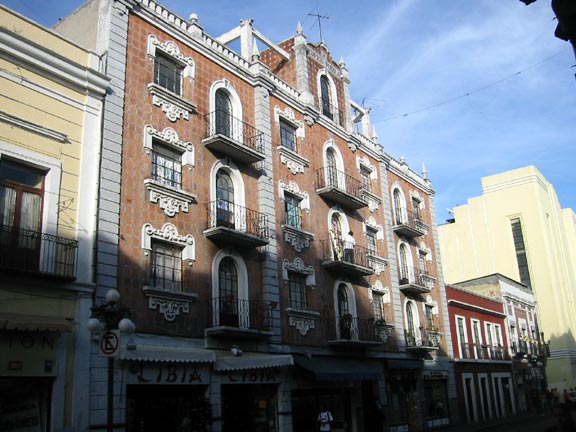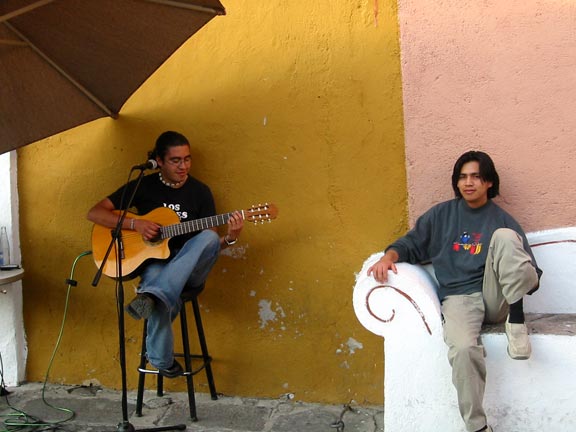 Posted by bill at March 16, 2004 11:50 PM