Mississippi Gulf Coast
Press HERE to see a slideshow
from the Gulf Coast.
Cirque Dreams Performance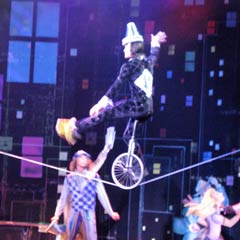 The Shed BBQ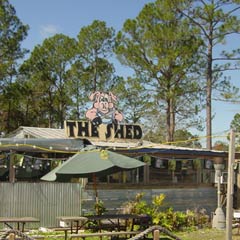 Dad Downing a Beer at the Shed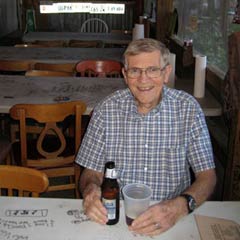 We have been here three weeks. The weather has been changing from summer heat and humidity to winter rains to wonderful autumn sun, clear skies and nearly perfect temperatures. We were here to visit my 81 year-old father. He is still in pretty good shape for his age, but it is beginning to catch up with him. He is starting to slow down and he is finally thinking about moving to a smaller residence.
Betty cooked some spectacular meals for us: roasts, stews, soups, chicken and so on. If you have ever eaten at Betty's table, you know what a joy that can be. That does not mean that we never eat out. We cannot visit this area without eating at my dad's favorite restaurant, McElroy's on the Bayou.
The gulf coast has become another gambling destination. Since Katrina, it is no longer necessary to build the casinos over the water. There are lots of Vegas style casinos in Biloxi and Gulfport. With the Vegas allure, some pretty good shows make the casinos their venues. Biloxi is like Vegas some forty years ago, when an ordinary person could afford to see good show. That we did one night when the three of us went to see Cirque Dreams at the Imperial Palace. Although not on the level of Cirque du Soleil, it was none the less a great show of European style circus acts. The staging, costumes, songs and performers were all outstanding.
One place that I love to visit is The Shed BBQ Joint. It is one of those authentic barbecue sheds that serve ribs, pulled pork, BBQ brisket sandwiches and they also pour some mighty fine beer. When I say shed, I mean shed. It has a big picnic style yard a small inside eating area with half-walls and screens to keep the bugs out. The food is great. They also have an outdoor stage, where the blues can be heard on the weekends. We went there to eat and I found out that there would be a blues festival the next Sunday. The price of admission was super low, and so I gladly surrendered $25 for the all day concert.
The next Sunday I arrived in the mid-afternoon to listen to some great music. I heard both good and great. I left my camera back at my dad's place. That was a mistake, because there were lots of great sights to photograph. To get a flavor of the fun at the Shed, check out their online photo gallery. Below there is a list of some of the blues musicians that performed on Sunday and links to sample their music.
As I have mentioned in the past, the Mississippi gulf coast was decimated by Hurricane Katrina. The effect was to wipe out tens of thousands of homes, boats and automobiles along with thousands of businesses. Rebuilding has gone ahead at a great pace. Maybe half the homes and businesses have been repaired or rebuilt. But there are still thousands and thousands of displaced people. There is still so much left to do.
A real sign that the situation it getting better is the November first scheduled reopening of the Biloxi Bay Bridge. After Katrina there was not enough of the bridge to repair. So at the cost of several hundred million dollars the bridge has been replaced with a new structure. Two lanes across the bridge will be open in a couple of days.

| | |
| --- | --- |
| Biloxi-Ocean Springs Bay Bridge - 30 August 2005 | Biloxi-Ocean Springs Bay Bridge - October 2007 |
Posted by bill at October 29, 2007 06:14 PM