Southern California
Press HERE to see a slideshow
from Southern California.
Santa Monica - Muscle Beach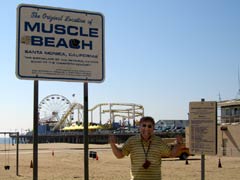 Meditation Park in Encinitas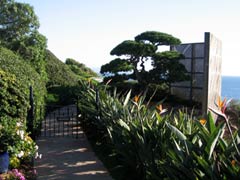 Zackery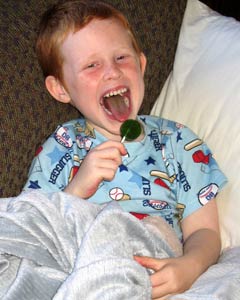 We spent a few days in Santa Monica. While not getting paid, Dain was back to work developing open source software. Marleta was as busy as ever. She works more than an hour east of Santa Monica in Ontario, CA. Half the evenings she goes to the gym after work. The exercise is clearly working with some great muscle definition.
Betty and I just tried to enjoy Santa Monica. It is a very sweet little city. We spent one afternoon on the beach. We saw surfers and waders and sun bathers. Two young men were fishing and caught a small shark. After a few pictures, they released the little shark. Mostly we hung out. Betty cooked several good meals. We had some great lunches in the local restaurants. I made one trip back to the airport to get a small repair done.
Belated Birthday Greeting
My Finnish friends, Päivi and Santeri, recently sent me a deliciously funny belated birthday greeting. I laughed hard when I saw it. So, I thought I would share it with you.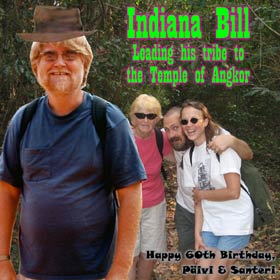 Saturday we flew down to Oceanside, which is between LA and San Diego. My cousins, Mary and Judy, live in a nice home in the neighboring community of Vista. We talked in the morning. Mary's daughter, Kristen, and her new son, Landon, were at the house when we arrived. Judy's grandson, Zack was visiting, too. His mom, Dana, recently remarried and she was on her honeymoon. In the afternoon Mary drove us through several of the great little seaside towns. The area is really nice. I am not surprised by the large influx of people to the area. What I cannot understand is how so many people can pay for the real estate. Ordinary homes range in price from $500,000 to $1,000,000. In the evening we met Judy's current beau, Jeff. He seems to be a pretty good guy. He successfully runs a home remodeling business that he has owned for a number of years. We have not eaten much Mexican, but that evening we drank Margaritas and ate some fairly good Mexican-American fare.
After breakfast Sunday morning we made our way back to the Oceanside airport and took off for the Phoenix suburb of Chandler. We spend the afternoon and evening enjoying the company of my mother's cousin, Jerry Miller. Jerry worked in the aerospace industry for years. I love to hear his stories about the developments in afterburner technology that the company he worked for designed. We both have an interest in our family history. So, we shared a lot of stories about that, too. I was finally able to get a small jar of the sorghum syrup that my grandmother's grandfather, Charles Franklin Miller, had made more than 110 years ago. In those days, he converted his crop of sorghum into syrup in the fall and sold it to the people of Faribault.
Monday morning we took off heading east. The fight was great with nearly perfect weather. We stopped once near the White Sands proving grounds in Las Cruces, New Mexico, for a quick break. From there we made it to Lufkin, Texas, just before dusk.
The next morning we were off again. In the early afternoon, we arrived in Ocean Springs, Mississippi. We will be spending the next three weeks here visiting with my dad.

Beach Just North of Leucadia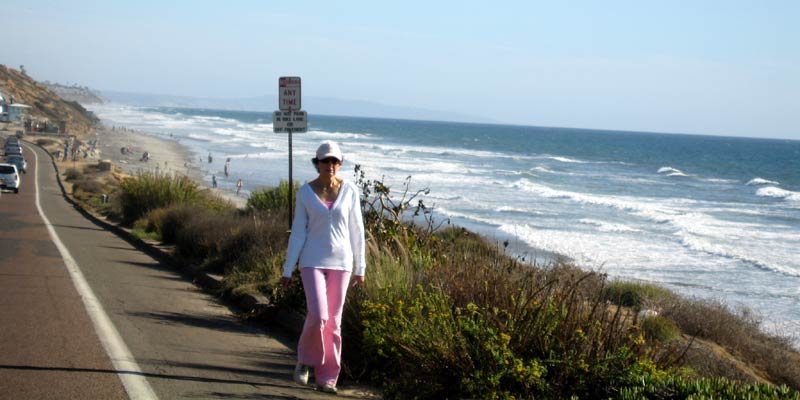 Posted by bill at October 10, 2007 06:40 PM