The Deep South of Thailand
Saint Patrick's Day, 2007:
The joy was palpable when we reached Nakhon Si Thammarat. Despite the heat the people are very friendly here, quite a change from the islands. We were greeted with more big smiles than we have seen anywhere in Thailand. As for the heat, hot and humid is the rule here. We have to go in for a siesta in the afternoon because it must be in the 90's or over 32 c. The hotel we are staying at is modern with all the necessary amenities and plenty reasonable. The only set back was that we did not make it to an Irish Bar.
To view a slideshow from southern
Thailand, press HERE.
Nakhon Si Thammarat Sights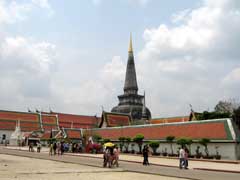 Pier in Songkhla
Mosques and Wats in Songkhla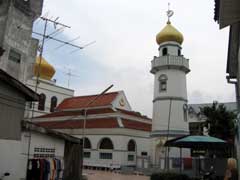 Monkeys in Songkhla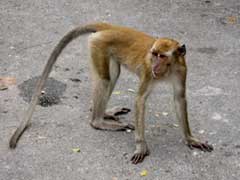 Hat Narathat Fishing Village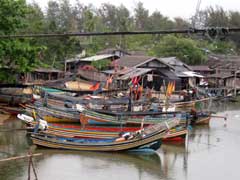 Details, Generality, and Costs
It is not easy pleasing all my readers. Some want more details about where we are staying and where we are eating. Some readers would just as soon that I keep it general. If I get too specific about the costs of things or I complain, then my nephew says that I am sounding like Uncle Scrooge.
Usually, I try to strike a balance. Sometimes I succeed in the balance and sometimes I do not. In my last entry on Ko Phangan, I pushed the limits on detailing costs. Probably I pushed it because it was expensive compared to the rest of Thailand, and yet it would be very cheap to most of my readers in North America. Thus, I became Uncle Scrooge. At other times I get too general and folks who will be traveling to the same places that we have visited want to know the details. So, I will continue trying to strike a balance, which I will achieve and fail at. When we succeed, I hear from you and when I fail I hear from you.
I appreciate the feedback. It helps me find the balance and to be a better writer. As I learned in Toastmasters, it is only by making mistakes and getting good feedback that we get better. And I want to be a good travel writer.
Sunday we explored the city until the heat was unbearable. We visited a couple of wats and the city pillar. Mainly we walked and walked and walked. Then we took a songthaew back, only 10 baht - just ten times cheaper than the island. We read our email, read and rested during our siesta. We did some more wandering in the late afternoon and then found a shopping center near our hotel where we had dinner. The day was great with more friendly faces and lots to see.
Monday morning we caught a local bus to Songkhla (pronounced song-claw). About 200 kilometers away, it was a shorter ride than the Don Sak to Nakhon run. And at 88 baht each, the bus fare was even more reasonable than the 120 we each paid for the run to Nakhon. We road along the coast most of the way and could occasionally see the ocean. From time to time there was a light shower. We have seen almost no rain in Southeast Asia, so it was a pleasant change, despite the spike in the humidity. We arrive at the hottest time of the day. I spent a hour looking at most of the hotels in the old part of town. Finally we settled on one that had AC and hot water. We laid low for a while, then after four in the PM, we walked over to the Hat Samila beach. There is a large hill that we passed by on our walk; here we saw several dozen monkeys in the street and trees and on the roof of the stairway to the top of the Kao Tang Kuan hill. Betty was totally surprised by them. They were fighting and eating food the locals throw to them. I warned Betty to stay clear, because they can be quite dangerous. We stopped at a beach restaurant for beer and card playing. I was awed by the beauty of the area and said so repeatedly. The beach was broad and just beyond our table and stretching about 100 meters to the water's edge. The sea was an azure blue. When we finished our pitcher of beer, we ambled a bit further down the beach and ordered a fried fish with rice and vegetables. The fish was fantastic and the veggies were very good. We usually spend about half what we did for this meal, but it was worth every cent of the $10 the food and beer cost. Well set, we walked back to our hotel.
Songkhla Beach

The next day we toured the town on foot. We walked along the river front pier where large fishing boats were docked. We could see fishing apparatus placed in the large bay formed by the river. We continued walking. We walked through China town, saw a mosque, and we visited a wat. Finally we stopped for lunch that is said to be the best in town by some of the locals. Funny thing was that it cost almost nothing and the food was great. The restaurant is called Raan Aahaan Tae and it is located on Saburi Road just off Songkhlaburi Road. We tried to find another wat but didn't. Betty went to rest and I tried to figure out how to get to our next destination. What I discovered was not pleasing, more on that later. I made it back to the hotel and kicked back in the hottest part of the afternoon. We took off after it cooled off and walked down to the beach. We saw more of it and saw dozens and dozens of people enjoying the surf and sand. Thais in this part of Thailand continue to be very friendly. We said hello to many as we walked. We stopped to drink a beer. About the time we finished the wind started to kick up. I could see rain clouds a few miles out to sea. We hightailed it back to a restaurant with a roof for prawns and more beer.
Fish Seller - Narathiwat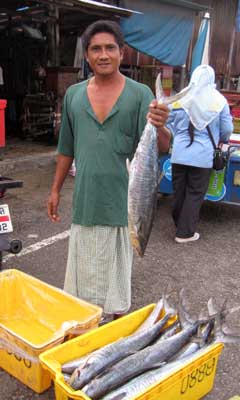 We were up early on Wednesday. It was a -would've - should've - could've- sort of a day. What I discovered Tuesday was that there were not direct buses to Narathiwat. We had to go to Hat Yai. I heard the desk clerk at our hotel say Hat Yai was half an hour away. I must have heard wrong, because it was an hour and a half. We expected buses to leave every two hour down the cost, but that info was wrong. The only buses leaving were VIP buses, which we did not want to wait for or pay for. Finally, we were told that there was a train to Narathiwat. We got a lift to the train station, and discovered that the train went to a town some twenty kilometers from Narathiwat. The train was super cheap and the people on the train were kind and interesting. It took nearly all day to go the 160 kilometers the crow would have flown to Narathiwat, and we probably covered 250 kilometers on the ground. We could see a very large military presence on the journey. There is a guerrilla insurgency in the area and eight people were slaughtered by them just a few days ago while they traveled in a minivan. To say the least, I was apprehensive, but the soldiers helped allay my fears a bit.
On the songthaew ride into Narathiwat we saw one of the largest sitting golden Buddha that I could imagine. It is just a few kilometers to the southwest of Nara. The town was not nearly as nice as Songkhla, but the people are the friendliest that we have met since leaving China. People were calling hellos to us all over the place. Had we known about all the transportation problems and what was to be seen in Nara, we would have gone directly to Malaysia. Still it was an interesting day, frustrating at times and fun at times too.
I saw most of the town when searching for a hotel. The selection is not great. After checking in, we walked up to the fishing village near the Hat Narathat beach, less than one kilometer to the north. We had expected to find some restaurants, but only found children playing soccer and other sports. They were all so friendly, asking us questions about whom we were and where we were from. It was great, save the light rain that came intermittently. We stayed a while then walked back into to town. Ordering food was a problem as the menus are only in Thai and they did not have photographs.
Today, Thursday the 22nd of March, was our last day in Thailand. We had less than 65 kilometers to travel as the crow flies. We found no buses that would go to Tak Bai and then the five kilometers more to the border at Ban Taba. We walked to the south side of town. Betty seemed to waiver as she sweltered in the heat. We stopped a few times to get oriented and rest in the shade. When we finally got to the right road, we quickly got a songthaew for 30 baht each. The woman who sat next to us was also going to Malaysia, so we followed her all the way. She was another wonderful person from the south of Thailand who was so friendly. The river is less than 200 meters wide and our boat crossed in a few minutes. Immigration on both sides was a breeze. We found a bus into Kota Bhuru for less than one dollar each. The bus took us to the center of the city and we began our search for a hotel. I will write more about Malaysia in my next entry.
Some closing thoughts on Thailand:
Thailand is the most developed country in Southeast Asia - at least - so far. It has a great infrastructure. It is only slightly more costly that the rest of Southeast Asia. The internet has high quality high-speed connections to the web. We really loved Chiang Mai and we like it here in the deep South. Chiang Mai was especially great, because we were able to hook up with Alan Puzey. Knowing a special person in a special place can make it even better. You can have Bangkok and the fancy Western beach resorts like Ko Samui. When we got away from the rest of the Western tourist areas, we found the people to be very friendly. When we return to Thailand, we will want to stay mostly in the northern provinces. It is hard to say whether or not it was our favorite country in Southeast Asia so far, because Vietnam rates fairly high up there, too.
Posted by bill at March 22, 2007 06:34 PM