Ko Phangan: Paradise Lost?
The Trip from Vientiane to Ko Phangan:
We planned to go to the south of Thailand after leaving Vientiane. It was a rather grueling journey. We got a tuk-tuk to the bus station and bought tickets to the town, Nong Khai, some 30 kilometers to the southeast on the other side of the friendship bridge. It cost less than two dollars and the bus was one of those beautiful Thai buses. In Nong Kai we got on the next bus to Bangkok. The bus was not as nice as the first one, but it only cost about $10 each to travel the 600 kilometers to Bangkok. We arrived about 10:30 at night. Betty had the bright idea to go right to the airport and catch the first flight out in the morning. We waited for a local bus to take us there, but it never showed up. We shared a cab to travel the 50 or 60 kilometers to the airport; our part was $5. When we got there we discovered that the cheap flight to Ko Samui, the bigger island just south of Ko Phangan was full so we ended up paying a lot more. We waited at the airport all night and enjoyed the free WiFi. At 6:15 we boarded and were off the ground 15 minutes later. We landed about 7:15 and went right to the pier to board a catamaran to Ko Phangan. Now it was about 9:00 AM, more than 26 hours after we started.
I have written a fuller description of the island below. Be sure to take a look at it.
Kicking Back in Ko Phangan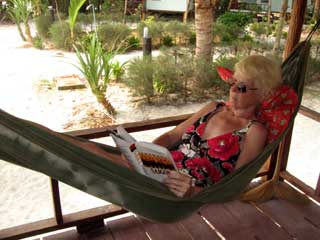 We ended up staying a week on the westside of Ko Phangan. We walked about a mile to find a beach bungalow about a mile from the pier. I booked one night. We thought we would go further afield the next day. We were just thirty feet from the water's edge at a cost of $10.50 per night. We napped after our 24 plus hour journey. Then in the late afternoon we walked back to Song Thala. For the second time I tried to find someone that would rent a motorbike without surrendering my passport, which proved fruitless. There was an open food market with twenty or more food vendors, selling everything from fruit shakes to stir-fried noodles. We ate well. We walked back to our bungalow. The owner was anxious to know if wanted to spend another night. We thought and thought. Finally we figured it would be easier to take the whole next day searching, because of 10 AM checkout times on this island. I mentioned that we would want hot water to make tea and coffee in the morning. She said "No way," because she sold tea and coffee. I gave the look that said "you got to be kidding." She suggested that we get out the next day. This was the second sign that this was no paradise.
Early the next morning we hiked another kilometer or so down the road. After checking several, resorts we settled on Sabai Beach Resort. It cost less, at $9 per night, and their restaurant seemed good. We enjoyed the day in the sun and surf. Being further away from town, we ate at their restaurant. All was good. Then we went to bed and it was not so good. It was the hardest bed we had come across since coming to Asia. It was hardly more than a lightly padded board.
The next day I left Betty to enjoy the surf and I headed north walking and hitchhiking in search of a better bed. I looked from the Sritanu Bay to Hadd Yao. Sritanu is about three kilometers northwest of Sabai Beach and Hadd Yao is about six northwest. The beach was better in both places, with prices better in Sritanu. The entire stretch between the two locations was loaded with resorts and a village along the road. I decided upon The Beach resort in Sritanu Bay. I arrange for a pickup the next morning. Back at Saibai Beach, I got re-hydrated and enjoyed a wonderful sunset.
When checking out of the Sabai, I mentioned how much we enjoyed the resort – save for two things. The owner immediately wanted to know what those things were. First there was the bed, and then there was the 10 baht charge (30¢) for a cup of hot water. She must have heard about the hard beds before, but she got all pissed off about the hot water. The nickel and dime chiseling from the resort owners just pisses us off, but I have come to expect it in Thailand. So, I usually do not make a big deal about it – but I usually mention it. The response is always the same: false sorrow or defensiveness. I guess most of them have never traveled anywhere else. See some more comments below.
We got into a nice groove in Sritanu Bay. The bed was hard but did not cause our bones to ache. The beach was broad and smooth. No, it is not as nice as Hadd Yao, but it still is great. The season is winding down so many of the resorts are only half full. There are plenty of bungalows available from $6 to $9 per night. We even found a good little restaurant, the Ladda, where we eat our evening meals. Swimming, sunning, drinking, playing cards and meeting fellow travelers made up our four days in Sritanu Bay. We thoroughly enjoyed the place; its sights, sounds, smells and people. From its very hot afternoons to its warm balmy night it was great. Betty especially seemed to revel in it, while I was a bit more bored.
Paradise? The Way I See It Is . . . . .
Ko is the Thai word for island. Ko Phangan is not very large, maybe 20 kilometers from one side to the other. The interior is very hilly and forested. The beaches are very good, but not very broad in most places. The sand is white and smooth. The west side waters are very shallow, where you can walk out a hundred meters in places. The roads are winding and mostly concrete. They say that the best beaches are near the south tip and that is where it is most developed. That area has a heavy-duty party-hardy reputation. Some would call this a tropical paradise, and that it would be without all the people. There are truly beautiful sunsets along the west coast.
The typical accommodations are beachfront bungalows, so tiny that there is not much room left over for a single double bed. The bungalow is cooled with a fan and there are electric lights, too. There is a bath that has a shower with unheated water and a toilet that may have a flush mechanism and may not – in which case you have to dump the water in the pot. These bungalows cost from $6 to $18 per night. It is possible to get better and worse, which cost more – from $35 to $60 - and less as low as $4 per night. The low-priced ones are made of straw or thin boards and the better ones are concrete with thatched, or metal roofs. All in all the accommodations are fairly priced save for the fact that they do not provide drinking water, they do not provide boiled water, they may not even provide toilet paper and soap. Sometimes the beds are so hard that you might as well be on the floor. So careful checking before checking in is essential here.
In the towns good, cheap Thai food is available. There are 7-11's which offer the best prices for beer and water, et al. Thong Sala has a great area with dozens of food stands set up where one can eat for about the same as any other place in Thailand. But the little stores, restaurants and the "resort" restaurants here will cost you up to twice as much as the rest of Thailand. Still a person can eat well for less than $12 per day. Drinks are a bit more expensive, but surprisingly enough beer is not any more expensive than the rest of Thailand at about $2 for a large, 24 ounce or 650 ml, bottle. Oh, have I mentioned before that in general beer is more expensive in Thailand than any other place in Asia. Considering that this is an island and the tourists are trapped and that there seems to be a lot of price fixing here, I think that the food is not overly priced.
Transportation is where paradise turns into its opposite. The locals say that there are taxis here, but there are no taxis on the island. There are no buses on the island. There are no regularly routed vans rolling around the island. There are not moto-taxis. So, how does one get around? In the rest of Thailand they call them songthaews. A songthaew is a small pickup truck with a soft room in the back and open sides with a bench running along each side. Most places in Thailand you can go a good long ways in one for 50 cents. Here on Ko Phangan they are insanely expensive and there appears to be not only price fixing among the operators but with the resorts, which push you into using them. So, how expensive are they? They want from $4.50 to $9 per person to go 2 to 15 kilometers. I almost left the island ten minutes after arriving, because I can not tolerate such unscrupulous behavior. One can rent a motorbike here. This is the best way to get around, however, all rental places insist on you leaving your passport. Something I would never do. If you are able to surrender it to someone you don't know, then you can rent a bike for $4 to $6 per day. The only way to get to a resort is to arrange a pickup, which they will do, if you promise to book in. When getting back to the port, once again you are at the mercy of the songthaew mafia. Since the bulk of the tourists coming here could careless about this, it is unlike to change.
No, Ko Phangan is not paradise, unless you call a low-priced beach bungalow with plenty of pot to keep you mellow paradise. It is a place where folks are trying to make the most out of the travelers that journey here. The island's solution to all problems appears to be collusion with prices fixed on almost everything: like $1.90 per hour on the internet – or $1.20 per kilo to get you clothes washed. They could make the island more inviting with a few simple changes, but they have not figured it all out yet. Just having simple regular – say hourly - songthaew service along the coast roads for 30 baht (90¢) would be a step in the right direction. Given the short distances this would still be a hefty fare, but this small concession is highly unlikely. Ko Phangan has lost paradise. Ko Phangan is another place despoiled by the tourists and that has been transformed into one of the hundreds of resort island resort that can be found around the world. We travelers seem to turn everything into stone. A pity and I am sure that I am part of the problem. For this I have no excuses; I cannot help myself; the wanderlust is too great. As far as Ko Phangan is concerned, I will never return to this island, nor can I recommend it to anyone.
To view a slideshow from southern Thailand, press HERE.
Posted by bill at March 16, 2007 03:49 PM