From Hangzhou to Xiamen
To view all my photos of Hangzhou and
Xiamen, press HERE for a slideshow.
Hangzhou Square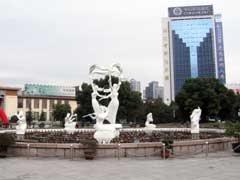 The Grand Canal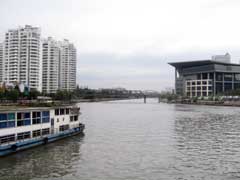 Hangzhou is a hundred miles south of Shanghai. It is the most beautiful city we have visited in China. Other than the cold, it felt good to be in this city. We only stayed there one full day, but it gave a strong impression.
So on Monday we saw the most beautiful parts of the city. We began by taking a bus to the Grand Canal. This canal is one of the greatest man-made projects ever built. It has about the same significance as the great wall. It was built more than 1000 years ago. It is almost 2000 kilometers long. It united the north and south of China, from Hangzhou to Beijing. We had planned to take the water bus to a museum, but the buses were not operating.
So, we headed for one of the greatest parks in China. Great, because it is free for all. Great, because it is next to a large city. Great, because it is so beautiful. We walked down to the north end of the West Lake (Xi Hu). As we walked along this side of the lake, we saw a museum. It was free. Guess what? For a change it was full of Chinese people, mostly students. The policy of charging for every little thing in China certainly limits what the Chinese can learn of their own history, but here it was open to all. We continued on the north side of the lake. It was so beautiful. We took a bus down the west side of the lake. Then we hiked on the south and east sides. There we saw more beautiful park grounds, old Chinese buildings and a wonderful Pagoda. We were exhausted when we got back to our rooms, but it was worth it.

Across West Lake


On Tuesday we traveled five hours by bus to Wenzhou, then a quick trip from the north to the south bus station to grab another bus to Fouzhou. By the time we arrived it was after 8:00 PM. We checked into a hotel next to the station.
Wednesday, 29 November 2006:
We traveled by bus to Xiamen and arrived in the afternoon. We went to the docks, where we caught the ferry for a five-minute ride to Gulangyu Island. I checked out three places and we settled on the Bay View Inn. It has turned out to be an excellent choice. We got a sunny room for less than $20 per night. They had everything we needed, including a WIFI network and a washing machine.
On Thursday we washed our clothes. As usual in these places, they had no dryer, but it was warm enough and windy enough to dry our clothes before nightfall. We wandered around the north end of the island. Along the way we stopped for lunch. If I have not mentioned it before, it is hard to order food in China. When ordering, we never know exactly what we will get. So, we resort to walking around and pointing at what looks good on the other tables. Even then there are surprises at times. Gulangyu is very beautiful, nice old buildings, gardens galore, and sculptures and more sculptures. It was a foreign enclave in the 1800's, so there are churches and old European architecture. We did very little more and that is exactly what we wanted. We needed a break from all the travel.
Today, Friday, the first day of December:
We started by hooking up our VOIP phone, which we brought along and have used a few times. Betty called Birgitta. They seem to gab forever.
We roved on the south and east side of Gulangyu. It was a beautiful, warm sunny day with temperatures in the 70's. This area touched on one of my pet peeves, the large number of pay parks - or as they call them gardens. The pay areas were empty and the free areas had many tourists in them. On the south side we stopped by the beach for lunch and to play some cribbage. We were again pleased by the large number of sculptures that adorn the island.

Posted by bill at December 1, 2006 09:39 PM