Around the Neusiedler See
We came to Illmitz, Austria, on Sunday afternoon. Illmitz is about 45 miles southeast of Vienna. The information office was closed, but they had a listing of private rooms posted on their doors. We wrote a half a dozen down and started driving around the town. It seems that every block had four or five homes announcing rooms to let. We stopped at one that ended up being full and I asked the cost. She said 20 Euros and thought, "This is great!" The next one that we stopped at was only available one night and I saw a sign that said the cost was 18 Euros. I checked out another next door that would be free for several days. She said the cost was 21 Euros. We went off to enjoy a fundraising party for the local church. There was good food and wine available. We enjoyed the live umpapa music, carried on a conversation with a couple from Dortmund, and had a good time. When we returned to our rooms, the owner's son was there. He spoke excellent English. As we talked something was said that surprised me. I stopped everything - back things up and got clear. It seems that all rates for a room are quoted on a per person basis. We were shocked, after all this was not a hotel - yet the cost was $50 a night. To say that I was bummed would be an understatement.
Press HERE to see a slideshow from Eastern Austria.
The Center of Illmitz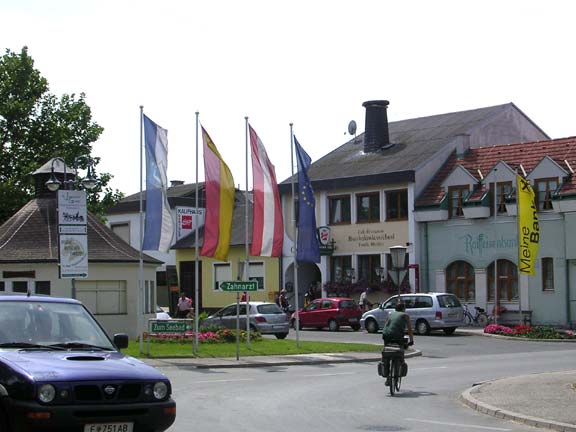 Illmitz is a small, but very busy, village of 2,600 people. There is no library; there is no newspaper. The town and the area seem rich with many vineyards and productive corn fields. All the homes are new, being built after the late 1950's. The area was transformed then as vine culture began to play a major role in the economy. The other economic change is the large number of tourists that come in the summer. They come to play in the Neusiedler See, use the excellent bike trails that wind their way around the lake, and drink the excellent local wines. I can testify as to how nice it is and how friendly the people are. Prior to the sixties, this was a fairly poor area. Immigrants left in droves, mostly for Saint Paul, with little or nothing in hand. The town where the Hensler's came from is not north of Vienna, as I originally thought. It is another small village on the north side of the Neusiedler See - not 30 miles from here. So the families of Michael Seiler and Theresa Hensler traveled more than 4,700 miles from the same place in Austria so their children could meet and marry in Saint Paul. Illmitz was part of Hungary until 1922. Despite the German speaking population, many of the names recorded in the church records are written in Hungarian with a decidedly different spelling. And family records are why we came here only to discover the beauty and the charm of this little village.
Father Johann Zakall

We started Monday looking for a cheaper place to stay. I can say that we had no real luck doing that. So we decided to stay where we were.
We headed for the city hall to check on city records. They only go back to 1895. They referred us to the local priest who had records going back to about 1850. We stopped by the rectory, but he was not at home. We found out that we should check back around 6:30.
We drove to a nearby town to get an internet connection and check for email. Betty bought a jigsaw puzzle that we started working on in the mid afternoon. We dropped by the priest's house later and made an appointment to look at the records the next day.
Tuesday morning we met with the local priest, Johann Zakall. However, he had no record of George Sailer's birth. I say Sailer instead of Seiler, because that is the local spelling of this family name. He told us that Dr. Hans Zelfel, who is the archivist for the bishopric in Eisenstadt, would have older records for Illmitz. He also asserted, as did the people at the city hall, that some records may be kept in Hungary. The only problem is finding where it is kept. Wouldn't it be great if the Hungarians conducted a few censuses prior to 1880?
Then we visited the graveyard. Here we schocked to discover that about 1980 the people of Illmitz completely lost contact with their past by destroying the all the grave markers and reusing the land for new graves. No pictures of the markers were taken; no epitaphs transcribed. After this we drove to Wallern, where Anna Keintz was born, to see the priest. Alas, he was on vacation, so we will write him for information. We tried to call the archivist, but he was not in.
With nothing else to do we visited the lake, the Neusiedler See. The lake is no larger than Lake Millelacs but it is longer and narrower. The lake is very shallow, no more than seven feet deep. There is no beach, just grassy park lawns and reeds. Hundreds of people lined the shore and played in the water. Along with a couple of small ferryboats, there were dozens of small sailing boats on the lake. The water clarity was low around the swimming areas. People come to the lake also for some remarkable bird watching with a large variety of European water birds in the area. We returned in the evening and worked some more on our jigsaw puzzle, it was quite difficult.
The Neusiedler See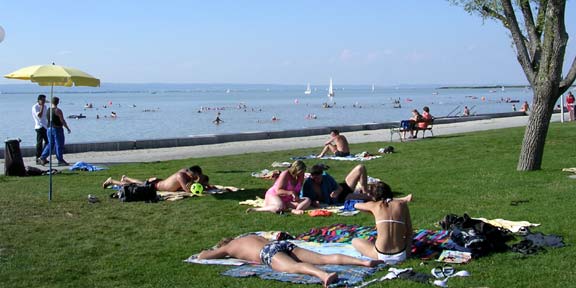 Wilfleinsdorf's Sanctuary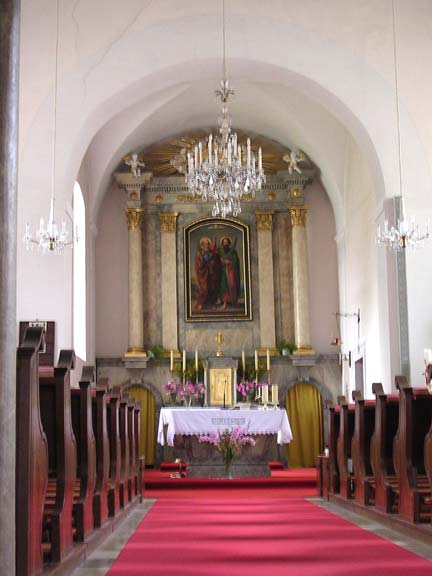 On Wednesday we continued trying to contact archivist in Eisenstadt. By the end of the day we had an appointment early the next morning.
Then with nothing else to do, we decided to knock on a door that had the name Sailer on it. Although we didn't get any information, we had a delightful time. The hospitality of people here is wonderful. We had wine and cookies as we talked and worked out that they did not have info going back further than 1865. Then we wrote up a flyer to post at the church and in a couple of other buildings. After getting it posted we stopped at the house next to the property where George Seiler lived in 1880. The family we visited was Haider, the name of George Seiler's mother. Again the people were wonderfully hospitable. The talk went on for more than an hour and the wine flowed to our glasses. They told us about some local sites worth seeing and about mid afternoon we went site seeing at the Basilica in Frauenkirchen, a 19th century castle in Halbturn, and an ethnological museum that is a town from 100 years ago in Münchhof. Here we met an old lady who had cousins living in Saint Paul. We finished the puzzle and gave it to our hosts. After a pizza we called it a day.
The Church in Rohrau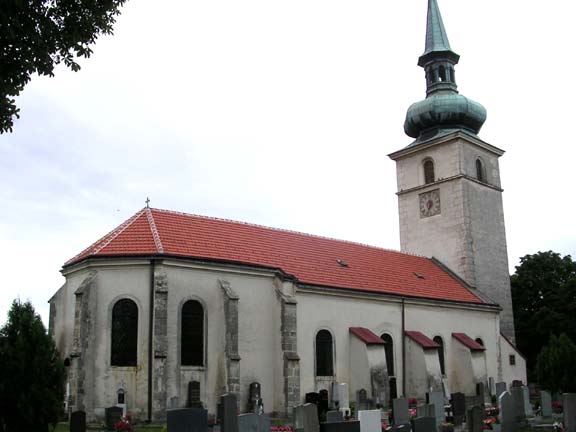 Thursday was definitely the most productive on the ancestor quest. We were in Eisenstadt by 9:30 and digging into records from 1700 to 1850. We did our best given our lack of the German language. We were able to confirm much of what we already new, add some new dates, go back an additional generation, and capture the names of the brothers and sisters of the first great-great-grandfather Seiler to come to the Saint Paul. Betty seemed to really get into the research. It would be nice to go back again, but we would not be able to get space until next week. So what we got will have to do for now. Perhaps we will return one day.
At 4:30 we headed toward Wilfleinsdorf, the tiny village where Martin Hensler was born. It is about 15 miles southeast of Vienna. It is so small that there is not a functioning pension, so after driving around a bit - we drove to Bruck, a few miles to the east. Here we found a guest house that was high but not too bad for Austria at 56 euros or about $67 for the night.
Today we decided to stop at several cemeteries where Hensler ancestors might be buried. Like the other cemeteries that we have visited the old gravestones seem to be gone. To be sure they were a bit older than in Illmitz and Wallern. Still there were not grave markers of people buried in the 1800's, let alone the 1700's. In Rohrau where Gregor Hensler (died in 1765) could be buried, the church was founded before then, but the bulk of the structure was completed in 1776. Here we found markers, attached to the church, that were as early as the 1700's. Rohrau is only 30 kilometers east of Wilfleinsdorf , and another 30 kilometers to the east is Bratislava. And that is where we drove. The people on this side of Slovakia seem to be as friendly as the Austrians. Will let you know if this is true on the next posting.
Wine and Wind Culture in Burgenland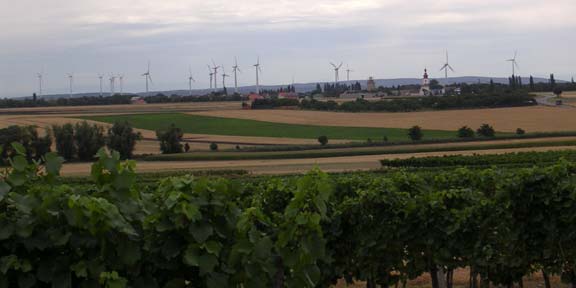 Posted by bill at August 13, 2004 07:42 PM