Again in Wonderful Hungary
On Wednesday we came back to Hungry.
We had heard that due to lots of August vacationers there were long delays at the border crossing east of Arad. We decide to drive about 25 miles north of Arad and turn east to cross into Gyula, Hungary. The crossing was fast and uneventful - as all crossings should be.
There is an immediate change that is noticable when entering Hungary: clean and good roads, dust-free air, lush fields, and an easy atmosphere. We both think that is the nicest county that we have visited.
We drove as far as Szeged and were delight at this city. It seemed to have a good number of tourists but it was not overwhelming. We found a pension after a trip to the Hungarian Tourist Information Office. They are at least as good as the Czech tourist offices and maybe better. We checked in and then headed to the center for a walk around the town. We had already seen the magnificent central plaza and parks when we arrived and now we were looking at the old churches and institutions. A beautiful river flows through the town. After a couple of hours we were tired and hungry enough to look for a restaurant. We tried a Tex-Mex place. The Mexican food was just awful, but very reasonability priced. Still, I long for some good enchiladas. With dinner over we retired for the evening.
Press HERE to see a slideshow from Western Hungary.
| | |
| --- | --- |
| The Public Art of Szeged | Lace Maker in Kiskunhalas |
Before we left town on Thursday, we stopped to by a USA Today. It has been easier to get this paper in Hungary than any other country. To be honest, I only want the cross word puzzle, but Betty seems to like reading all the news - even if it comes a day late. We slowly made our way toward Pecs. We stopped the small town of Kiskunhalas. It is famous for its lace. The museum only cost a couple of dollars to visit. The workmanship displayed was extraordinary. At the end we inquired as to what was for sale. The cost for us seemed astronomical. For example, a piece that was about twelve inches in diameter cost more than $1000 and piece the size of postage stamp cost $45. So, we bought a couple of pictures of the lace on postcards. We really enjoyed our stop here. After Kiskunhalas, we traveled to the very small village of Hajos. Here hundreds of wine cellars line a few roads along the highway. We visited two wineries. For two dollars you can buy a liter of good wine in a plastic bottle. We got three very inexpensive bottles from János Hepp and one of higher quality from Varga Mihály for $10. The daughter of the vintner, Ericka Varga, spoke good English and was very kind to us. We will try to hang on to it until we get home.
From here we drove to Pecs. It immediately felt warm and inviting. We took a room at the Laterum. While not the most inviting place it was cheap. We ate there and found the food overly salty. Our speculation said that soup and sauces came from a can.
| | |
| --- | --- |
| János Hepp and Betty | Ericka Varga |
Ruins in Pecs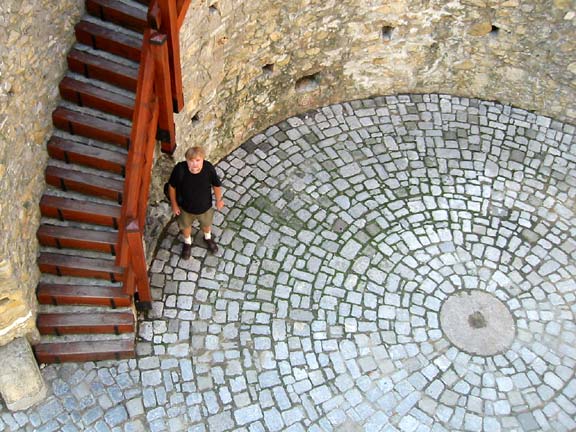 We had planned to stay two nights in Pecs. The next morning we began to explore the city. But we quickly decided that it wasn't as great a place to visit as we first thought. They really overplay the tourist stuff. It is another town that nickels-and-dimes you to death on entrance fees for everything. Most perturbing to us is that many of the churches in Hungary charge a fee to enter and in Pecs the fee was the highest at $3.50 and the church the least. These are active churches and nowhere else have we found such fees. We get the impression that they have never heard the story of the money changers that cast out of the synagogue.
So Friday, about noon, we decided to leave town and head north. We took several small roads through a hill area north of Pecs. Eventually the land flattened out and we were speeding toward Lake Balaton. The lake is about 50 miles long and three miles wide. It is the only grand lake in Hungary, so it is heavily used by families, especially on the southeast side, where there is a shallow sandy bottom that allows wadding several hundred feet from the shore. The crowds disturbed me so we headed to a\the town of Keszthely at the far southwest corner of the lake. We looked for a room, but found nothing in our budget. So we looked for a while on the northwest side of the lake. Finding nothing we headed north and stopped in the town of Sü meg. We found a pension fairly quickly. It was one of those places that was quite unexpected, because there is a marvelous old castle ruins on a high hill that overlooks the town. We walked to a nice restaurant at the foot of the hill and ate Hungarian food, which we both like.
Saturday morning started with one of the best breakfasts that we have had in pensions that we have stayed at. It also started with a heavy rain storm. We decided to skip the climb to the castle and head north. As we drove the skies cleared and the sun began to shine. By the time we got to Györ the weather was warm and sunny - perfect to explore the city. This was another of the really great Hungarian cities that we have seen. We took a few hours to see the major historical buildings, and to visit the town's commercial center. I should mention that unlike the states, nearly every town and village has marvelous pedestrian areas with out door cafes and public art. It was late afternoon and we had a choice to make: stay or move on to Sopron. We choose the later. We wasted too much time searching a cheap place to stay. When we finally made up our minds where we wanted to stay and returned to them - we found them full. So, we turned to a slightly more expensive pension. Here we found a wonderful hostess that spoke good English and made us feel very welcome. When we told them that we were looking to eat she gave us some wonderful apricot dumplings that she had just made. Then they volunteered to cook a real Hungarian food dinner for us. And it was a marvelous goulash plate with homemade noodles. We drank the wine we had bought in Hajos.
| | |
| --- | --- |
| Sü meg Ruins | Györ Street |
Today we began with an early, good breakfast. Then we explored the town. It is replete with Roman ruins and a marvelous old city center. Here a flee market was in progress, where one could find the typical junk and some great old antiques. I climbed the clock tower. We visited only one museum, a bakery museum. It was interesting in two ways: one - it had a lot of ancient bakery gear; two - it spelled out two hundred years of the family of a baker. I wish that we could have spoken in Hungarian to the people running the museum, as they were the grandchildren of the last baker. The bakery had been there for more than two hundred years before it closed in 1974.
From here we drove a few miles back to Fertöd to visit the Esterházy castle. It is billed as the Potsdam of Hungary. It is a lovely old Versailles-type castle. What I liked best is that it is still not totally restored. It is like looking at antique furniture in that it is more interesting when the finish is not messed with.
From here we passed into Austria to the village where Betty's great-grandfather Seiler came from. We will probably stay in Illmitz most of the week: looking in graveyards and looking for church and public records about here ancestors. We will likely do the same next week when we look for the ancestors of great-grandfather Hensler north of Vienna.
| | |
| --- | --- |
| sopronFleeMarket.jpg | Esterházy Castle |
Posted by bill at August 8, 2004 06:31 PM