October 29, 2007
Mississippi Gulf Coast
Press HERE to see a slideshow
from the Gulf Coast.
Cirque Dreams Performance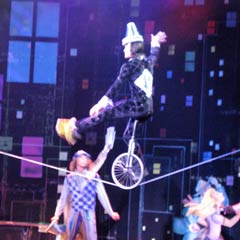 The Shed BBQ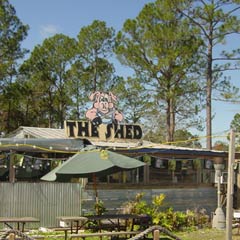 Dad Downing a Beer at the Shed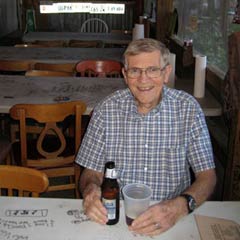 We have been here three weeks. The weather has been changing from summer heat and humidity to winter rains to wonderful autumn sun, clear skies and nearly perfect temperatures. We were here to visit my 81 year-old father. He is still in pretty good shape for his age, but it is beginning to catch up with him. He is starting to slow down and he is finally thinking about moving to a smaller residence.
Betty cooked some spectacular meals for us: roasts, stews, soups, chicken and so on. If you have ever eaten at Betty's table, you know what a joy that can be. That does not mean that we never eat out. We cannot visit this area without eating at my dad's favorite restaurant, McElroy's on the Bayou.
The gulf coast has become another gambling destination. Since Katrina, it is no longer necessary to build the casinos over the water. There are lots of Vegas style casinos in Biloxi and Gulfport. With the Vegas allure, some pretty good shows make the casinos their venues. Biloxi is like Vegas some forty years ago, when an ordinary person could afford to see good show. That we did one night when the three of us went to see Cirque Dreams at the Imperial Palace. Although not on the level of Cirque du Soleil, it was none the less a great show of European style circus acts. The staging, costumes, songs and performers were all outstanding.
One place that I love to visit is The Shed BBQ Joint. It is one of those authentic barbecue sheds that serve ribs, pulled pork, BBQ brisket sandwiches and they also pour some mighty fine beer. When I say shed, I mean shed. It has a big picnic style yard a small inside eating area with half-walls and screens to keep the bugs out. The food is great. They also have an outdoor stage, where the blues can be heard on the weekends. We went there to eat and I found out that there would be a blues festival the next Sunday. The price of admission was super low, and so I gladly surrendered $25 for the all day concert.
The next Sunday I arrived in the mid-afternoon to listen to some great music. I heard both good and great. I left my camera back at my dad's place. That was a mistake, because there were lots of great sights to photograph. To get a flavor of the fun at the Shed, check out their online photo gallery. Below there is a list of some of the blues musicians that performed on Sunday and links to sample their music.
As I have mentioned in the past, the Mississippi gulf coast was decimated by Hurricane Katrina. The effect was to wipe out tens of thousands of homes, boats and automobiles along with thousands of businesses. Rebuilding has gone ahead at a great pace. Maybe half the homes and businesses have been repaired or rebuilt. But there are still thousands and thousands of displaced people. There is still so much left to do.
A real sign that the situation it getting better is the November first scheduled reopening of the Biloxi Bay Bridge. After Katrina there was not enough of the bridge to repair. So at the cost of several hundred million dollars the bridge has been replaced with a new structure. Two lanes across the bridge will be open in a couple of days.

| | |
| --- | --- |
| Biloxi-Ocean Springs Bay Bridge - 30 August 2005 | Biloxi-Ocean Springs Bay Bridge - October 2007 |
Posted by bill at
06:14 PM
|
Comments (1)
October 10, 2007
Southern California
Press HERE to see a slideshow
from Southern California.
Santa Monica - Muscle Beach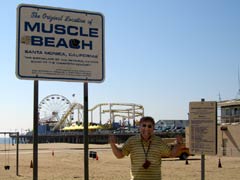 Meditation Park in Encinitas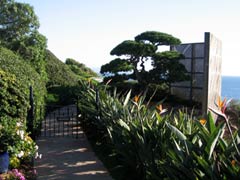 Zackery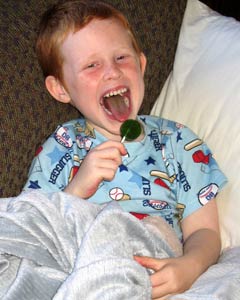 We spent a few days in Santa Monica. While not getting paid, Dain was back to work developing open source software. Marleta was as busy as ever. She works more than an hour east of Santa Monica in Ontario, CA. Half the evenings she goes to the gym after work. The exercise is clearly working with some great muscle definition.
Betty and I just tried to enjoy Santa Monica. It is a very sweet little city. We spent one afternoon on the beach. We saw surfers and waders and sun bathers. Two young men were fishing and caught a small shark. After a few pictures, they released the little shark. Mostly we hung out. Betty cooked several good meals. We had some great lunches in the local restaurants. I made one trip back to the airport to get a small repair done.
Belated Birthday Greeting
My Finnish friends, Päivi and Santeri, recently sent me a deliciously funny belated birthday greeting. I laughed hard when I saw it. So, I thought I would share it with you.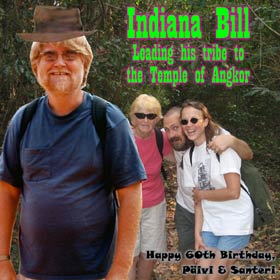 Saturday we flew down to Oceanside, which is between LA and San Diego. My cousins, Mary and Judy, live in a nice home in the neighboring community of Vista. We talked in the morning. Mary's daughter, Kristen, and her new son, Landon, were at the house when we arrived. Judy's grandson, Zack was visiting, too. His mom, Dana, recently remarried and she was on her honeymoon. In the afternoon Mary drove us through several of the great little seaside towns. The area is really nice. I am not surprised by the large influx of people to the area. What I cannot understand is how so many people can pay for the real estate. Ordinary homes range in price from $500,000 to $1,000,000. In the evening we met Judy's current beau, Jeff. He seems to be a pretty good guy. He successfully runs a home remodeling business that he has owned for a number of years. We have not eaten much Mexican, but that evening we drank Margaritas and ate some fairly good Mexican-American fare.
After breakfast Sunday morning we made our way back to the Oceanside airport and took off for the Phoenix suburb of Chandler. We spend the afternoon and evening enjoying the company of my mother's cousin, Jerry Miller. Jerry worked in the aerospace industry for years. I love to hear his stories about the developments in afterburner technology that the company he worked for designed. We both have an interest in our family history. So, we shared a lot of stories about that, too. I was finally able to get a small jar of the sorghum syrup that my grandmother's grandfather, Charles Franklin Miller, had made more than 110 years ago. In those days, he converted his crop of sorghum into syrup in the fall and sold it to the people of Faribault.
Monday morning we took off heading east. The fight was great with nearly perfect weather. We stopped once near the White Sands proving grounds in Las Cruces, New Mexico, for a quick break. From there we made it to Lufkin, Texas, just before dusk.
The next morning we were off again. In the early afternoon, we arrived in Ocean Springs, Mississippi. We will be spending the next three weeks here visiting with my dad.

Beach Just North of Leucadia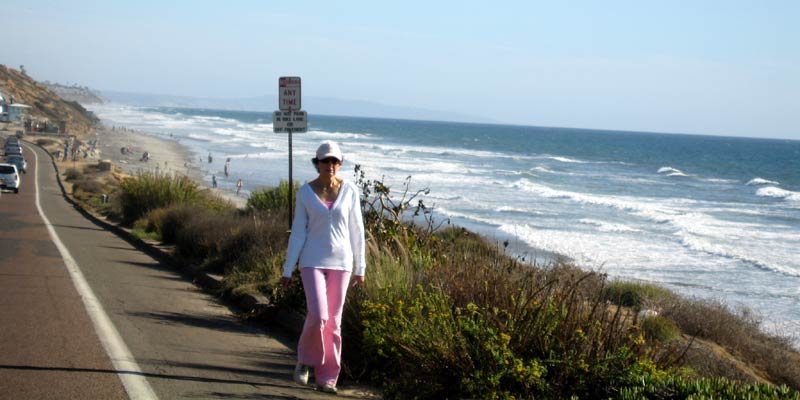 Posted by bill at
06:40 PM
|
Comments (0)
October 01, 2007
My Portland Nephews
We spent a lovely five days in Portland. We even had good weather the first couple of days. We were here to visit with my nephews and their families. We stayed with Bjorn and his lovely daughter, Annika.
Our first full day there we went downtown. Betty had not seen it before and was very impressed by its look and feel. There was an event in the town's main downtown plaza, called Oregon Bounty. They were encouraging folks to visit and experience the bountiful harvest of food, beer and wine. They had some great samples and a cook-off with some well-known local chefs. We did a bit of shopping. One shop that we happened into was really fabulous. It was called The Real Mother Goose. It specialized in expensive handicrafts, many of which showed the hand of brilliant artists and craftsmen.
Betty kicked into cooking mode that first day. She made a great beef roast. Friday, the second day, she stuffed a chicken and made great gravy for the mashed potatoes and tasty yams. My nephew, Shelby, and his wife, Kate, dropped by to enjoy the feast. We had a wonderful evening chatting and imbibing some great Portland ales. All is going well with them. Kate still has a year left in her midwife training program. Shelby is thinking hard about switching to a health profession too. He is pretty unhappy working as a retail store manager. Such a switch makes sense; he has always loved the biological and zoological sciences.
Saturday was our last full day in Portland. It started with a kid's soccer game. They do not keep score nor have full teams, but the little ones seem to have a ball. Annika and her fellow six-year old girls ran back and forth for nearly 45 minutes.
In the evening we visited Lenin and Kelly. They just had their first child, Sofia, who is just five weeks old. Kelly is still taking time off from her nursing duties. Lenin has become a well-known face in the Portland area community, because of television. No, he did not become an actor. He owns the first Hispanic insurance agency in the Portland area and he is backed by Allstate. The baby is real cute and she looks a lot like Lenin. It was great to see them and catch up on all the changes in their lives.
Sunday, we headed south. We got a late start. The weather was not good for flying. With a big headwind to start, it was more than seven hours of flying. We took one stop for a quick rest and some more gas and we arrived in Santa Monica at about 8:30 at night.