Steve Sundstrom in Buenos Aires
As I said in my last entry: my brother Steve arrived on Monday the 3rd of October. Since he was only going to stay for ten days we had a lot to do in a short period of time.
Steve visited many of the places that tourists go to in Buenos Aires. Besides all the regular things that we encourage visitors to do, Steve decided to visit Uruguay during a day trip and to visit Puerto Madryn.
He traveled all night and arrived very early in the morning. He had gotten some sleep on the plane but he was tired. So, after his visit with Dain and Marleta at the airport and getting back to our house, he took a three hour nap. That evening we hung out and talked. I had some pizza and empanadas delivered.
Tuesday, Steve and I went downtown in the afternoon. I showed him how to get there on the train. We walked down Florida Street doing a lot of window shopping. When we got to Plaza de Mayo, we met up with Ingo. I brought his backpack, which he had forgotten at the house on Sunday. The three of us had lunch together at Cafe Tortoni. It was late by then, so we walked back down Florida to the train station and returned to Villa del Parque. Steve was always taking pictures of the common place, but not so common to Appleton, where he lives. Like one evening as we walked back from a good, nearby Spanish restaurant, he took a picture of the lion statues that are 60 meters from our house. And then he got a shot of himself at the subway station. And on his last day, he got a picture of one of the thousands of dog walkers in the city. It is always fun to see them. Some have as many as twenty dogs; this one had nine or ten dogs.
| | | |
| --- | --- | --- |
| Local Lions | Underground in the Subte | Dog Walker |
On Wednesday, we went downtown again. We stopped to buy coffee before taking the subway, called Subte here, to the Pellegrini station. We walked down Lavalle, the other pedestrian street in downtown. Then we visited the Salvador Dali exhibit at Galerias Pacifico. It was a very enjoyable show. I particularly loved his medallions, something I did not know about before our visit. When we were done viewing the show, I sent him off in a taxi to MALBA the Museo de Arte Latinoamericanoodern de Buenos Aires. It is one of my favorite modern museums. While I headed back home, Betty was on her way to meet Steve at the museum. I love the Xul Solar pieces and all the light pieces. After trekking through the museum, they walked through the parks, to the Japanese garden in Palermo. They returned to the house in the early evening.
Steve really wanted to visit Uruguay, something about another stamp in his passport. I had gone not so far back so I begged off. But Betty decided to go to ensure legal status until we left in November. I booked a tour for them. On Thursday, I brought them to the terminal. They left about 11 in the morning. They spent a delightful afternoon in Colonia. They returned in the evening. I was not home. I had gone to a Toastmasters meeting. After the meeting, Daniel Grinberg and I went to a big party of the European club. I have never seen so many beautiful Argentinean women in the same place in Buenos Aires before - truly amazing. Mario wasn't there, but I did see Päivi and Santeri. I drank too much and had a hangover the next day.
On Friday Steve and I hit three areas of the city. First we drove to the leather district near the Malabia station. Steve continued buy presents. He got Ellen a beautiful blue leather jacket, but nothing for himself. Then we drove to the jewelry district on Libertad near Corrientes. Steve got Ellen a green tulerine ring. Then we went over to La Boca where we had a nice lunch. He enjoyed Quinquela Martín Museum, the great street art and the asado.

| | |
| --- | --- |
| On the Rooftop in La Boca | Resident of La Boca |
In the evening, we got together with Päivi and Santeri for the last time. They were leaving for Bali in Indonesia on Sunday. We got together with a number of our friends at a pool hall near their apartment. It was an old bar and pool hall. The tables were in good condition. I like playing pool and so did everyone else. Steve really had a good time. He especially liked meeting Pablo and Daniel. About eleven Betty went home, but the rest of went over to a good Chinese restaurant on Roosevelt near Cabildo.
On Saturday and Sunday we went to the Recoleta and Mataderos fairs. Steve was still shopping for gifts. He is such a caring father and husband, a rare thing in this day and age. On Sunday he finally got himself something. It was a nice looking belt. I must say again and again that the Mataderos fair is my favorite. I think Steve liked it as much as I do.
At four in the morning on Monday, Steve took a taxi to the downtown airport. He flew to Trelew and and then took a bus to Puerto Madryn. Puerto Madryn is on the edge of Peninsula Valdes. He went to see the large number of animals that find refuge in its bays, shores and parklands. From what we heard, he had a wonderful two days there. He saw mama whales playing with their baby calves. He saw penguins and sea lions and the other typical animals that live in the park including the wild emus of South America. I was hoping to get a description of his journey from him but have not seen it as of yet. Some photos follow:
Steve took off by himself on Wednesday. I do not really remember what he did during the day. In the evening we went La Viruta, where he learned to do the basic Tango steps. We met some fun ladies and had a very good time.
Thursday we drove out to Tigre with Steve. We drove through some of the nicer northern suburbs. I know Steve loves all the boats. I am sure that he was a salty old sailor in another life. We visited the fruit market in Tigre, where I finally bought a big, beautiful cowhide. Then we dropped Steve off at the delta tour boat. He thought that the delta was great. In the evening we went to Xalapa, a Mexican restaurant in Palermo.
Steve left on Friday. He packed in the morning. In the afternoon he went downtown to pick up Ellen's ring. About six in the afternoon we drove out to the international airport. It had been a great visit for Betty and me. It is great to see family after such a long time, and even better to show them around such a special city. We hope to see Steve and Ellen soon after we get back.
We did not do much on Saturday. On Sunday afternoon some folks, Jim and Lise Nicholson, visited us. They had just arrived from Canada. We met them in the Czech Republic more than a year ago and we have stayed in contact. They decided to visit Argentina based on this BLOG. We had a great visit. About 8 in the evening we drove them to a B-and-B in the Belgrano neighborhood. It is called La Acacia and is the same place that Betty and I stayed at when we first came to Buenos Aires. It is really lovely old house with a wonderful family running it.
There will be more on the Nicholson's visit later.
Finally, we are getting ready to return to the United Sates for a few months. Our final days here will be interesting and you can expect one or two more entries for Buenos Aires.
In Tigre Delta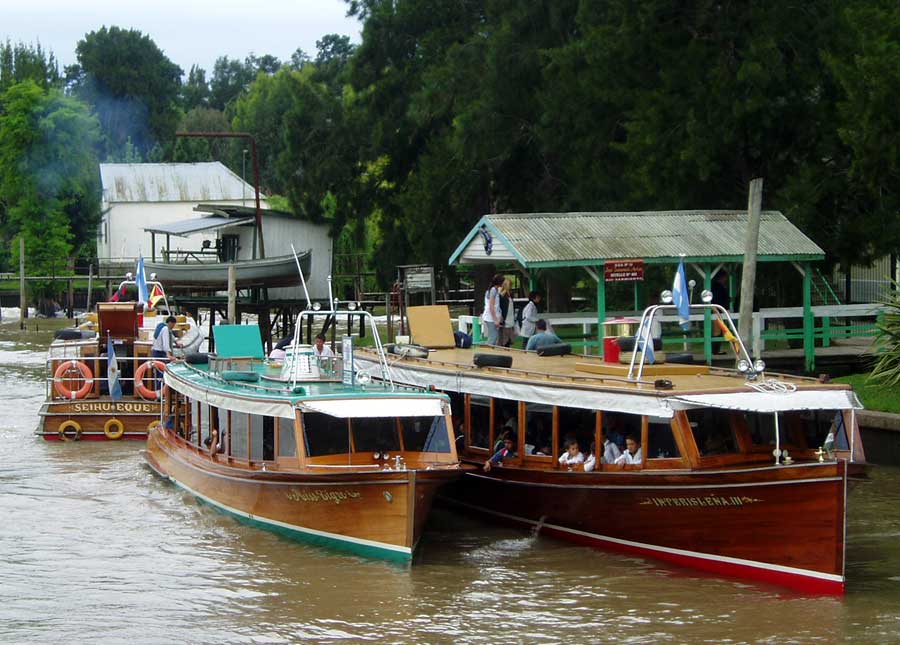 Dain and Marleta
Press HERE to see a slideshow from Dain and Marleta's visit.
Breakfast with the Kids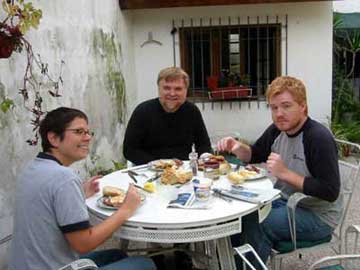 Dain and Marleta arrive on Friday, the 23rd of September, and left today, the 3rd of October. They were here in Buenos Aires for ten short days. The last time we had seen them was early last November. It was wonderful to be with them and nice to hear about how their life in Santa Monica was going.
They came mostly to visit with us and not to be the tourists. Despite that we took them to several of the typical tourist locations, like Recoleta and La Boca, and some not so typical but favorites of Betty's and mine, like the fair at Mataderos.
We went to Recoleta to visit the cemetery and walk through the stands of craftsmen that are set up every weekend. It is clear that Dain dislikes browsing and shopping in such a style. But Marleta got into the swing of it.
On Saturday night we went to a birthday party for our friend Esteban Hernandez. He is in the English group and many of them were at the party too. We met at a bar with a bowling alley and pool tables. Ingo, a German friend, was there too. The kids had brought a used iPod for him to buy. They got to know each other pretty well that night and when he and Lise came by the house twice in the next week. I don't think any of them bowls very often. It has been years since I had rolled a ball down the alley. Still I tied for first with 84 in the game that I played. Like I said, Argentineans don't go bowling very often.
On Sunday we went to Mataderos. I think this is the best of the fairs that are in all the parks and squares of the city. True, I like the things that they are selling, but even more, I enjoy the spirit of the place. I like the live music and the street dancing. I like the peasant food that always brings contentment. I think the kids started to see it that way too, despite Dain's dislike of the little craft stands. If you click on the Mataderos photo, a short movie will load and you might get a sense of the spirit of the place.
One night we all went out to a Tango show. There was a dance lesson before the dinner. Marleta gave it a shot, but not Dain. Betty and I did the dance. We are finally Tango-ing together and having fun. The dinner was not great, but it was good. The show was wonderful. The orchestra was good and the dancers were excellent. We had a great time at Complejo Tango. We stopped for a drink at Olsen's, a restaurant in Polermo, on the way home. They really liked the place.
They also made their way around downtown one day. They walked down Florida. They spent a good amount of time in Puerto Madero. They got a good sense of the city and enjoyed themselves. One night we did some fine dining at Restaurante Restó at Montevideo 938 in Barrio Norte. It was a very small but charming place with excellent food and wines. What I liked about it best was the short menu with just four major entrees matched with starter, sides and dessert.

Dain and Marleta planned to do some more tourist things in the following days, but they got sidetracked by a simple game that I had taught them. The name of the game is Sudoku. It is a game of numbers that is a bit too complicated to explain here, but if you click on the link you should be able to find out how to play the game and a good strategy to win. While there are online versions, most are not that great to use. Key to winning is keeping notes, and that is nigh impossible in the online versions. One of the better sites for generating a bunch of puzzles is the Sudoku Generator. It produces the puzzles and answers in a pdf file that we save. Then we copy six puzzles on to a single sheet of paper and go at it.
Finally they got enough of Sudoku, to break out of the house and visit Palermo where we had a great lunch. It was a stunning spring afternoon. By the time we got done eating in the late after noon there was still some time to visit La Boca. They really enjoyed themselves. Some pictures follow.
Sunday was their last day. We had a few friends over for a barbecue. It was no grand party. Big social events are not something that Dain and Marleta are all that keen on, although they have been known to enjoy a really big party. Most folks came about three in the afternoon. I grilled a large tenderloin, known as lomo here, and a half of a salmon. We had several better Argentinean wines. Since our trip to Mendoza we have graduated to from four to eight dollar bottles of wine, which are spectacular here. The thumbnail photos are below. After everyone left we spent a quiet evening with the kids.
Breakfast with the Kids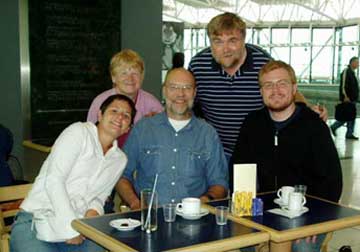 On Monday, the third of October we sent the children off and picked up my brother, Steven, all at the same time. Steve landed about 7:00 AM and the kids needed to be to the airport before 11:00. So, we came late to pick up Steve and early to drop off the kids. Dain hadn't seen Steve for a few years, so it was a nice visit at the airport.
We were sad to see them go, but life goes on. The only consolation was knowing that we will see them at Thanksgiving in November.
Posted by bill at
09:56 PM
|
Comments (6)