Mendoza and Cordoba
The Ruca Malen Vineyard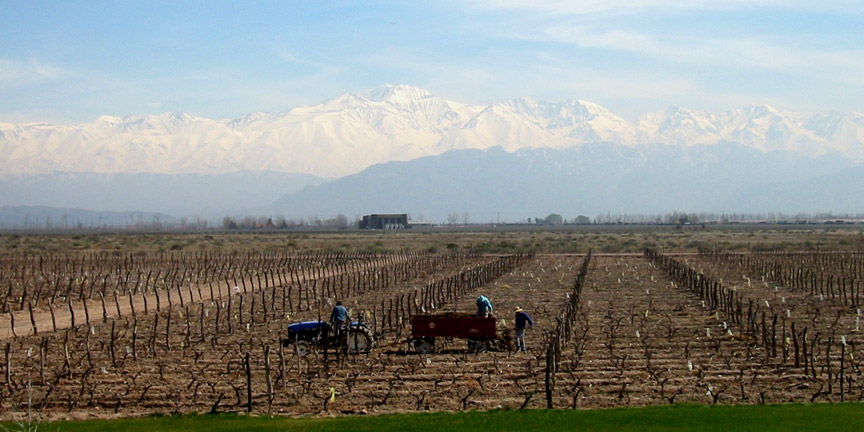 Press HERE to see a slideshow from Mendoza and Cordoba.
Marcia and Betty in the Ruca Malen Tasting Room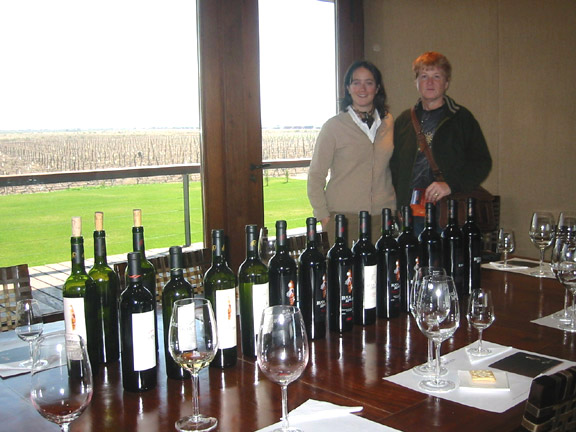 This entry is about our trip to Mendoza and Cordoba. We start with the journey to Mendoza. After we arrived, there were three parts to our visit to Mendoza. First came the wineries. Second was my ski excursion to Penitentes. And lastly was our visit with the Mirandas. Then we drove to Cordoba and spent two days there. And finally our journey back to Buenos Aires.
Betty and I made our way to Mendoza arriving mid afternoon on Monday. We left midday on Sunday and got 400 km before stopping for the evening. We covered the next 700 km on Monday. Most of the way we saw farm after farm. The land is flat like the pampas to the South. It is early spring and the fields are not planted and not green. We often saw large herds of cattle grazing both in grasslands and in the field of corn stubble. The last several hundred kilometers the farm land gave way to dryer lands and orchards and then vineyards. Eventually we saw the Andes, tall and barren of trees. They rise to the highest point in the Americas here.
We checked into the Hotel Milena. It is close enough to say that it is in the city center. On a quiet cul-de-sac, it was peaceful and pleasant, walking distance to all the city parks. It was priced about right at 79 pesos a night.
Our first night in Mendoza, we went to a really fine restaurant. It was called 1884 Restaurante and was part of the Escorihuela winery, which we never went through. The food and service was outstanding. We felt well pampered. One of the nice things that happened was that the waitress suggested a really excellent wine. We paid more that we usually do for the bottle of Ruca Melan, all of 50 pesos or $17 USD. Fully sated we returned to our hotel.
On Tuesday and Thursday we visited wineries. We just made it to a few wineries each day, mostly because they are so far apart and they tend to close early. We started at the Viniterra winery. We should have expected what we would find. In general, Argentina is not customer friendly. Many of the wineries take a view toward visitors that leaves much to be desired. Many will try to charge you to taste. Whether you pay or not, you must be contented to try only a few of their wines and usually nothing better than the middle line of the winery. Viniterra displayed some of these characteristics. Here you need not pay to taste, but before tasting you must buy one bottle of wine. We made it clear that we tasted first. If we liked it we might buy. I let them know that this is not how most wineries in the world operate. Our host relented a bit, and we able to try the wine. And we did buy one. But someone is going to have to teach these Argentinean vintners how the rest of the world does it. But who knows, maybe it won't take.
Ana at Largarde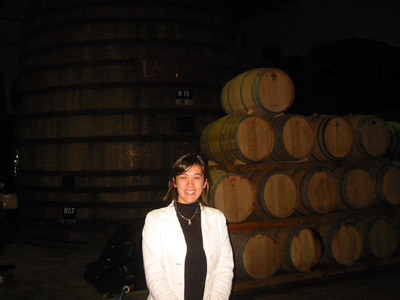 We were trying to find the Chandon winery when we came upon the Ruca Malen winery. Based on my tasting the night before, I was already prepared to buy a case if it sold for a reasonable price directly from the winery. When we gained entry, we could see this was a fairly small winery. We found out that it was a new winery. Our hostess, Marcia, was incredibly gracious. She made our stay very pleasant. The view from the tasting room was breathtaking. She let us taste whatever we liked including their top of the line wine. We bought six bottles of the wine we drank the night before for only 25 pesos each and we bought one of their top of the line wines, too. She was also kind enough to suggest a few other good and welcoming wineries. I wish that we had been able to make it to them all. But, in fact, we were only able to make it to one more that day.
Next we went to Lagarde. The reception again was good. Or hostess, Ana Leiva, was. We got more of a tour of the winery than we needed. Eventually we were tasting fairly good wine, but no top of the line wines. Since we only buy what we can try, we only got a couple of the medium line wines.
Now I will jump ahead to Thursday, when we continued our exploration of the region around Mendoza. The morning started with the bed shaking. I woke up enough to tell Betty to quite shaking the bed. She said, "It isn't me who's shakin' the bed." I said that it must be an earthquake, which she refused to believe. Later we were to learn that this was the first earthquake we had ever experienced. Well, getting back to the rest of the day, we thought that we would again go to several wineries. We got a late start, because I was tired from my excursion on Wednesday. We had acquired some really great maps of the area with many of the wineries listed. The maps were made by WineMap and they are available at some of the wineries. We planned to visit the Tittarelli winery. We had discovered the first day of our visit that in was not really in Mendoza, but was some 80 kilometers away in Rivadavia. Along the way we saw on the map that we would pass by the Familia Zuccardi. winery. They produce some very good wines for export and their best known, but not highest quality, is Santa Julia. Our experience here was much the same as other wineries in that the premium wines are not for tasting. The stupidity of such policies should be clear, because who in Argentina will spend 70 pesos for a bottle on wine without trying it - when an excellent bottle can be had for 25 pesos. So, we bought a bottle of port and a mid-level wine. But even without tasting the best, iIt was well worth our time to stop.
| | |
| --- | --- |
| Betty at the Zuccardi Bodega | The Vinyard |
We left the winery and continued our journey to the Tittarelli winery. It seemed like it took forever to find the place. It was much further away than we had planned to go and it was not at all easy to find. But eventually, after asking directions several times, we finally came to the winery. I had called ahead and expected someone to greet us, but we were so late in arriving that he had gone. With some negotiations, we did get an excellent guide, Marcelo Fabián Federici. Marcelo is the second winemaker at Tittarelli. We were lucky to find him there, as most of the winemakers were at a course in Buenos Aires. He took us around and explained the process, which we pretty much already new. Still it was interesting. To our surprise we learned that Tittarelli makes no high-end wines. As I have said before, there 2002 Malbec Reserva is some of the best 10-peso wine in Argentina. They do have one slightly better Malbec that costs 15 pesos or about 5 dollars. We bought 6 bottles of it and it came with their other label, Finca El Retiro. By the time we were ready to head back to the city it was after 4 PM. So, we could not visit any other wineries, because they all were closed We took a different road back to Mendoza. It was a good, paved country road from which we could see many farms and vineyards.
That evening we went to a quaint Spanish restaurant called El Mesón Español.. The food was good and comforting.
| | |
| --- | --- |
| Tittarelli in Oak | Bill and Marcelo, the Wine Maker |
Now to digress to Wednesday: I rose at 5AM in the morning. This is an unheard of hour for me, still it was necessary as I was to catch a bus at 6 AM leaving for the mountains. The bus station was only a few blocks from the hotel. I made my way there only to find that I could not get a ticket right away. It seems that the ticket booth had been robbed the night before and they were waiting for the police to arrive. Within about 20 minutes they finally began to sell tickets. We boarded and left about 20 minutes late. It was pitch-black and so I quickly fell asleep on the bus until about 8:30 or 9. I could not believe that it was taking so long to go the 250 kilometers to Penitentes, my ultimate destination. I was listening to the latest Harry Potter book on my MP3 player. It got colder and colder as we proceeded. The roads were not that great and often wound around the side of the mountain with the mountain on the one side of the road and nothing but air on the other side. Yes, I was a bit fearful. You would have to be an idiot not to be a bit concerned.

The Andean Ski Slopes of Penitentes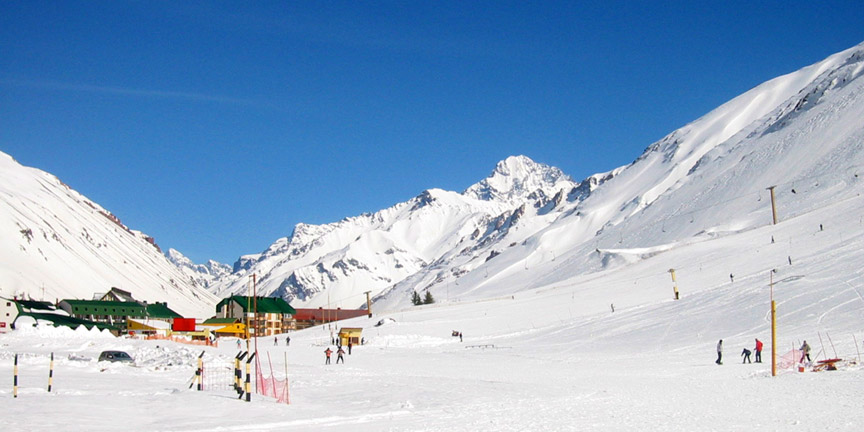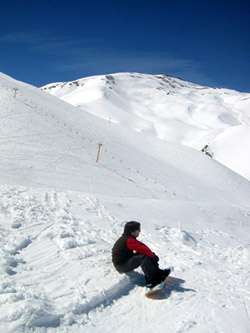 I finally arrived at about 10 AM. There was snow everywhere here. I thought that it would be warmer, but it was around 40 degrees Fahrenheit. First I tried to rent equipment on the cheap side of the road, but they did not have any boots my seize that were fit to be worn. At the ski shop by the slopes, I found every thing that I needed. The equipment rental was less than 50 pesos or about 17 dollars. Once dressed and set, I purchased a lift ticket for 59 pesos or about 20 dollars. This is low season and I think that everything costs a bit more in July and August. I haven't been skiing for 15 years, so I headed for the baby-slopes. I hadn't forgotten everything, but it took quite a while to regain even a little confidence in my abilities. Another thing, I have been working out and I am in better shape that I have been in years. Yet, even on these easy slopes I was getting exhausted. Soon I was resting on chairs at the bottom of the runs. Then I would return to the work of learning once again how to glide down the slopes. Twice I went to the restaurant to rest and eat a hotdog. I kept on looking up at the higher slopes. I noticed that there was a very long run that seemed to have a gentle pitch. By now it was 2:30 in the afternoon.. I was really tired, but I finally decided to take the chair lift up to that long run. I only took the first lift that bought you half way up the mountain. It was beautiful up there. There was better snow and more of it. The trail down was called the ski school run. And it was pretty easy, except for the last one-third. Years ago all of this would have been easy. But it was not so this day. I made my way down cautiously and was rewarded with falling only thrice. This about equaled my falls on the bunny hills. So I was improving. I quit after this run. I was totally exhausted and the slopes were getting more dangerous as the temperature rose into the 50's or abut 13 degrees centigrade.. I had two hours before the bus left. I sat outside and enjoyed the warmth of the sun. Many of the folks here were facing the sun, but not me. I knew that the skiing had given me a bad case of skin burn. I was sorry that I hadn't brought any sun lotion. In the days to come my face would quickly peel and leave me itching.
I boarded the bus back at 5 PM. I got a seat next to a young German guy. We talked much of the way back. I also saw more of the mountains than I had on the way there. They are fantastic. It is strange that there are no trees up there.

| | |
| --- | --- |
| Penitentes Ski Lift | Mountain Hotel |
| Upper Slopes | The First Plateau |
Friday was the day for me to look around at Parque San Martin, the Mendoza city park. It is a very large park. It has a large artificial lake that we hiked around. We stopped to enjoy the flora which was just beginning to emerge in the early spring. We also made our way to the park's mountain, which is a fairly high hill with a great view of the city. When we got back from park it was mid afternoon.
| | |
| --- | --- |
| A Fountain in the Park | Under the Arbor |
| Lake Island | The Mountain Top |
| Betty with the City Below | Ditto for Me |
We had been communicating with my friend David Miranda, who lives in Chile. It was his and Julia's 28th wedding anniversary, and they had planned to celebrate in Mendoza. This was their first visit to Mendoza, which seemed strange to me, because they live so close. They were coming with two friends from Mexico, Felix and Josefina. I called his cell about 4 PM. They were in the city and were eating a very late lunch. They had started very in the morning and were tired and hungry. We walked over to the restaurant and began a wonderful visit. When they had finished, they checked into the same hotel that we were staying at. We did not see them the rest of Friday. Betty and I went out to another fine restaurant that night. The name of the restaurant was Franceso. The food, service and wine were outstanding. I promised myself that we would go to better restaurants in BA.
| | |
| --- | --- |
| Bill with Julia, Josefina, David and Felix | Aldacira with Fantastic Embroidery |
On Saturday, we hung out with our friends from Chile. If you would like to read more about the Miranda Family you can visit my regular web site and read my travel journal from 2002. For quick access click here. We shopped and talked and enjoyed the day. In the late afternoon, David and Julia went to visit the mother of one of his oldest friends. Betty and I went to a craft fair. It was not all that special. We did see a few really nice things, like the embroidery of Aldacira.
In the evening, Betty and I took our friends out for dinner. We retraced our steps to the 1884 Restaurante restaurant. They loved it and food and the wind were excellent. Betty and I ordered a plate for of beef to share. It was the biggest hunk of beef that I have ever seen delivered to a party. We finished dinner about 11:30. Betty and I called it a night with David, Julia, Josefina and Felix went to a Tango show.
| | |
| --- | --- |
| David and the Beef | Bill Digging In |
Sunday morning we bade our friends goodbye as they headed back to Chile and we turned our car towards Cordoba. We drove all day long. We did end up with an hour delay as I proceed down a wrong road. This is very easy to do here as they signage on the highways and byways is terrible. The scenery, the wildlife, the mountains that we saw were wonderful. During the last two hours we passed through a wonderful summer vacation land in the mountains west of Cordoba. But this is spring and so little was in operation. As we crossed the highest part of the mountain it began to snow. The Argentineans seemed to be crazy for the snow. Many cars were stopped by the side of the road as children and adults played in it. It was also clear that folks here don't know how to drive in the snow, crawling along at speeds that seemed snail-like. I decided that we would stay at a better hotel than our usual fare. I cost about 45 dollars a night, but it sure was nice.
In Cordoba
We spent two days in Cordoba and the surrounding area. Cordoba is Argentina's second city, being bigger than Rosario and Mendoza. The old city center has some well preserved colonial buildings. The city and area is best known for its Jesuit heritage. On Monday we toured the city by ourselves and with a guide. We don't usually use guides, but she really knew the city's history and added a lot to our experience. On Tuesday we drove south to visit some of the sights there. We ate well and enjoyed ourselves. I will let the pictures tell the tale.
| | |
| --- | --- |
| With My New Sombrero | A Downtown Siesta |
| The Old Church | Betty and Our Guide, Marta |
| Jesuit Estancia in Alta Gracia | And Its Black Smith Shop |
| Resevoir Lake | And the Cordoba Province Countryside |
Posted by bill at
08:50 PM
|
Comments (4)