Settling Down in Buenos Aires
Press HERE to view a Flickr slide show.
Fermin with His Friends
Mimi and Grandson Manuel
While we were traveling in Chile and Patagonia, Guille and Javier had their second child, Juaquina. She is a lovely little girl with a sweet disposition. We spent one night at their home, but it was clear that we needed to find an apartment quickly. Luckily, our friends Marta and Estiban were just about to rent a flat in Nunez. Despite being from the center of all the action in downtown or Palermo, we jumped on the opportunity. They were not 100% ready for us to move in but we were able to move in that day, Sunday the 15th of March. The biggest drawback of moving into an apartment not quite ready has been the lack of cable TV and the internet. But we are assured that it will come this week. We can only hope that it will come, because - after all - this is Argentina.
We started to reacquaint ourselves with the city and our old friends. We joined some friends at Club Europa a week ago Monday. It was great to see Pablo, Gabriela, Daniel and Guillermo. On Friday we met with the English Group at Fame. We especially liked seeing Mari Luz and Marita Silviere. On Saturday we went out to Laura's house in Victoria. These past four years, she has not been in Argentina much. Like us, she has just returned for a long visit before she heads back to her new home in Ireland. We got to see more old friends: Monica, Pato and Gonzalo. We hope to see many more of our friends in Buenos Aires before returning to the states.
We have also been getting to know our neighborhood. We are on the border between Nunez and Belgrano. We have been wondering around a lot, looking for all the things we will need to live here for the next two months. Changing money has become a bit more difficult since our last visit. So, we must find the closest money exchange, which turned out to be not so close. We have found some nice restaurants and bakeries nearby. There is a wonderful park just a few blocks away. Overall it looks to be a good area to be in.
Finally, I want to wish Fermin Burgos a very happy third birthday. We went to a party for him last week. I have never seen so many toddlers at a birthday party before. We think there we more than 20 little ones, not to mention their parents. We got to see Javier's mom, brother and sister and their children. All these children came after our departure in 2005. The kids had a great time in Mimi's backyard: playing in an air house made for jumping, a little play car, and many other toys. There was goodies to eat, including a delicious chocolate cake. The kids broke a balloon piņata full of candies, which they all scrambled after.
Everything has not been perfect. Not having the internet has been particularly annoying. But, overall it has been a satisfying beginning to our stay here.

View from Our Bedroom Window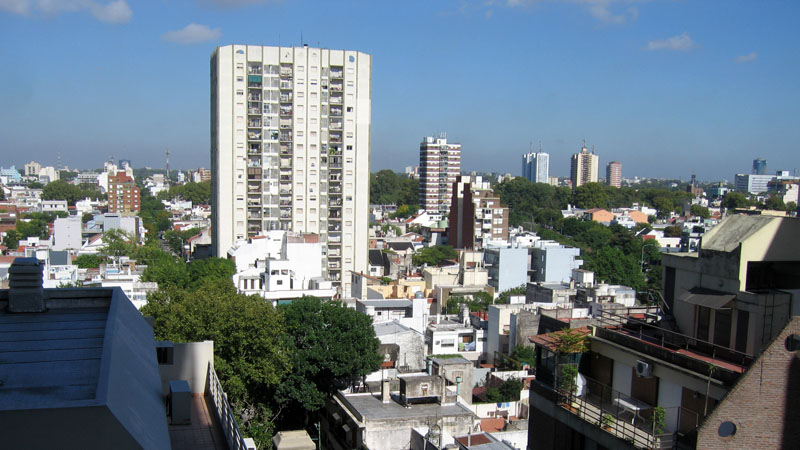 Posted by bill at March 25, 2009 10:03 AM