The Perito Moreno Glacier
Press HERE to view a Flickr slide show.
Bill by the Glacier
Betty was There Too
We arrived in El Calafate on Wednesday morning after four arduous days of travel. We travelled all night long on roads that were paved less than half the time. Sleep was difficult and we arrived tired. We were couchsurfing in El Calafate and our host family was wonderful. Carlos and Yolanda greeted us enthusiastically. They have two lovely children, Alma and Lucas, who are nine and two years respectively. They helped us find the least expensive way to see the glacier that we had come so far to see. Believe it or not, El Calafate is overrun with foreign tourist - all coming to see the glacier. A simple bus ride to the park costs $22 and the park entrance fee is $17 per day. At one time Argentineans could enter at no cost, but even they must pay almost $6. There are adventure tours that have some hiking on the glacier. The longer one costs $155 dollars. Most tourists pay something in between the $39 that we paid and the top end $155 tour. Besides the bus tickets, we bought airplane tickets to BA. Given the high cost of bus travel in Patagonia and multiple days to return to BA, we considered it the only sane option.
We made our way to the bus station early in the morning. The bus left at 8:30 and at the end of long and winding road we arrived at 10:00. The found the glacier to be majestic, even though it is not the most grand in the area. The glacier's face is about 150 feet high. This wall was maybe three miles wide and stretch back more than ten miles. We spent much of the day viewing the glacier from various angles. During the day we could hear the glacier rumble and crack. We saw large pieces of ice fall into the lake. I was even able to capture this event on video and you can see it by clicking here. The ice is so darn blue, especially when the sun was shining brightly in the afternoon. We were joined by hundreds tourists from all over the world. Their numbers took us by surprise. They were mostly either old or young, with only a few middle-aged couples with children.
Video of Glacier Calving

There is not a lot to do in El Calafate, if you are not a hiker. One could fly in, spend one night in the town, view the glacier and fly out that evening. For us, we had bought our plane tickets for Saturday evening. That left a day of searching for things to do or see. The wind was blowing very hard and cold on Friday. We stopped at a nice coffee shop with Wi-Fi to finish my last BLOG entry and re-start our apartment search in BA. After several hours, we decided to try to walk to the bird sanctuary near the lake. With the cold wind, we felt like we were freezing. It was hard to believe, but there they were: a large flock of flamingos. There were some black-throated swans and ducks, too. We could not stay long. Trying to stay out of the cold we made a long lunch of small pizza. Then we went for more coffee. At five we returned to the Litrenta family home, some seven kilometers from the town center.
Today we rode into town and will try to keep warm and enjoy ourselves. In recent years they built a new airport some 30 kilometers from the town center. Like BA's Ezia airport, there is no public transport to the Calafate airport, which means a $14 cab fare. Late tonight we will be back in BA. We are looking forward to the warmth of the city and our old friends.

The Perito Moreno Glacier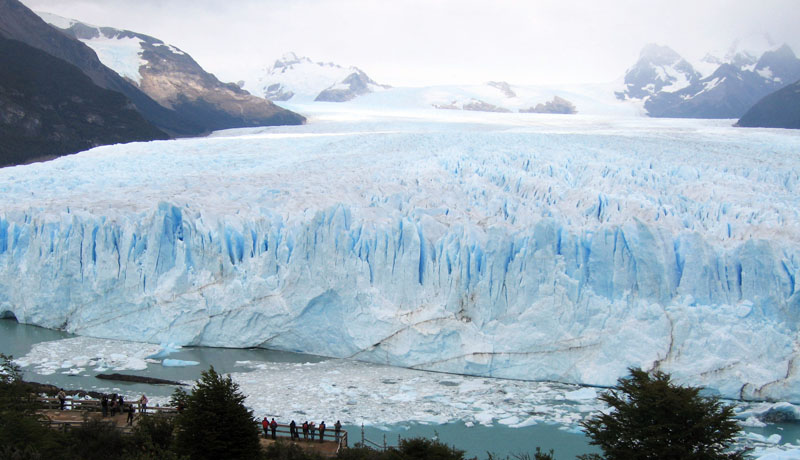 Posted by bill at March 14, 2009 02:41 PM