Costume Party
Allyna Steinberg and Us at Cafe Tortoni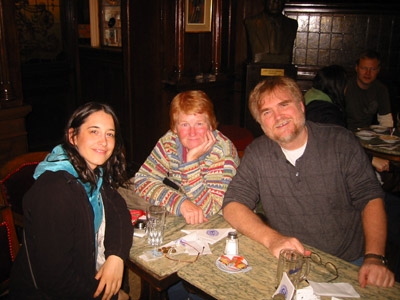 Allyna Steinberg left Buenos Aires yesterday. As I mentioned in my last entry, she spent a month here having fun. She devoted a lot of time to making friends, learning Spanish and dancing the Tango. She is a pretty, sweet young woman. We took her to the airport, but not before stopping at Cafe Tortoni. Cafe Toroni has been operating for more than 150 years in the same location. Its décor has not changed in all those years and one feels as if you stepped into the mid 1800's when you enter. There is a small stage in the back where there is an occasional Tango show. In another room off the back sits two large old pool tables. One can find a good cup of coffee here and a nice sandwich. So Allyna departed and she is in New York as I write.
Birgitta also is in New York. She wanted to fly out of New York on her way to visit us. Yes, she is coming and will be here Thursday morning.. We are so excited that she will be with us for the next three weeks!
This past weekend, our friends Santeri and Päivi had a birthday party. They say that they are seventy, that is their ages added up equal 70 years. It was a costume party. I cannot every remember getting an elaborate costume for a party before. But we dutifully complied and won the door-prize for the best costumes. We were transformed into the Irish Nun, Sister Elizabeth, and Julius Sundstromus Caesar. We took a lot of pictures of the festivities. With the help of PhotoShop, I was able to get most of them to look pretty good in spite of all the smoke. What smoke? you ask. From the smoke machine they had running all evening. The evening was a lot of fun. I hope the captionless pictures that follow tell the tale. Press HERE to see a slideshow of costume party photos.

Posted by bill at August 9, 2005 03:44 PM