Venezuelan Photos
Press HERE to see a slideshow of pics from Venezuela.

Caracas

In some ways July was a quite month for me. In other ways it wasn't.
Betty left for ten days in Venezuela. She went to join our friend, Guillermina, who had gone to take a class to use some new scientific equipment. Guille had left on the 3rd and Betty left on the 7th and they returned on the 17th. I did not get many details about the trip. She spent two days in Caracas, then they went to the beach and national park before coming back to Caracas the day before their return. They spent time on the beach and saw some of the national park. She took lots of pictures and they come at the end of this entry.
While she was gone, I pretty much went into hibernation. I had thought I would be out every night partying. But no, I hardly went out. I did make it out my Toastmasters meeting and to one English club meeting and one night at La Viruta. . But I was mostly hanging. I also talked to a number of my friends in the States. Mickey Turk called and so did Greg Speltz. The daughter of a friend of Greg's was coming down to Buenos Aires to study Spanish and the Tango for a month. Her name is Allyna Steinberg. I talked to her on the phone too. She had arranged to stay with a family in the city center.
However, I was not totally alone all the time. A friend of mine, Jeff Roberts, showed up, almost out of the blue. He had been staying in Brazil with his wife for the last several months. I guess Brazil and the place he was at was getting old, and he had spent a week in Morro do Sao Paulo, one of my favorite places in Salvador, Brazil. I asked Jeff if he had read my stuff on Morro at my web site; and no he had not. Man, what a coincidence that he should find the same delightful little village that I had three years ago. Anyway he wanted out of Brazil for a few weeks. I knew that he was thinking about coming from an email. Then a day or so later, he suddenly appeared. The thing was I had not sent him my address. He found the place by looking at my pictures on this BLOG. One photo had a street sign in it. He had the cab driver bring him to the sign, and then asked a shopkeeper where was my "big American friend.". Moments later he was knocking on the door. To be honest I did not see much of him. He quickly discovered the public transportation system, which he used to explore the city all hours of day and we hardly saw him.
Allyna and Jeff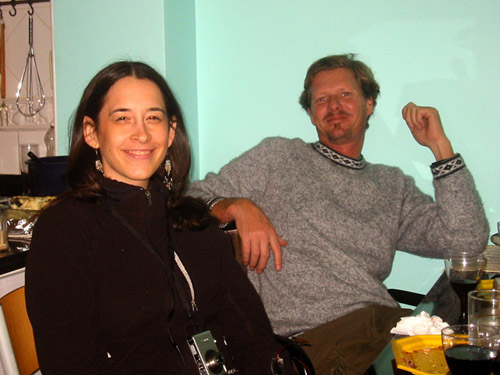 Allyna and I went out to the La Viruta. Jeff met us later. He tried the Tango, but I don't think that it is his bailiwick. It was fun. We have seen Allyna several times since she arrived and I have talked to her several times on the phone. She has really made the most out of her stay here.
Agentinean at Mataderos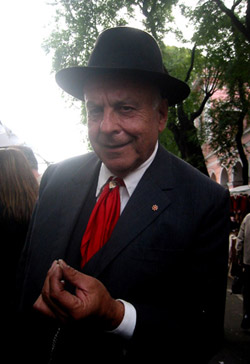 We had a nice dinner on the 24th with Allyna and Jeff as the guests of honor. Our friends Päivi and Santeri, and Corina and Mario came over too. We roasted two chickens with sage dressing. We had invited some Argentinean friends over too, but they had caught something so they could not make it. Too bad too - because sage dressing is unknown here. Betty a made her sour potatoes, but the sour cream here is not really sour - so they lacked a bit of punch. However we did not bake all the potatoes. We left some of them in the frig for about a week. Then we baked them up, now they were sour - just perfect. We asked the guests to bring some wine that they liked, and we drank good Argentinean wines all afternoon.
A few days later, Jeff was off to LA and southern California. His parents live there. I think he will be there a month or two. He will eventually head back to New Zealand, where he has been living for so many years now that he talks like a Kiwi.
Meanwhile Allyna has been having a lot of fun, meeting lots of people and going out a lot. We went to the Mataderos Fair today. It was a great warm day and one of the best times for me at this fair. I bought a number of things. I love it because it has such a country feel with great live music and people dancing in the street.
Betty's Venezuelan Photos
There are a lot of photos here. They are thumbnail photos.
To view the full-size photo, click on it. To get back to this page click the back arrow on you browser.

| | | | |
| --- | --- | --- | --- |
| Storm over Caracas | Small Costal Village | Bus Stop | Choroni Shops |
| Marina | Harbor Walk | Defenses | Guille |
| Harbor | Sailing | Along the Coast | of Venezuela |
| Morrocoy National Park | Bird Island | Fishing Pelican | On the Bayou |
| Bird Sanctuary | In the Surf | and Sand | Playing |
| The Beach | More Beach | and Even More | Guille's Eden |
Posted by bill at July 31, 2005 09:42 PM