Concepcion and Wonderful Valdivia
Press HERE to view a Flickr slide show.
Carlos and Bill over Talcahuano
Carlos Buy Crabs Claws in Tumbes
After eight hours of travel we arrived in Concepcion. The bus fare was about $20. Due to some confusion at the bus terminal, a very kind Chilean man provided us with some help to get to the city center and find a hotel. His name is Carlos Pincheira. Despite the low quality of the hotel it still cost $47 per night. Despite our shock we took it for one night and pledged to search a cheaper one in the morning. The next morning we found three in the $30 to $34 range, and moved.
We had hoped to visit Francisco Zúņiga Orellana. He hosted my visit in 2002 and Betty trekked with him to Machu Picchu. We looked for him in the morning and, alas, he no longer lives in Concepcion. We called Carlos and he picked us up in the afternoon. He was kind enough to show us several lovely places near Concepcion. During the day we visited Talcahuano, Tumbes and the University of Concepcion.
Tumbes is a colorful fishing village. The sun was shining. It was warm. We felt great. We took a short boat tour of the bay. We saw small fishing boats, an even smaller village, sea birds and the prison island used to hold Allende's political associates. We saw a fishing boat come to the pier. They had mostly clams with some other mollusks. Carlos purchase some crabs before we left. And he bought a dried fish. He claims to be addicted to it. I tried a couple of pieces. It was good and reminded me of beef jerky, except for the flavor. I can see how it would be addictive.
We stopped to visit Carlos' daughters, Carmine Gloria and Victoria, and his granddaughter. It was a brief but lovely visit. We visited a very nice new housing development in San Pedro. I think Carlos will be moving there in a few years. Finally, we spent some time looking over the beautiful campus of the University of Concepcion. The kindness Carlos showed us made our visit to Concepcion a very pleasant time. We cannot recommend a visit here, unless you know someone in the area.

Tumbes Harbor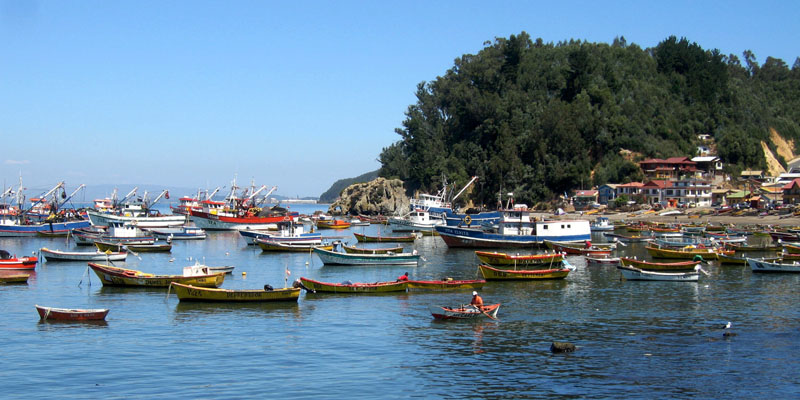 The next day was Sunday. We took a bus ($16 each) to Valdivia and arrived at about 6 PM. In no time at all we found a nice place, Hostal Totem. Totem is owned and run by Alvaro, a friendly Chilean with a good sense of customer care. It cost $32 per night, but he informed us that if we paid in US dollars we could escape paying the IVA tax of 18%. We wish we had known this sooner, as accommodations are very expensive in Chile.
| | |
| --- | --- |
| Valdivia Fish Market Table | Valdivia Market Fruit and Veggies |
| The Pacific Coast at twilight | The Coast near Niebla |
| Old River Boat, Valdivia | Alvaro, Totem Hostel Owner |
Valdivia was warm and sunny. We walked along the River Calle Calle and the River Valdivia. It was great to see all the people out enjoying themselves. We saw sea lions in the river many times. They were sunning and fishing and enjoying themselves. We walked to a sidewalk restaurant, Perle del Sur, to have a plate of Merluza fish and fries. The fish was delicious. We also drank one of the many local beers, Kunstmann. Valdivia had many German immigrants, so beer making is a local specialty. In general, I believe that Valdivia brewers make the best beers in South America. Again and again during our days here, we enjoyed these wonderful Valdivia beers.
Monday we got our first good look at the local market. Fish is very fresh, plentiful and extremely cheap. How cheap? Fresh whole salmon is $1.50/lb ;and Merluza is $1/lb. Look at my photos and look at the signs. If you see 2000, think $1.50/lb. The fruit and vegetables looked extremely good. There were blueberries, raspberries, apples, grapes, corn, beans, carrot, potatoes and much, much more. Some of my photos look funny, because of the red canvass overhead that changed the colors a bit. Still, the market is lovely.
On Tuesday we wandered around enjoying the sun and warmth. We ate a late lunch at Club de la Union, an old German restaurant. Betty had a wonder fish soup, made with Congrio and vegetables. I had pork chops with spicy sauerkraut and potatoes. Again, the beer was wonderful. In the evening a fellow couchsurfer, Jorge Oporto, picked us and took us to the coast near Niebla. He owns a small cabin on a cliff overlooking the mouth of the Valdivia River at the Pacific Ocean. The view was simply stunning. Being just after sunset with the twilight glowing I took many photos. Inside his cabin with its picture windows, we drank beer and talked about his work and the twilight turned to darkness. Jorge is a marine mammal biologist. He has done this for many years: teaching at the University and running a conservation research group. He just complete a survey of the rare Chilean river otter for the Chilean government.
Today we are taking it easy again and getting ready to go further south. Valdivia has been a wonderful little town to visit.

The River Valdivia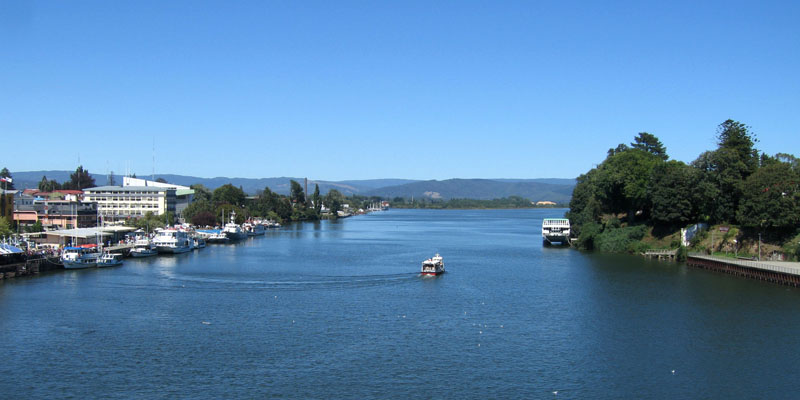 Posted by bill at February 25, 2009 02:57 PM