Xi'an and the Warriors
First of November:
It was our final day in Beijing. We packed and checked out of our hotel, which stored our luggage. Then we went back for a final visit to the Forbidden City. We saw a lot more than we did on our first trip.
We walked a bit more on the streets in Beijing. We stopped for dumplings and beer. Then we went by taxi to Starbucks. It is so great to be able to get on the internet with my own computer, and we do love their coffee. We were back at our hotel by 6:00 PM. We said our good-byes and grabbed a taxi for the West Railway Station. We were taking the overnight sleeper to Xian. The train car was fantastic. There are four beds per compartment. We got the lower births. Each bed has a TV and the compartment has a table. It is about 600 miles to Xian. I worked some puzzles, watched TV and slept great. Twelve hours later we were picked up in Xian by our hostel. The hostels appear to be very good here and fairly inexpensive.
November Second:
No sooner than we arrived than we were asked to join a tour to see the terracotta warriors. We paid $20 each, which included breakfast, transportation and entrance to the sight. We waited an hour or so for the van and guide to arrive. Our guide Jong was talkative and informative. Of course, we had to stop at terracotta warrior factory, where the best facsimiles are manufactured. As usual, all the tourist goods seemed a bit high in price. None of our entourage purchased. We were a group of seven: two Irish, Nile and Dee; one Belgian, Bart; and four Americans, Ben, Melissa, Betty and myself. Ben and Melissa had just finished a two-year stint working with the Peace Corp in Jordan. We went right from the factory to see the warriors. The archeological site was extremely large. Buildings were built around the digs. It is quite overwhelming to see more than 2000 life-size clay warriors. We spent more than two hours looking at them and the other artifacts in the dig. The area around the dig has begun to be extensively developed with a commercial area and housing. We had a lunch of noodles.
Our next stop was a government owned silk factory. This place was very enjoyable. We saw how they spin the silk threads from the cocoons. Then we saw how they also prepare the cocoons to make a silk quilt batting. These quilts are a major product of this factory, and cost did not seem all that high for a change. It was the silk sheets and quilt covers that blew me away. In their store they sold all kinds of beautiful silk clothing.
Our last stop was a museum that focused of the local imperial history and the relic bones of Buddha, whose tomb was supposed to be nearby. Exhausted Betty crashed as soon as we got back to our Hostel. I stayed up for a while.
Today - Friday, 3 November:
We got up and ate a really good breakfast. The hostel has good cheap food with breakfast costing less than three dollars. The Xian hostels cost less than half the Beijing hostels. We tried to find a laundry that would wash and dry in one day. When I found it the cost was very high, so we decided to use the washer at the hostel. We hung the clothes to dry. We hooked up the Vonage router and called Birgitta and Dain. It was really cool to talk to them from China, at no greater cost than calling from Minnesota. I love the Internet!
Hostels are great places to meet people. Last night I met an Argentine and then another this morning. I was surprised to say the least. I expect to meet the Israelis and the Europeans, but not the South Americans. It is nice that they still will travel even with the low valued peso. We walked through the Muslim quarter this afternoon: wonderful, wonderful, wonderful. We had a plate of rice and the handful of their little meat kabobs. Szechuan province is just over the mountain from here and food is getting spicy. I love it. All along the walk, children called 'Hello' to us. We greeted them back and shook hands and took pictures. I think 4 to 6% of the Chinese are Muslim. They are descendants of the traders of the Silk Road. Xian is the beginning or the end of the Silk Road, depending on how you look at it. The children are learning English, and they and their parents are so friendly. I have met several travelers now that have said that they want live in China, and I can see why.
I bought the ticket for Chengdu, our next destination. This evening we were at the Opera again. It was three times as good as the one in Beijing and we had a most spectacular dumpling dinner. The dinner was a bit pricy by Chinese standards, but a bargain by US standards. The show and dinner cost $50 for the both of us. After the show Betty went to bed and I headed for the bar. I met some great people there. One group was a band from Sweden. They gave me a copy of their music. You can get their music at www.pennycentury.se
We are off tomorrow.

Classical Percussionists at the Chinese Opera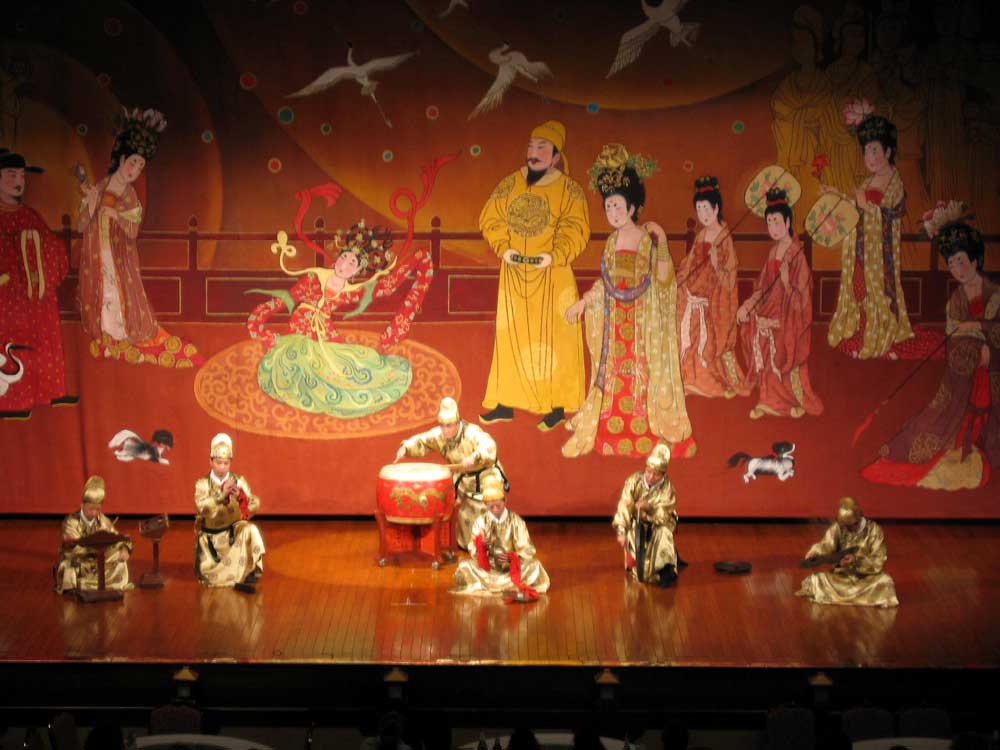 Posted by bill at November 2, 2006 10:02 PM