Steve's Last Week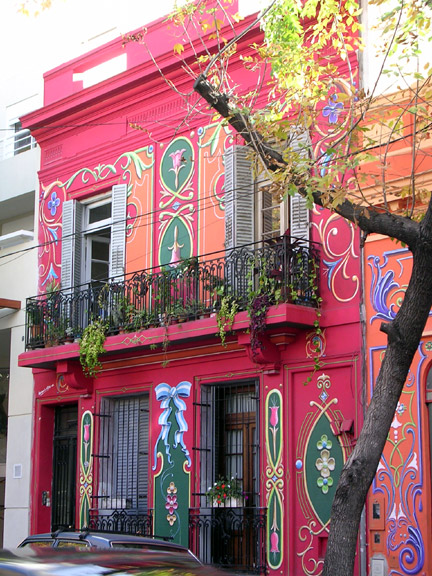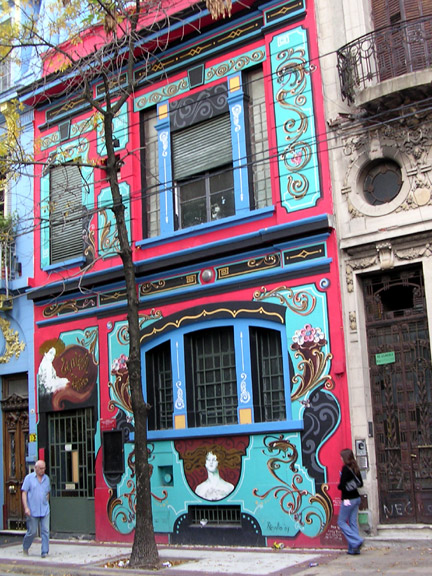 Steve and I took off for Necochea. While we crossed the Argentine pampas, Betty did a walking tour of the Abasto neighborhood. This is where the famous Tango singer Carlos Guardel lived and flourished. The Buenos Aires Tourist Bureau sponsor lots of guided tours in the city. Some are in English others are only in Spanish. The area has a lot of charm. One of the city's nicer shopping centers is nearby; it was built into a huge old farmer's market. But there is nothing old about that center. The barrio has long lived off its heritage as the home of Carlos Guardel. It has dozens of buildings painted in a uniquely Argentine style with bright colors of scrolling designs. One was even painted with the music of his most famous song, Volver.
It took Steven and me almost the whole day to get to Necochea. We only stopped once to visit the Fangio Museum in Balcarce. Juan Manuel Fangio is the most famous race car driver from Argentina. Argentina has a long proud history in auto racing. The museum displays race cars from the last 80 years. The stop was well worth the time. When we rolled into Necochea, I was very surprised to see that most of the places to stay were closed. It is fall here, but I never expected it to be so quiet. The only good thing about peacefulness was the price of rooms. We could share a room and get breakfast for as little as $11 a night. We opted for the $23 suite at Los Tres Reyes hotel. It turned cold that night and stayed cold for most of this past week. How cold? Well it was in the 50's and 60's all the time.
On Saturday, we dropped by Guille's mother's store. I wanted to say hello. We also got hold of her cousin Gabriella on the phone. We were hoping to do something with them, but - unfortunately - that was not to be. We drove by the Quequen beach. Not a soul, save us, was there. It was cold and the wind was blowing hard. Then we dropped by the Faro (the lighthouse) to visit the family of Carlos Marti, who is Carlito to his friends. I had brought them some pictures that Carlito wanted and two books for his son, Tomas. When we arrived they were eating lunch and they invited us to stay a bit. Carlito's wife - Monica - had prepared a bit of meat. We sat and talked a long time. Tomas was also at home as was his wife - Eugenia, and daughter - Carolina. It was a very nice visit. Carlito and Monica are wonderful hosts. They invited us back for a pig-roast in the evening. I could not have been happier with the invitation. Que suarte!
Press HERE to see a slideshow of photos covering this and three other entries.
| | |
| --- | --- |
| The Faro's Quincho | Steve and Pablo |
| Miguel and Aero Club Member | Susana and Amiga |
| | |
| --- | --- |
| Carlito at the Guitar | On-Duty Host |
| Party Goer | The Honored Guest |
We arrived a little after 9:00. It was a bit early. Soon the guests began to arrive. There were several fellows with their wives that belong to the Necochea Aero Club. There was the sailor on duty that night along with his wife and baby. Eventually, Eugenia's father -Pablo - and mother arrived. They had driven down from La Plata to give Eugenia a ride back for an important interview. There were some other navy personnel and their wives there too. Carlito and Monica's other children - Andres, Maria Elena and Alejandra - were not there. They had roasted some sausages, beef ribs and most importantly a beautiful little pig. We ate the best pork that I have had in Argentina - just fantastic! The food, the wine, the warm feeling and vibes of this crowd were wonderful. The fliers love to grill me about what conditions are like in the states, especially costs. I have to pretend to know a lot more than what I really do, but I try. Steve and Pablo really hit it off, telling each other jokes and taking about their lives. The conversations and drinking lasted long into the night. We were some of the first to leave at two in the morning.
I tried once more to arrange something with Gabriella, but it was a no go. We stopped by Miguel and Susana's house to get the email and phone number of their daughter - Julieta. She is in the states and will be returning soon. Their son - Leonardo - was home for the weekend and was returning to Mar del Plata in an hour or so. We offered him a ride into Mar del Plata with us. I wanted to drive along the coast, but it was storming much of the afternoon - and I could see that it was much worse along the shore. The rain was pelting the car so hard at times that Leonardo asked once if it was hailing.
We got to Mar del Plata in the late afternoon. We checked into a hotel and took it easy for a while. Then we walked a bit through the downtown. Along the way, we check out the casino, but did no gambling. We stopped for a light diner and some good music at pub. I haven't seen many real pubs or standup bars in Argentina, so this was a nice change. We ate burgers and drank beer. About nine we walked over to Leonardo's apartment. He was going to give us the name of some places to check out. We chatted and met one of his girl friends, a nice lass who spoke English. She was cooking the helpless man a meal. They recommended two places. After we left we head on foot to the one by the beach - only to find it empty. By then it was about eleven. We figured we weren't going to find a nice place to meet people - so we called it a night.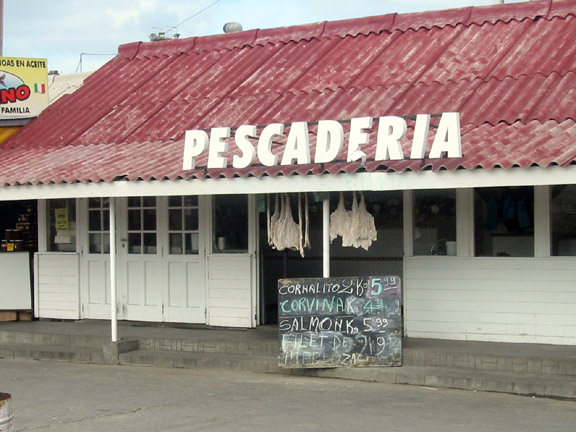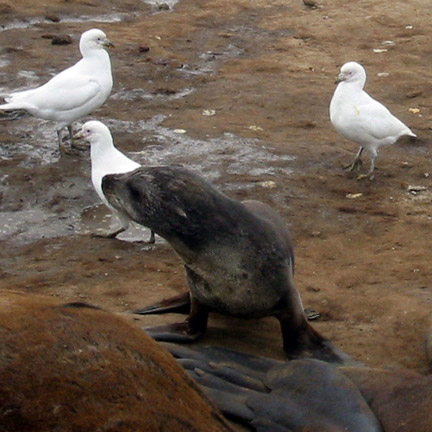 Monday we saw the sites. We slowly drove through the Los Trunco neighborhood. The beautiful homes are always a pleasure to see. Then we headed for the fishermen's wharf. The area has a fish market, a colony of sea lions that feed off the fishermen's refuse, and a strip mall of sea food restaurants. We enjoyed all of it. It is very scenic, and yet it is not perfect. The air had the fragrance of fish emulsion. If you don't know what that is think of a strong rotten fish smell. The sea lions were great. We could get right up next to them. Except for one lonely lion, all the rest were behind a chain link fence, so it was safe to get up right next to them. I even saw one baby, although it didn't look all that healthy to me.
| | |
| --- | --- |
| Mar del Plata Docks | And Fishermen's Wharf |
| A Friendly Soul | Resting Sea Lions |
After leaving the port area, we drove along the coast. Stopped to enjoy the view and take some pictures. Then we drove around the city some, getting a better sense of it. In the evening, we went to a really great pub. It is called Antares and it's on about the 3000 block of Cordoba. It is a true pub with a great bar. They had the most amazing selections of beers and ales that I have seen in Argentina. The stout was really excellent. We ate here too. The fare was wonderful. I ordered some German style sausages that were served with potatoes and sourkraut. Now, I love kraut. So for me it was one of the nicest meals that I have had in months. This still was not the height of the evening. An American - John Cummins - made his way past us, and asked what we were doing there. We explained and he explained that he had moved to Argentina a dozen years earlier to get away from the hectic American rat race. About eleven his band began to play some great country and blues tunes. I cannot say that John is the greatest of singers, but he is a hell-of-a guitar player. We stayed until well after midnight - enjoying the scene.
The next day, we head off toward Tandil. The guide book made it sound great, and maybe it was - but I didn't see it. We did drive through the town. It has some nice parks and plazas. There is a lake on the south end of town. It has a nice look and feel to it, but more than that I cannot say. We had thought that we might spend the night, but decide not to act on that plan. Instead we drove on to Buenos Aires, arriving about 7:00 at night. We told Betty that we were hungry and she picked a Mexican restaurant in Belgrano to eat at. It was ok, but not great. Good Mexican food is hard to find outside of Mexico and the USA.
Marisol, Steven and Maria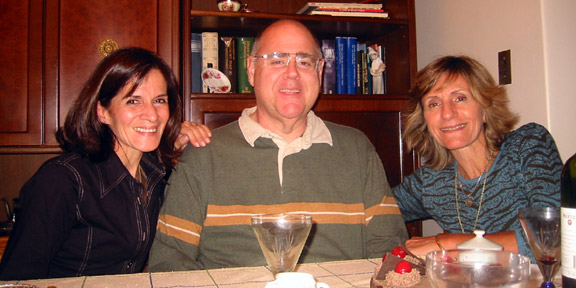 When I checked my email on Tuesday, I saw that there was a message from Maria Ines Palermo. She is Marisol Barnada's friend that John and Matt met at my favorite tango club. She wanted us to come over on Wednesday evening for diner. I sent an immediate reply. She has a lovely apartment on Santa Fe in the Palermo neighborhood. Her son, Nicolas, was there. He spoke wonderful English. Marisol came over too. It was a lovely evening. We so love visiting the home of someone we know. It was a special evening for all of us. We hope to see them all again soon.
The next night was Steve's last night in town. Betty and I had made plans to get together with Ullie. She is in the English club. While she is German, she lived for many years in Denmark - and that is where her parents live. We met her at Sullivan's in the Palermo neighborhood. Then we walked to a nearby restaurant for Spanish style tapas. We had a great talk. She spent the last eight months working with poor women in the shanty towns. Next she is headed for a doctorate program in Scotland. It was fun. She invited us to her going away party on Saturday, which is today.
Friday was a quite day. Betty and I did the grocery shopping. Then, at about four in the afternoon we drove Steve out to the airport. He was headed back to California after nearly two months in Argentina. He took his time, but he got to see about half the country. He really enjoyed himself. He called today. All went well on his return trip. We hope to see him in November, when we go back to the states.
Posted by bill at April 30, 2005 10:36 PM