Chilpanzigo and Return to Curnavaca
Press HERE to see a slideshow
of my last days in Mexico.
English Students with Raphael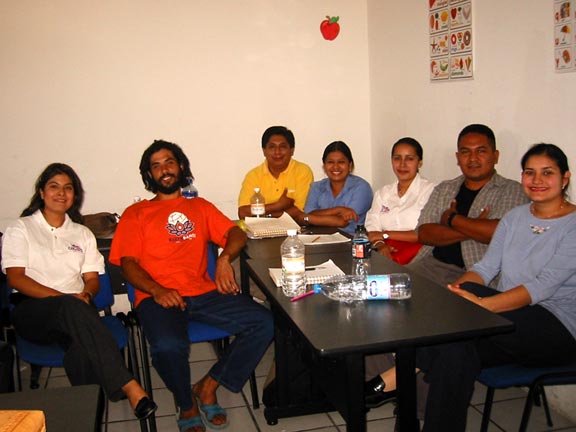 Students with Bill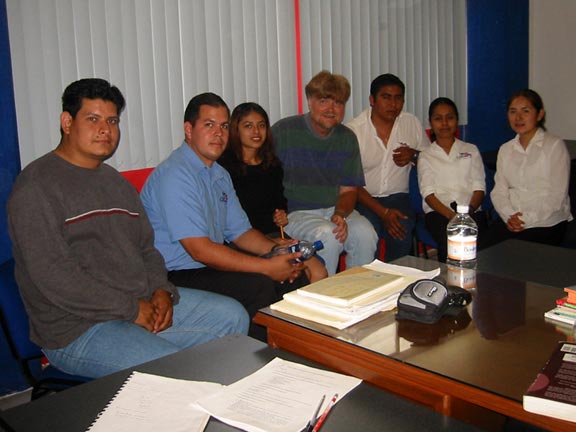 Raphael Selling his Art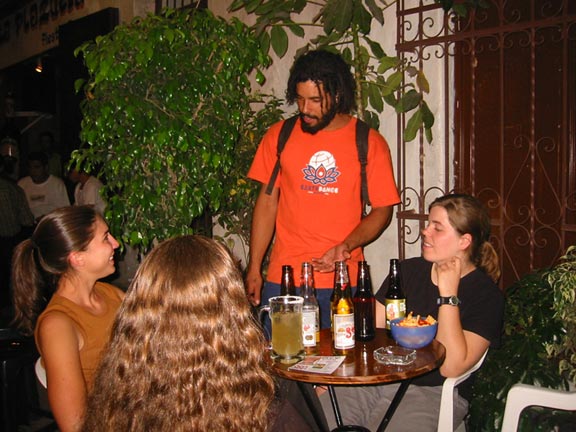 Andy, Ari and Nacho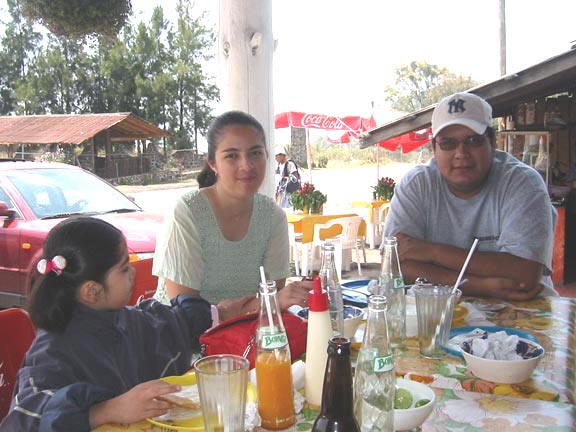 Nacho's Little Girl - Andy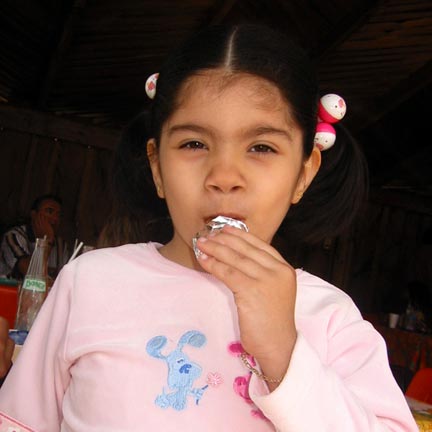 Friday, March 26th:
There is not much to say about this day. As I drove down the road that fronted the beach in Puerto Escondido, I spied a traveling artist from Wisconsin that I had seen the last two nights at the Rockaway. I pull over and lowered the window, a jokingly suggested that he accompany me to Wisconsin. To my surprise he accepted, at least at the moment to ride to Guerrero. We picked up his scant belongings, and we headed down the coast road toward Acapulco. After an hour or so of driving my companion, Rafael Collazo, for Lacrosse, had said that he would be glad to go all the way back to the states with me. I explained that it would not be a straight line dash for the border. I have some things to do in Chilpanzingo and Cuernavaca. Still, he seemed committed to the journey. The road wound on for hours. We only stopped for gas and tacos. At Cruce Grande, we turned north. This led us through the mountain and within a couple of hours, we were in Chilpanzingo. It had been a very long hard day of driving. And for a change I had covered real ground, nearly 300 miles. I could not raise Lalo on the phone, but we drove to his house anyway. To my surprise I discovered that his parents were living at the big house now. They could not put us up for the night, because they were going to Acapulco in couple of hours. We enjoyed a bit of conversation, ate some fruit and drank a wonderful dark beer, called Noche Bueno. I wanted to spend the night, so that I could teach a class in English the next day. I had called Tomas, who had originally invited me to do the class a couple of earlier, to find out where to go on Saturday. I was disappointed to discover that the class did not start until 3 PM, but still I thought that I would try doing the class for at least an hour. Lalo's dad showed us where the school was and where the cheap hotel Tomas had recommended was. We check in and went out for sopes and then play a couple of games of pool. That pretty much ended our long day and the journey to Chilpanzingo.
Saturday, March 27, 2004:
We had almost nothing to do. I just took it easy and spent some time in the Zocalo. The class did not start until three in the afternoon. I arrived a few minutes early. Tomas showed up minutes later. We were only going to stay for an hour. We did introductions and then asked for questions. This took about 15 minutes. Then we broke up into two groups: Raphael in one and me in the other. We both enjoyed the teaching. But the one hour turned into two. Teaching is hard work. So it was a quarter to six before we were on the highway north. A little more than an hour later we were in Cuernavaca. It is amazing how fast and expensive the toll roads are. I could not locate anyone on the phone. So, we head down to the party plaza to drink beers and to see if Raphael could sell some of his art. An hour or so later, Nacho and I connected and we were drink beers in the Plaza. He had worked all day and was bushed. We soon headed to his place.
Sunday, March 28, 2004:
We drove up the mountain to eat at a wonderful little eatery. I started with a bowl of consume de barbacoa. I had quesadias of bull's brains and corn smut, then a green chorizo taco. I just wanted to hang with Nacho. We did some typical Sunday shopping. We got back to his place, Nacho, Andy and Raphael watched a Disney movie. And I slave away at this blog.
There may be one more entry of the travel journal, before I return to some more ordinary entries. I plan to leave for the states tomorrow or Tuesday. After two months away, I am looking forward to seeing the old homestead.
Posted by bill at March 28, 2004 04:04 PM