Summer's Over
Press HERE to see
Photos from July and August.
Kat and Alex
Johanna in the Garden
Betty, Arjun, Deepi and James
Press HERE to see
Photos from September.
At the Piano
At the MN State Fair
Click State Fair Photo
for Slideshow of Fair
My New Shop Bench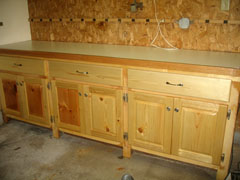 There was frost on the ground. Summer is over and we are leaving for California today. It seems that I should tell you what I have been up to during the summer. We mostly enjoyed being with our family: Birgitta, Seth and our grandkids - Johanna and Lucy.
We got a new used car in July. It is a Scion XB. It is a lovely little burgundy colored car. It is not as luxurious as the Passat, but Passat needs more and more work as its mileage creeps upward.
In July we attended the wedding of Katharine and Alex St. Croix in Milwaukee. Dain came home a week before the wedding. He was to be the best man. I think it was the first time that I had ever seen him in a tuxedo. The parties were great. The bride was stunning. We had a great time.
I drove to EAA's Airventure in Oshkosh, WI, right after the wedding. I love seeing all the home-built aircraft, the air show and all the aviation gadgets and equipment.
In August I was at my favorite past time, remodeling and furniture making. I replaced the 55-year old treads to the basement. They were well-worn painted pine when I started. Now the new treads are varnished oak. I attached quarter inch oak faced panels to the old risers. The new look is stunning. It almost looks too good for steps to the basement.
We hosted our first true couchsurfers in mid-August. They were great and it was fun.
We visited Betty's nephew James in Rochester. We got to see their first child Arjun, who was born in July.
At the end of August we attended the Minnesota State Fair. Please, if you are thinking about visiting us next summer, try to come during the State Fair. It is an auspicious event where more than 1,000,000 people during its ten-day run. I took lots of pictures this year. There is so much to see and do, the photos just capture a taste of it - but, God, what a taste. See for yourself at my Flickr photostream.
Our good friend Mickie Turk threw a party for a visiting friend Margaret Ford. They have collaborated on several film projects in Cuba. Lately they have put a web site together, which focuses on travel to Cuba. The best part of their site is the many photographs of Cuba and its people. Mickie invited a lot of old friends, including John Ganapes who played jazz on his guitar all evening.
In September I started the job of building a true woodworking shop in my garage. I tried a number of new things like making drawers with full extension slides. I made raised panel cabinet doors. Next summer I will make a classical workbench with wood vises.
Look for stories about our trip out west. I will be posting one in the next week.
Posted by bill at
11:43 AM
|
Comments (2)