Changes in Buenos Aires
Press HERE to view a Flickr slide show.
Betty, Bill and Cherie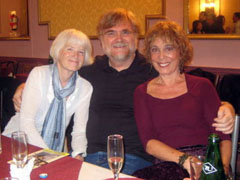 Art in Recoleta
Fermin Loves the Cars
One change in Buenos Aires has been our getting out nearly everyday to listen to Tango music or to Tango dance lessons. Like last Saturday, we went to a Milonga. A Milonga is a Tango dance event or venue. Cherie Magnus, an old friend from the BA toastmasters club, invited us to join her and her husband, Ruben. She clued us in on the very old-fashioned protocols that govern behavior in the dance hall. We found our visit to Las Consagrados fun.
A week or so back Javier called to say they were going to a park to enjoy the warm, early fall day. In Saavedra Park has a small carousel and a little cars-on-rail, both of which Fermin loves. Betty got some good grandma time in with Joaquina.
We also went to the fair in Recoleta the other day. It was OK but not great. The little city art museum was very good as usual.
There have not been a lot of changes, since we were here last. Still, some of them are worth mentioning. At first we did not think that the world financial crisis was affecting the economy much, and it might not hit as hard here. The crisis has affected tourism. The numbers of tourists are way down. The crisis may not be the only reason for this down turn. Since our last visit four years ago, the cost of everything has gone up between 50 and 100 percent: city bus fares are up 50% and food in restaurants has doubled in cost. Yes, foreign currencies, like the dollar, are stronger by about 25 percent. The net result is the cost of many items have risen from 25 to 70 percent, and that means it costs as much or more than in the USA for much of what people need and want. Given the slow growth in real wages, people are worse off today than four years ago. The changes in costs have moved Argentina from a good value travel experience to a fair experience at best.
One interesting outcome of the rise in prices, in particular the price of a bus ride, has been the shortage of coins. Yes, incompetence plays a role, because it is clear that the government does not have the competence to produce more coins when they are needed. The shortage has led to hoarding. Since we ride the bus everyday and fares must be paid with coins, we must make the rounds at several banks to get change. Why several banks? The banks will never change more than a five-peso bill and often they will only give you three pesos. We need five pesos to go somewhere and return. So, we go to several banks to get change. We end up with a pile of coins and thus we are contributing to the shortage. We have no choice; because no one will give you change. Even when you try to buy something there wonít be change. If change is required, often we take it in extra bread or a banana.
There have been some positive changes: some streets have been repaved; new curb cuts are making the city more accessible to wheelchairs; and hundreds of new apartment buildings have been going up all over the city
Well thatís it for now. There are only a few photos. We hope that you enjoy them.
Posted by bill at
05:00 PM
|
Comments (4)