February 25, 2009
Concepcion and Wonderful Valdivia
After eight hours of travel we arrived in Concepcion. The bus fare was about $20. Due to some confusion at the bus terminal, a very kind Chilean man provided us with some help to get to the city center and find a hotel. His name is Carlos Pincheira. Despite the low quality of the hotel it still cost $47 per night. Despite our shock we took it for one night and pledged to search a cheaper one in the morning. The next morning we found three in the $30 to $34 range, and moved.
We had hoped to visit Francisco Zúñiga Orellana. He hosted my visit in 2002 and Betty trekked with him to Machu Picchu. We looked for him in the morning and, alas, he no longer lives in Concepcion. We called Carlos and he picked us up in the afternoon. He was kind enough to show us several lovely places near Concepcion. During the day we visited Talcahuano, Tumbes and the University of Concepcion.
Tumbes is a colorful fishing village. The sun was shining. It was warm. We felt great. We took a short boat tour of the bay. We saw small fishing boats, an even smaller village, sea birds and the prison island used to hold Allende's political associates. We saw a fishing boat come to the pier. They had mostly clams with some other mollusks. Carlos purchase some crabs before we left. And he bought a dried fish. He claims to be addicted to it. I tried a couple of pieces. It was good and reminded me of beef jerky, except for the flavor. I can see how it would be addictive.
We stopped to visit Carlos' daughters, Carmine Gloria and Victoria, and his granddaughter. It was a brief but lovely visit. We visited a very nice new housing development in San Pedro. I think Carlos will be moving there in a few years. Finally, we spent some time looking over the beautiful campus of the University of Concepcion. The kindness Carlos showed us made our visit to Concepcion a very pleasant time. We cannot recommend a visit here, unless you know someone in the area.

Tumbes Harbor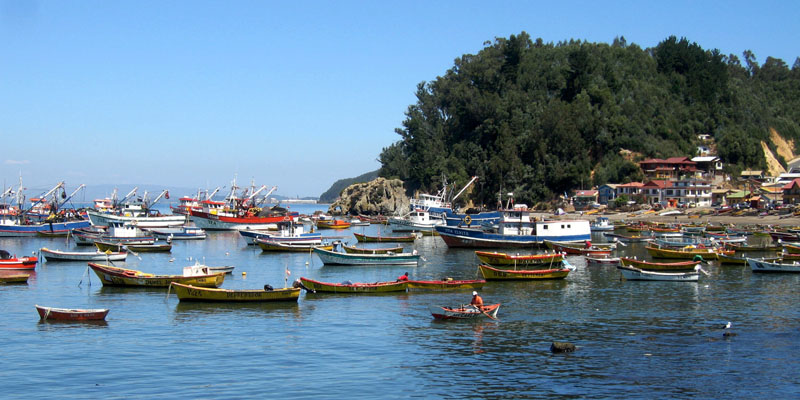 The next day was Sunday. We took a bus ($16 each) to Valdivia and arrived at about 6 PM. In no time at all we found a nice place, Hostal Totem. Totem is owned and run by Alvaro, a friendly Chilean with a good sense of customer care. It cost $32 per night, but he informed us that if we paid in US dollars we could escape paying the IVA tax of 18%. We wish we had known this sooner, as accommodations are very expensive in Chile.
Valdivia was warm and sunny. We walked along the River Calle Calle and the River Valdivia. It was great to see all the people out enjoying themselves. We saw sea lions in the river many times. They were sunning and fishing and enjoying themselves. We walked to a sidewalk restaurant, Perle del Sur, to have a plate of Merluza fish and fries. The fish was delicious. We also drank one of the many local beers, Kunstmann. Valdivia had many German immigrants, so beer making is a local specialty. In general, I believe that Valdivia brewers make the best beers in South America. Again and again during our days here, we enjoyed these wonderful Valdivia beers.
Monday we got our first good look at the local market. Fish is very fresh, plentiful and extremely cheap. How cheap? Fresh whole salmon is $1.50/lb ;and Merluza is $1/lb. Look at my photos and look at the signs. If you see 2000, think $1.50/lb. The fruit and vegetables looked extremely good. There were blueberries, raspberries, apples, grapes, corn, beans, carrot, potatoes and much, much more. Some of my photos look funny, because of the red canvass overhead that changed the colors a bit. Still, the market is lovely.
On Tuesday we wandered around enjoying the sun and warmth. We ate a late lunch at Club de la Union, an old German restaurant. Betty had a wonder fish soup, made with Congrio and vegetables. I had pork chops with spicy sauerkraut and potatoes. Again, the beer was wonderful. In the evening a fellow couchsurfer, Jorge Oporto, picked us and took us to the coast near Niebla. He owns a small cabin on a cliff overlooking the mouth of the Valdivia River at the Pacific Ocean. The view was simply stunning. Being just after sunset with the twilight glowing I took many photos. Inside his cabin with its picture windows, we drank beer and talked about his work and the twilight turned to darkness. Jorge is a marine mammal biologist. He has done this for many years: teaching at the University and running a conservation research group. He just complete a survey of the rare Chilean river otter for the Chilean government.
Today we are taking it easy again and getting ready to go further south. Valdivia has been a wonderful little town to visit.

The River Valdivia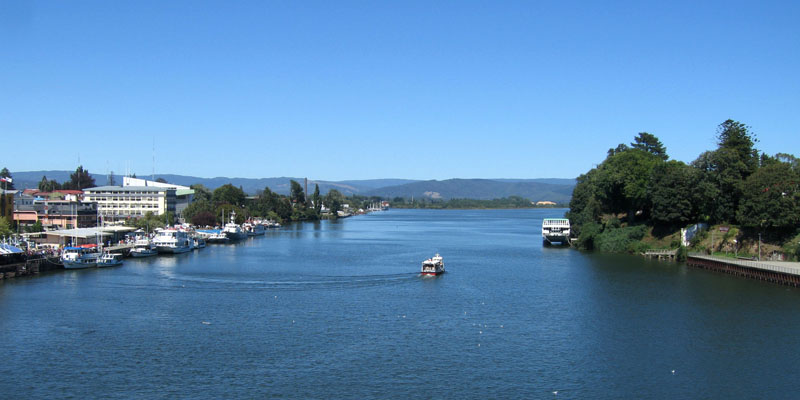 February 19, 2009
Viña del Mar and Valparaiso
| | | | |
| --- | --- | --- | --- |
| Vina | del | Mar | Beach |
| Vina | del Mar | Sand | Scuptures |
| Vina | Statues | Buildings | and Clock |
| Valparaiso | with Matt | Funicular | and Harbor |
| Murals | Calles | and More in | Valparaiso |
Press HERE to view a Flickr slide show.
We left for Vina del Mar on Monday. We used the Turbus company again. They have good clean buses with reasonable fares. For example, the roundtrip fare to Vina was about $11 each. Vina has a reputation as a special place for beach goers. We looked for an inexpensive place. The best that we could do was $42 per night. This was for a basic hotel room. It is possible to find doubles in the $25 to $34 per night range. This may not sound high to my North American or European readers, but it is very high for a country where the median annual income could be as low as $6000. Vina has a good feel to it. There are a couple of beaches. One is more than a mile long. We saw thousands of folks sunning, playing and swimming on the beach and in the ocean. We just enjoyed the sun. I got a bit sunburned on our first day. In the evening we ate Mexican food, which appears to be very popular in Vina.
The second day we started by walking to the city center. We walked the length of Valparaiso Avenue. Then we made our way to the flower clock. This clock is a tourist attraction of little value. Still it was cute and so were the folks that passed by it to take a photo. In the afternoon we met Matt Richardson in the main plaza in Vina del Mar. He is an old friend of Betty's brother John. He visited us in 2005 when we lived in Buenos Aires. He got burned out on work back in the states and came down to Chile to recharge. We spent the rest of the day together talking, drinking and eating.
On Wednesday we took a bus to Valparaiso in the morning. We walked through a wonderful outdoor where we found all kinds of fresh fruits and vegetable. Even better, we saw all kinds of fish for sale. Chile is a large producer of seafood and it was easy to see here. At noon we were at the Plaza O'Higgins where we met Matt. He is staying at a hostel right next to the plaza. He took us on a long walking tour through the city. It is much more working class than Vina and has a huge amount of character. The buildings and paint often reminded me of Boca in Buenos Aires. We rode a funicular up the side of hill about ten stories. It is a lovely town, rough at the edges with a great character and heart. Late in the afternoon we headed back to Vina. Matt came with and in the evening we ate empanadas and returned to a nice bar called Colmao. Mostly local folks drink there with its very cheap beer.
Today we got a very late start. In the morning we were trying to figure out our accommodations for the next week, sending out inquiries to Couchsurfing members. We got together with Matt again in the afternoon. We planned to check out a park on the south side of the business district. It was closed as they prepared for a music festival that is to begin on Monday. We went to a great little eatery off a side street by the bus depot. We had soup and fish and salad and potatoes, all wonderfully made and costing a mere $8 for all three of us. We continued our walking tour of Vina, circling the city to find stadiums and a small lake. Eventually we made our way back to the beach with its colorful flags and umbrellas. We rested an hour after all the walking. Then we went back to bar Colmoa. Two liters of beer later we bid Matt good-bye.
Tomorrow we will spend the whole day on buses as we journey to Concepcion.
Posted by bill at
07:31 PM
|
Comments (1)
February 16, 2009
From Buenos Aires to Talagante
We arrived in Buenos Aires on the Fourth of February. The plan was to see if a friend had a clunker of a car to loan (rent) us. We also wanted to check out the availability of furnished apartments. The former was the most important but was a complete failure. We even tried to check out long term rentals and found them all extremely overpriced for long term rentals. All of them were more than $33 per day for the smallest car imaginable. We did discover a hoard of furnished apartments for rent. Most are way out of our price range, but plenty of them will be just fine.
| | |
| --- | --- |
| Mendoza Park | Second Park Photo |
| In the Andes | More Andes |
| Betty Enters Chile | Switchbacks on the Andes |
| On a Santiago Hill | Chileans and Us |
| Algarrobo's Fish Market | Pelicans in Algarrobo |
| Algarrobo Beach | In the Harbor |
| Eliana and Jorge | Oscar Miranda |
| Betty with Silva | Silvia and Juan Miranda |
| Sunday's Guest of Honor | Julia and David Miranda |
All the photos to the right and many more can be seen at my Flickr photostream.
To view a Flickr slide show click HERE.
It takes about ten seconds to download.
We stayed with our best friends in Argentina, Guille and Javier Burgos. They have a beautiful, three year old son, Fermin. They are expecting their second child later this month. It's a girl. Guille worked every day to finish her dissertation before the baby comes. We did not do much in BA for the five days we stayed there. We did go to an English Group Meeting and saw many of our old friends. I was especially happy to see Daniel Grimberg.
On Monday we took the overnight sleeper bus ($65 each) to Mendoza. Mendoza is a lovely medium sized town at the foot of the Andes. You can see Aconcagua, the tallest mountain in the Americas from there. We stayed two nights in Mendoza. The only disappointing thing about Mendoza was the cost of accommodations. It was more than twice what we paid just three years ago at $42 per night. Everything else was as nice as 2005. We had a good meal at El Meson. The second night we had a good encounter with the winemaker, Pablo Sánchez. He works for Catena Zapata. We ate pizza and talked about wines. He was kind enough to bring two bottles. Good whites are nearly none existent in Argentina, but he brought a bottle of Chardonnay that was probably the best I have ever tasted. He also had a bottle of Pinot Noir that was the best that I have had since visiting the south island of New Zealand. Needless to say, I was a bit hung over on Thursday morning.
On Thursday, the bus ride ($26 each) over the Andes took all day, despite the short distance. The primary slowdown should have been the winding mountain roads, but it was the incredible ineptness of the Chilean customs that was the hold up. All the buses had to wait two-and-a-half hours for an inspection that could have been skipped. The road down from this pass to the Chilean plain was the biggest most insane switchback that I have ever seen. When we got to Santiago, we walked from one bus station to another and boarded a bus to our friends home in Talagante, which is about 40 kilometers to the south. We left Mendoza a bit before 10:00 AM and arrived in Talagante after 7:30 PM.
We have two very good friends, David and Julie Miranda, in Talagante. It is a distant working class suburb of Santiago. They have a very nice home there. We were exhausted and delighted to be in their cozy home. We talked with Julie for a couple of hours, all in Spanish. David was on a business trip and was not due back until Friday.
On Friday, we went into Santiago to enjoy the parks and plazas. We had lunch in the Mercado Central. We had fish and chips. The fish was wonderful and melted in our mouths. If everything in Chile was as inexpensive as this meal we would have a wonderful stay. We met a nice couple from Canada who were on their way around the cape to Buenos Aires. We headed back to Talagante in the late afternoon.
David did not get home until quite late. Julie and David prepared a meal of tacos, a rare homemade meal in Chile. We talked late into the night.
On Saturday we had a full day. First we rode to Algarrobo, a small tourist village on the coast. The Miranda's son, Matias, has a summer job and lives with his aunt there. In fact, they live in the house where Julie grew up. Like David, she has eleven siblings. We met most of them during the day when they came to the house or in the street. We had a great lunch of empanadas and soup. The town's beach was full of people despite the cool breeze blowing off the sea. Before returning to Talagante, we bought a whole salmon ($8) to grill on Sunday.
When we got back to Talagante, we quickly changed clothes to hurry off to a the birthday party of David's brother-in-law, Jorge. About half of David's family was there, including his parents who are in their 80's. Oscar and Silvia are fun and interesting people who raised eleven great children. We ate, drank wine, laughed and joked late into the night. Saturday was one of the best days we have had in ages.
We slowed down on Sunday. We grilled the salmon in the afternoon. David's brother and sister-in-law, Pedro and Beatriz, joined us to enjoy one of Chile's greatest assets, the salmon. The conversation covered many subjects from family, to economics, to politics and more – half in Spanish and half in English. We had to take a nap late in the day.
We are in Vina del Mar now and will write about it in my next entry.
Posted by bill at
05:34 PM
|
Comments (4)